Cricket is a funny old game. In the modern world of demanding quick results and an inability to wait for things, I found myself watching a game which can last up to five days.
Test cricket is an art and is the pinnacle of the sport as a whole -- of which I have been a huge fan since childhood. But it is with no surprise that to market the game to a broader audience, the first day/night game was held at Edgbaston in Birmingham over the weekend. Walking through Birmingham I noticed the day/night concept was glamorously advertised in neon lights as if to give it a Las Vegas style appeal.
After securing tickets for day three of the first test between England and West Indies I was excited to be watching a sport I love.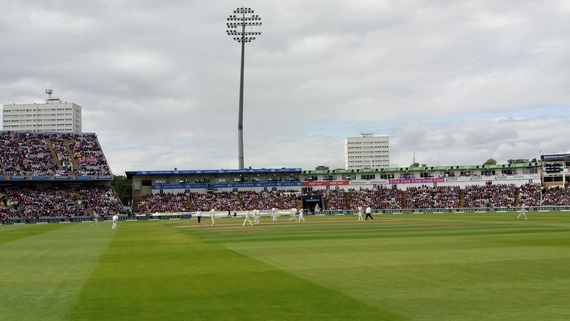 [Photo: Author's own. A delightful ground, full of character and atmosphere]
As a venue I found Edgbaston hugely atmospheric and quaint. Old in all aspects of the word - - In a good way of course. I also found it very tight, but bustling in a way which encouraged social interaction with others - - mostly who were intoxicated and dressed as Donald Trump or an egg. Which came first?
As a fancy dress idea it was utterly hilarious and one in which got my humour juices flowing. A bunch of Trumps were dressed in his well known blue-suit, red-tie and "Making-America-Great- again" baseball caps combo -- and was well received. The same group included a friend who was dressed as an actual wall. Yes, a wall. A human being dressed as a wall. You couldn't make it up. Later on during the most one sided cricket match you have ever seen, a lone Mexican was seen in discussion with Trump and the human wall -- perhaps negotiating the future of the great country?
This all happened just before a right old kerfuffle broke out between The Fox Hunters and.. well...The Fox. These Hunters in red ran after the poor fox all afternoon. Not sure whether or not they succeeded.
And Jesus. Wow. I saw Jesus. He was trying to work his magic toward the West Indies batsmen. He failed. But he tried, at least. And later managed to persuade the security guy to throw his ball back from the field of play, shown in a video published by the ECB. amongst a delighted crowd of characters.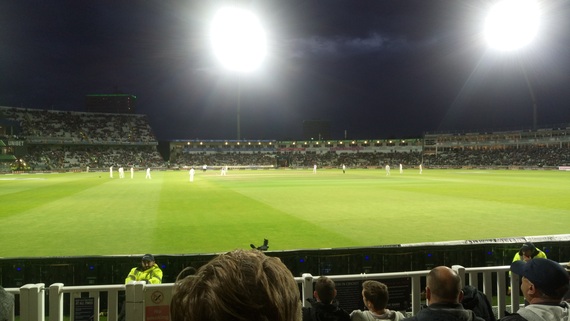 [Photo: Author's own. There Is Something Special About Sport Under Floodlights]
Fancy dress aside, as a day/night spectacle it was a cool, vibrant mix of watching a great sport under the delicious glow of floodlights. We didn't quite see a full day's play as is the continuing downward spiral of the current West Indies team. It was over just as the congas were beginning, the floodlights were at full pelt and Trump had addressed the crowd.
And I had seen a result on day three.