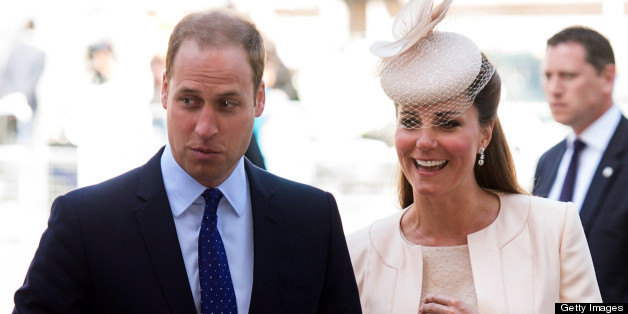 Getty Images
It's been a busy time for flag-waving Royalists. From William and Kate's wedding to Queen Elizabeth's Diamond Jubilee and her Bond Girl moment at the Olympics, the last few years have offered numerous excuses for celebrating the monarchy. And soon, perhaps even during the looming Coronation Festival, Kate will give birth to our future King or Queen.
Skydiving royal pensioners aside, it's that last event that I'll be most interested in, and not because of the inevitable debate the birth will rekindle about the relevance of the Royal Family in the modern world.
It's easy to dismiss Prince William's path to parenthood as unrecognisable to the rest of us.
Granted, there were no bodyguards to help me manhandle the pram home from the shopping centre. My mother, as generous as she is, wasn't prompted by news of my wife's pregnancy to gift me a country mansion. And perhaps I was queuing in Mothercare when The White House announced their congratulations at my impending change of status.
But for all his wealth and privilege, I think Prince William's experience of fatherhood will be very similar to anyone else's because, fundamentally, parenthood is a leveler. Granted, 'nesting' for me meant a coat of paint and some plug socket covers, while for him it's a new car park and the planting of a small wood for privacy. I made up bedtime tales of princes and distant battles, he'll have his own family photo album to draw inspiration from. And while I had a twittering baby to keep me awake, he'll have a twittering baby and a 41-gun salute.
But at bottom, he's going to want the same for his child as I do for mine: health and happiness. And he's going to experience the same visceral joys and fears, the latter perhaps only heightened by the realisation that, for all his status and power, there will be some things over which he has no control.
So while as a father the divide between William and the rest of us may not be as great as we'd initially imagine, the real difference, of course, will be in the reaction of the watching world, as hungry for information about his fathering as, fortunately, they are indifferent to mine. And while the intrusion of those beyond his immediate family has already brought him grief of the sort I'd wish on no one, it also gives him a chance like no other to highlight the fundamental importance of dads and their role in raising happy, healthy kids.
Just last month, The Centre for Social Justice warned of a 'tsunami of family breakdown' with figures suggesting at least one million children in the UK grow up without a father. It's hardly the newest of news that children benefit enormously from a father's active involvement, from increased emotional balance to greater levels of compassion and self-esteem.
One area in which dads can make a huge impact is through reading to their kids. Studies show that this simple - yet wonderfully intimate and hugely enjoyable - activity can boost a child's academic success and lead to improved social and emotional wellbeing. Yet despite this, the Fatherhood Institute tells us that just one in eight dads takes the lead with reading to their children. Some fathers, despite nominally living in the 21st Century, are even willing to publicly dismiss reading to their kids as 'mum's job'.
I often think that's the one justification for allowing over-indulged footballers to publish books of their own: if a story about soccer-playing cowboys and pirates gets even one more dad reading to his children, it will be worthwhile.
It's only thanks to a recent law that William and Kate's baby will become third-in-line to the throne, regardless of whether it's a boy or a girl. The traditional gender divide has been abolished. It would be heartening to see repeated public demonstrations of that same equality in the way William approaches his role as dad.
As the most famous father in the world, he'll have the power to influence thousands - if not millions - of families for the better. You don't need to be a flag-waving Royalist to get excited about an opportunity like that.
Andrew Watson is a judge for the Munch Time story writing competition. Vote for your favourite story now at www.munchtime.co.uk