"Punk rock embraced all the people who didn't fit into the mainstream music scene. Anyone who had a crazy idea. Anyone who could fall on stage and put a guitar around their neck and they somehow become magnificent."
The definition comes from a guy who ought to know: Ray Burns, who put a guitar around his neck in mid '70s Croydon and somehow became Captain Sensible, punk icon and pop ironist of the Damned.
"That was punk rock," the Captain says. "It came along at exactly the right time for Johnny Moped."
That name might not ring a bell, unless you were present at the creation in London or a most dedicated fan thereafter. Thirty-five years after their brush with fame, the story of this largely forgotten band of punk primalists comes to the screen in the music documentary Basically, Johnny Moped, which opens in UK cinemas October 10 and is available for download at basicallyjohnnymoped.com.
Billed by the film, with wryly slight exaggeration, as "punk rock's great lost legend," Johnny Moped was one of a kind, an unlikely lot of initially hapless rockers who emerged from 1970s Croydon's office block and car park sprawl. Behind the onstage charisma of Johnny Moped himself (ne Paul Halford), an instinctive rock 'n' roll wild man who describes himself as "82 percent disabled," the band looked odd and sounded crazed. In their utter unlikeliness and un-commerciality, they were tailor-made for the punk moment.
After playing some of the first shows at London's legendary Roxy in early 1977, the Mopeds managed to record an album, Cycledelic, featuring the instant classic "Incendiary Device" and the sweet ditty "Darling, Let's Have Another Baby." By '78 the band had been undone by Johnny's titanic unreliability - marrying a sweetheart twice his age, he acquired a terrifying mother-in-law who practically forbade him to go to gigs and sessions - and bassist Fred Berk's tragic boozing. They faded into obscurity while peers and band alumni like Captain Sensible and Chrissie Hynde (both of whom appear in the film) rocketed to stardom.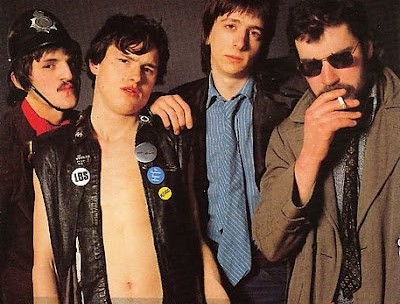 But Basically, Johnny Moped is no bittersweet wallow in what might have been (although it does have a tinge of melancholy). Made with wit and affection by Fred Burns, Ray Burns' son, it's a winning and often hilarious sidelong glance at the punk explosion staked to Johnny's eccentric charm and the band's unlikely rise and seemingly preordained fall.
"In some ways they were more punk than the Damned or the Sex Pistols. They weren't intentionally trying to be megastars," the Captain says. "At the end of the day, Johnny Rotten certainly wanted to sell records."
Despite Ray Burns' role in the Moped story, Fred knew virtually nothing about the band until his father took him to a Crystal Palace-Croydon match four years ago and they met up with Johnny afterward in a local pub.
"It was the first time I got to experience the stories behind [Johnny Moped] and realize there was some sort of connection between my dad and this band," Fred tells MusicFilmWeb. (Read the full interview here.) "That's where [the movie] came from, really - hearing these stories and wanting to archive these stories, because I thought they were so funny."
For Fred, his first feature documentary represented an unexpected cinematic detour into his father's world.
"I was into political activism, things like that, and the films that I was really into were investigative journalist documentaries," he says. "There's an American filmmaker called Alan Berliner, I saw his films, and they were very personal, about his family and all that. I thought they were the most amazing films. After that, what I understood documentary to be completely shifted. I started thinking much more about personal stories."
(But only up to a point, Fred adds - making a doc about his dad or the Damned "would be too close to home.")
As for Ray, he considers Johnny a genius - "the spirit of punk, if you like. A glorious failure.
"Every mistake that could be made, he made, and some after that, but in my mind it was better than U2 and Led Zeppelin and these successful bands, because it was pure. What Johnny was doing onstage was not contrived or choreographed or anything like that. You could plunk him in front of a microphone and light the blue touch paper and watch him go," the Captain says.
"If it's important in 100 years' time and people look back on this period, I hope Johnny would be remembered as being the true spirit of punk rock. A magnificent failure but a really genuine human being, and doing it for all the right reasons because he was having a bloody good time."