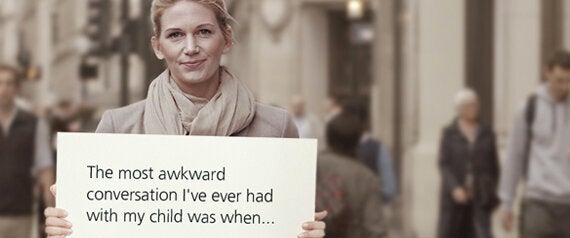 In the UK, 100,000 children under the age of 16 run away from home each year - that's one every five minutes. Children run away from home for a number of different reasons and many choose to do so because they feel they have no one to talk to about the issues they are facing.
A recent survey we conducted found that more than one in four children are "too scared to talk" and feel unable to share worries and concerns with their parents. Despite the majority of parents believing they are open to tackling difficult subjects, the findings show that many are not broaching topics such as family changes, divorce or death and nearly a third of parents admit that they would only start a difficult conversation with their child when an issue arises, rather than broaching subjects proactively. By then, it may already be too late.
Changes in the family, separation and bereavement are really big things that can rock a child's world. Research shows that children who experience these issues are three times more likely to run away from home*. When children are keeping these worries to themselves and not talking about them, they can feel lonely and isolated and can go away with feelings of guilt. Often from internalising these feelings, a child will think that running away from home is their only option.
Most parents will know what it's like to be asked an awkward question by their child. Sometimes it can be funny, at other times it can be quite difficult, especially as children get older. But establishing a regular pattern of communication with a child from a young age is incredibly important. Maintaining this as they grow older will also ensure they don't feel that they have no one to confide in when the issues they're dealing with become more difficult.
Working with our long-term partner, Aviva, we are asking parents to upload their most awkward parenting conversation at www.avivaconversations.co.uk to help raise awareness of the importance of an honest, open dialogue. For every conversation included in the Awkward Conversations hub and/or any share directly from the hub, Aviva will donate £2 to Railway Children, up to a maximum of £100,000.
If you believe in the importance of open dialogue with your child and want to show your support for children who have no one to talk to then upload the most awkward conversation you've ever had with your child on the hub today or click on the share buttons on the Awkward Conversations hub to take part.
Railway Children helps and supports children under 16 who've run away from home, or are at risk of doing so. They also support children after they've returned home or gone back into care and help educate young people about the risks of running away and what the alternatives are.
*Still Running III - The Children's Society 2011.
The Children's Society use the term 'running away' to refer to young people who indicated that they had either run away or been forced to leave home, and had stayed away overnight on at least one occasion.'