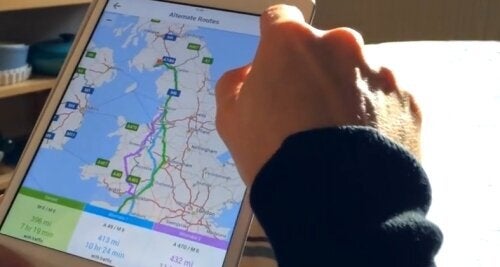 We put a lot of effort into our festive celebrations. Food, drink, family, friends and presents all come together (hopefully) to make the big day a special occasion. But one thing I often leave until the last minute is planning how to get there.
Some years, of course, travel is happily off the list but on others we quite enjoy heading out to share Christmas with Grandparents and Siblings. Or sometimes we push the boat and book a holiday house to meet and share festivities.
Having appreciated using the CoPilot app on our travels to New Zealand this year, I realised I could also use it to plan my Christmas day journey.
The app (UK version £19.99, Europe version is £34.99) has now been updated to iOS on the iPad and offers new features on Android and Windows Phone 8. It has a nice Journey Planner feature that lets you plug in your route ahead of time. On the actual day you can then pull up the route, check the traffic and hit the road.
Since the last time I used this there has been a nifty Cloud Save option added so you don't have to add your favourite destinations again when you change devices. This meant we could plant the route using the larger screen of the iPad at home and then transfer it to the iPhone ready to head out the door.
Other features I liked on the app were the ability to tap a road on the route to get it to be avoided. Also a nice re-route option will see you round any closed roads -- something I often find tricky on normal GPS systems that seem to endlessly take me back to the same road even if it is closed.
One area I'd like to see the CoPilot app improve is in the simplicity of the menus. I often found myself sure that a feature existed but unsure how to reach it. This has become less of a problem as I've got to know where to find things, but generally this could be a bit more intuitive.
However, to get hung up on this minor point would be to miss what a big step forward the experience is from other similar technology. And having it with me all the time on the phone has often proved useful. I'm actually planning to gift one to my Mum as part of her Christmas gift to help her find her way to us on Boxing day.