A very good friend of mine, who also happens to be a rather well-known author, dipped deep into his vocabulary to summon the mot juste , which might best describe my current situation. "You, Anita, are a very lucky cow!"
Having found for the subject of my first biography, a woman who was simultaneously an Indian Princess, goddaughter of Queen Victoria, resident of Hampton court, champion dog-breeder, diehard nationalist, philanthropist and militant suffragette, I can kind of see where he was coming from. Lucky cow fits just fine.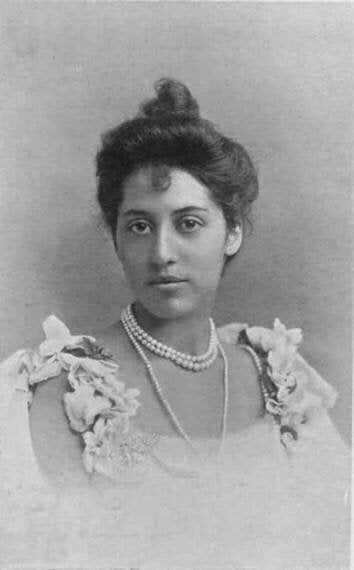 I wonder what he will say when he hears that Sophia's story is coming to BBC1 this Sunday? I like to think he would be pleased. Those of us who dabble in the long forgotten lives of others, positively radiate pleasure when the person we have become obsessed with catches the public imagination. Few deserve to be saved from obscurity more than Sophia Duleep Singh.
Born in 1876, on the Suffolk/Norfolk borders Princess Sophia was a dispossessed Princess of one of the greatest and most defiant empires of the Indian subcontinent. Her grandfather was Ranjit Singh - the Lion of Punjab - a one eyed warrior King who united northern India and terrified the British. His realm stretched from the lush green Kashmir Valley to the craggy foothills of the Khyber Pass. A legendary figure, who still commands awe among Punjabis, he wore the Kohinoor diamond strapped to his bicep.
Sophia's father, Maharajah Duleep Singh, however was exiled from his home and sent to Britain where he became a favourite of Queen Victoria. Sophia grew up in splendour on a lavish estate on the Norfolk Suffolk borders. It had been transformed to look like a Moghul Palace, replete with carved marble interiors dripping in gold leaf. Sophia had a leopard pen outside her bedroom window and vultures and baboons were chained in the flower beds. Bertie, the Prince of Wales, and future King Edward VII was a frequent house guest.
Despite such an auspicious start to life, Sophia's existence became a living hell soon after her 9th birthday. The relationship between Indian and British royals turned toxic when her father tried and failed to take back his Kingdom. The Maharajah's obsession caused him to abandon Sophia and her mother. He sold all their possessions to finance his doomed campaign. The spoilt little princess was left virtually destitute overnight. After her mother drank herself to death, Victoria was forced to step in and save her goddaughter. She groomed her for high society and even gave her a home at Hampton Court Palace.
Sophia's life was destined for comfort. For a while she embraced her good fortune and became something of a paparazzi princess, setting the fashion trends of the day, attending every party that mattered and many that did not.
I became obsessed with how, in her early thirties, she transformed from a pointless socialite into a fighting suffragette. From 1909 onwards, Sophia chose to put all that she had on the line for the sake of the working class women of England, with whom she arguably had nothing in common. She saw them struggling with poverty and misogyny and realised that her life as an Edwardian "it-girl" would no longer be enough. With a burning sense of injustice, Sophia dedicated her life to the suffragettes.
She drove carts for Emmeline Pankhurst through London, embarrassing former friends at Buckingham palace. She personally donated and raised vast sums of money for acts of militancy. She fought with police, battling in the midst of violent riots, even throwing herself at the Prime Ministers car. She refused to pay her taxes, daring the authorities to arrest her, longing to go on hunger strike like her sister suffragettes.
The one-time darling of the establishment was denounced from the highest orders. Unperturbed, Sophia scrawled her defiance on her census papers: "No Taxation without representation. If women do not count, nor should they be counted." Her actions led to clashes with Winston Churchill and King George V among others.
In retribution, the establishment deliberately tried to bury her, squeezing her financially and attempting to delete her from the public record. Sophia paid a high price for her principles. It has taken many years to uncover her story and put her back where she belongs.
On Sunday I take you into the long hidden rooms of her childhood, and follow her path into militancy. Women's history is all too easily lost, but a woman of colour who challenged the establishment can be deleted almost entirely. It has been the proudest achievement of my professional life to try and right that wrong.
Anita Anand is the author of "Sophia - Princess, Suffragette, Revolutionary" - Published by Bloomsbury - Paperback out Sept 10. Sophia - Suffragette Princess - out Sunday 22 November BBC One at 13.15