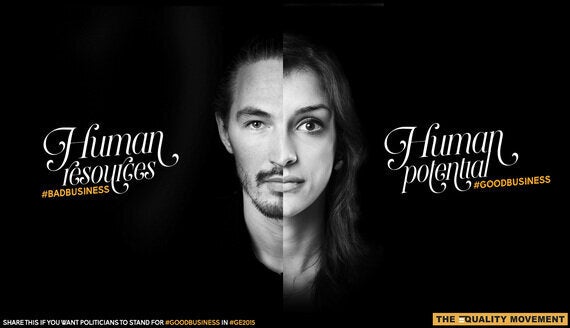 With exactly a month to go until the general election, The Equality Movement, a clandestine collective of advertisers making noise about issues that matter' are launching an ad campaign for gender equality called #BadBusiness. As the main parties vie for electoral support in these last few crucial weeks, this group will use a series of interactive digital posters to ask politicians to tackle the 'bad business' of UK gender inequality.
The first ad in the series, called 'Human Potential', launches this week, the week when the right to shared parental leave is made available to all new parents.
Under this new law, up to 50 weeks of leave and 37 weeks of pay can be shared between parents in order to enable working parents to better balance their work responsibilities and family life. This gives fathers a new opportunity to care for their newborns over several months, and mothers a new opportunity to return to work early if they choose to.
This first ad addresses a disconnect highlighted in a recent report by the Institute of Leadership and Management: whilst most employees (86% of those interviewed) are excited about the new provision, 25% say their employer would actively oppose men taking it up. For The Equality Movement, the outdated attitude some employers adopt is limiting human potential and makes little business sense.
The advert lets the viewer contrast two worlds: drag the central line to one side of the poster to reveal the #BadBusiness sense of the 25% of employers who would discriminate against dads; drag the other way to reveal the #GoodBusiness sense of those supporting new dads to take up the leave. Companies that support parents to share parental leave are more likely to retain loyal and knowledgeable staff, increase female talent at the top, and reduce absenteeism among new fathers, according to the ILM report. For all these reasons, the Working Parents Initiative has also recently celebrated companies that support new fathers in its award scheme.
The Equality Movement has spent the last three months talking to voters in an online forum about the impact of gender inequality in their lives. What has most struck Juliet Pascall, research manager at The Equality Movement, is the power of employers to make or break a gender-equal Britain.
"If politicians want to make Britain gender-equal, the first priority is clearly to work with those employers whose outdated attitudes not only make equality hard to achieve, but make bad business sense too"
Said one voter, John, a teacher from Bedford:
"Women are right to complain that they get sidelined at work if they choose to take time out for family. But at least it's seen as a legitimate option. For men, it's career suicide"
We have entered the era of a hands-on two-parent family. In the words of Nick Clegg, the Deputy Prime Minister:
"For too long, mums have been told their place is at home with their child, while dads return to work."
As more and more women enter the workplace and more and more men express the desire to play an equal role in the household, the mother-housewife/father-breadwinner model becomes not only no longer feasible, but also increasingly undesirable for many parents in this country.
While the new law on parental leave is clearly a welcome step in the right direction, some of the parties believe there is still more that can be done.
Jo Swinson, Minister for Employment Relations and Consumer Affairs and Women and Equalities Minister, has called for a 'dad revolution' and if re-elected, the Liberal Democrats would triple statutory paternity leave to six weeks, giving fathers additional four weeks off work at the current rate of £138.18 per week.
With only 55% of fathers currently taking up their entitlement to paternity leave, Labour too can see the benefits of enabling parents to share caring responsibilities and bond with their children, and has pledged to double paternity leave to four weeks off work at £260 per week - £100 more than at present.
Even though the new shared parental leave law comes into effect under the current Tory-led government, the Conservatives have not yet pledged to increase paternity leave if re-elected, and it remains to be seen whether anything of this nature will feature in their manifesto.
With 86% of UK employees in favour of shared parenting in 2015and 25% of men convinced their employer is actively opposed to shared parental leave, more needs to be done to make things equal for men and women in the workplace and at home. And now is the time to make it happen.
Do you care about the bad business of workplace inequality?
We have asked the 3 traditional parties to respond and say what they will do about the bad business of inequality. Join in & get them to respond. You can:
Share the Human Potential 'Dad' poster if you want politicians to stand for #GoodBusiness in #GE2015 .@Gender_Agenda
Question the Parliamentary Candidates in your constituency on what their party intends to do to promote the good business of gender equality in the workplace.
This poster highlighting the case for shared parental leave is only the first in a series of posters about the issue of inequality in the workplace. Look out for the next posters launching on the day of each of the next leaders debates, 16th and 30th April.
Follow the Equality Movement on Facebook
This article is credited to Paulina Jakubec: Political lobbyist at the Equality Movement campaign, an executive member of the Fabian Women's Network and Secretary of the Young Fabians.