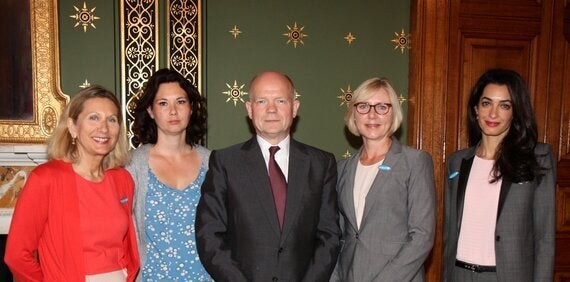 Professor Geraldine Van Bueren QC, Mumsnet Campaign Manager Rowan Davies, Foreign Secretary William Hague, Deputy Executive Director of UNICEF UK Anita Tiessen and barrister Amal Alamuddin met to discuss how to drive forward international action to end the rape and abuse of children in war zones.
When Martine was 14 she was abducted by armed men in a raid on her village in the Democratic Republic of Congo. Along with a group of other young girls she was held and raped frequently. Eventually she was released and found her way back to her village, where she is now getting vital support - but the scars of her ordeal could last a lifetime.
During my work with UNICEF I've met children in conflict zones around the world who are facing the very real and on-going danger of sexual violence.
Many children and their families live in fear of attack: Too scared to go to the toilet at night or leave their village to collect firewood, or sometimes even too scared to go to school.
Rape and abuse destroys children's lives and the figures are truly shocking. In the Democratic Republic of Congo alone approximately 1,100 rapes are reported each month, with an average of 36 women and girls raped every day. In Somalia last year UNICEF treated more than 50 child survivors of sexual violence every week in Mogadishu.
Too many children are growing up in conflict and losing their childhoods to rape and abuse.
The physical and psychological damage of these horrific experiences can stay with a child for the rest of their lives - the trauma often preventing them from reaching their full potential and escaping poverty.
In some communities children can sadly face stigma when they have been raped, making it difficult for them to finish school or to access community services. Thus, in the future, when they go on to become parents themselves, their children's lives will also be affected. They will grow up in the same poverty, with the same vulnerability to sexual violence - and so the cycle of abuse and poverty continues through the generations.
The Global Summit to End Sexual Violence is an unprecedented opportunity to create real change for children who are suffering from these hideous crimes.
The UK Government is leading the way and galvanising international action to help end the horror of rape and abuse of children in conflict. World leaders must commit to protecting children - boys and girls - who are some of the most at risk of rape and abuse.
In addition, leaders need to deliver concrete measures on the ground to end the culture of impunity and support children who have experienced sexual violence.
Sadly many children do not report sexual attacks because they have no one to report it to or they fear being stigmatised. Indeed many perpetrators of sexual violence in war zones around the world seem to hold little fear that they will be caught or punished for their crimes.
This has to stop. UNICEF UK calls on leaders to use the Foreign Secretary's June Summit to pave the way for justice for children.
UNICEF works tirelessly to protect children from sexual violence in every conflict zone around the world. From working with governments to reform laws, to supporting communities to challenge beliefs on gender roles - UNICEF teams work around the clock to protect children and support those who have experienced sexual violence.
However, much more needs to be done. The Global Summit is our opportunity to introduce real change for children who are suffering appalling crimes. The time to act for children is now.
Popular in the Community