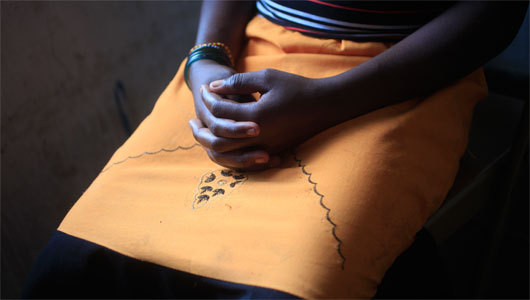 When I visited a refugee registration centre in Lebanon recently, I heard stories of young children who have been through shocking experiences. Syrian boys and girls have fled conflict, lost their homes and watched friends and family members being killed. And now these children are facing another threat - the often hidden horror of sexual violence.
Rape and sexual abuse are not solely weapons of war. They also threaten children as their traditional safety nets - like extended family and social care - break down in the chaos of conflict.
Many families fled Syria with nothing but the clothes on their backs. Now struggling to make ends meet, devastated by the conflict, they sometimes feel they have no choice but to send their children out to work - picking potatoes in fields, or selling roses and tissues in the street.
Sadly these children are in great danger of sexual abuse. I heard stories of children, especially young girls, who have been sexually attacked whilst out at work.
I also heard heartbreaking stories of girls as young as nine being married off to adult men by their families, because they can no longer afford to feed them.
Children caught up in conflict and wars are experiencing the most unthinkable violations, tearing apart their young lives. And sadly most sexual abuse will go unreported because children have no one to confide in or they fear stigma or retribution.
Without the safety nets that would ordinarily protect children, such as schools, social and health services and extended family, the risk of abuse, violence and exploitation is much greater. Syria is a current and very pressing example of where children need urgent protection.
Ahead of International Women's Day I've joined together with leading women across the UK to call for action. In our open letter published in The Times we urge the UK Government to galvanise international commitment to protect children in conflict.
In June, William Hague is holding the Global Summit to End Sexual Violence in Conflict, in London. We welcome the Government's leadership on this issue. International leaders must seize this opportunity not only to defend women, but also children who are at high risk of rape and sexual abuse in conflict zones.
Unicef works tirelessly to help children affected by sexual violence around the world. Children who have suffered in this way need vital support - from safe spaces to play, to vital schooling and psychological assistance.
It is also crucial to work with communities to stop violence and abuse happening in the first place - including improving children's understanding of how to protect themselves and building child-friendly justice systems.
Unicef's Child Friendly Spaces can help bring normality back to children's lives and help them recover from trauma. In Lebanon the children I met were drawing pictures and playing games with each other - getting the chance to be children again. It was a million miles away from the horrors they have experienced.
In a safe space, children can use art and drama to express themselves and come to terms with their experiences. These children are the next generation of leaders for Syria but all they have known for the last few years is violence.
We need to prevent them from becoming a lost generation and carrying the legacy of conflict with them forever.
In June UK ministers must do everything they can to ensure the Summit prioritises measures to help children report sexual crimes and hold their abusers to account, and also to make sure more funding is available for psychological and long-term support for child survivors.
The upcoming Global Summit is our chance to step up and take important strides to prevent more children from suffering these horrific violations.
Take action at www.unicef.org.uk/endsexualviolence