"I really like the incessant chattering, sticky floors and tiny toy figures of bands on stage as I look at them from miles away at a concert".
Sofar Sounds was formed in 2009 to counter this problem. It started with co-founders Rafe Offer and Rocky Start getting a small band to play in a friend's living room in North London, where it was made clear that it was the music that was front & centre. 5 years, 1600 bands and more than 100 cities later, this week saw the first Sofar collaboration with War Child UK to raise funds for children living in war-torn zones.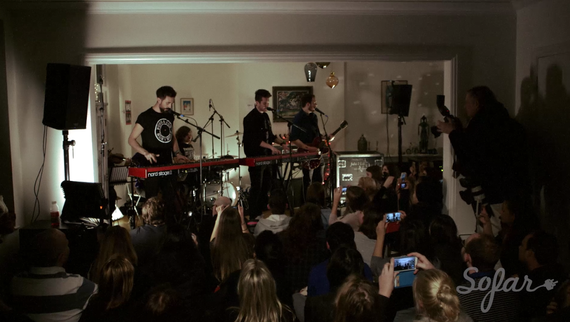 Sofar alumni To Kill A King and Bastille performed on Monday with a special appearance by spoken word artist Suli Breaks, who in an amusing turn of events happened to be house-sitting for the owner of the house where the concert took place, venture capitalist Saul Klein (Saul is an investor in Sofar Sounds).
It wasn't the first time Mr. Klein was hosting a Sofar concert, but this time he was specifically enthused by the chance to see Bastille play in his living room - both his children and he are fans.
At first glance, the Sofar Sounds partnership with War Child might seem like a regular charity partnership, but it actually makes perfect sense given War Child's history with music - they were selected as the first recipients of the Special Recognition BRIT Award recently. The Sofar event itself was part of Passport Back to the Bars, a one-week celebration of music in support of War Child, sponsored by O2.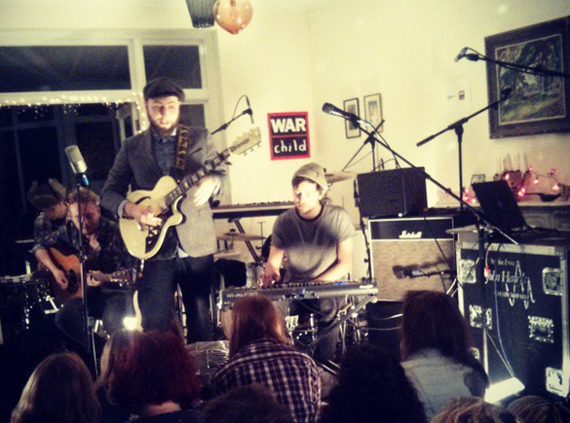 To Kill A King opened the evening, throwing in stories about the title of tracks like Good Times (A Rake's Progress). Specifically, lead singer Ralph Pellymounter (amazing name, but still second to Rocky Start) said, "A Rake's Progress - within brackets. The rest of the band vetoed it and said our song titles couldn't have brackets, but I snuck this one in. Actually I snuck two songs with brackets in" - there is indeed another bracketed song in their new album! The band has played Sofar a few times now, at various locations throughout the country. They threw in a few cheerful jibes about the state of the music industry: "Please buy our records - and buy a T-shirt. That's all, really!". Their latest record is produced by Mark Crew, who also works with Bastille (the two bands are friends) and is set to launch in March. To Kill A King play at O2 Shepherd's Bush in London on March 14th.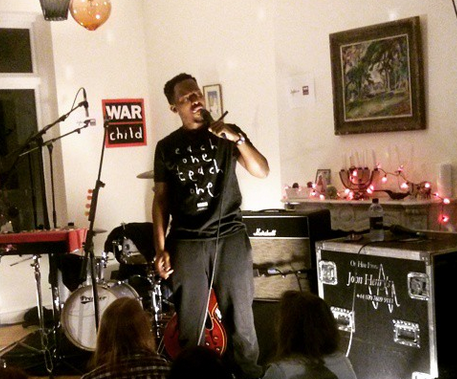 Spoken word artist Suli Breaks, who has more than 260,000 YouTube subscribers, performed his new piece Message From The Millennial Generation. And in an act he couldn't have scripted himself, his performance was interrupted by the sound of a text just as he began (the piece itself is about how millennials shouldn't be reprimanded for using technology all the time). Restarting with a joke (but of course!), he went on to have the audience listen to his every word. Suli is working on a new album that he hopes to release later this year. With thought-provoking lyrics, it is easy to understand why he appeals to today's youth. Consider for example, the following:
'If you allow yourself to take a sip from the fountain of youth for a second, you'll realise we're not that different. What if I replaced IBM with Apple, the encyclopaedia with wiki, emails with letters, iPads with ledgers, all the wise men you ever knew with Google, maybe if I replaced Obama with Bill Clinton, Messi with Maradona, Rihanna with Madonna, you'd have a better understanding of our way of thinking'.
Bastille were an excellent closing act, performing at Sofar just a couple of weeks before they head to Argentina on tour. Their music is immediately likeable, accounting for their dramatic rise to stardom since their first Sofar perfomance in 2011. In fact, taking a look at a video of them playing Sofar in 2011 and then witnessing their polished versions of Flaws, Things We Lost In The Fire, Pompeii and Bad Bloodon Monday, it was clear to me how much they've grown as a band, and how very well-deserved the acclaim is.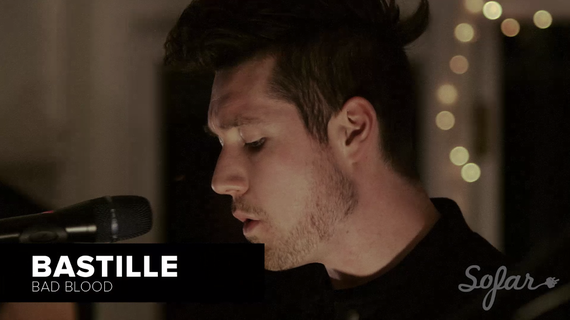 Sofar Sounds are currently hard at work testing a new version of their platform for users in London and New York, with other cities to follow. As creators of one of the best live experiences for music lovers today, I look forward to seeing the movement grow.
If you'd like to be in with a chance of attending a future Sofar Sounds gig in someone's living room, check out their website.
Popular in the Community