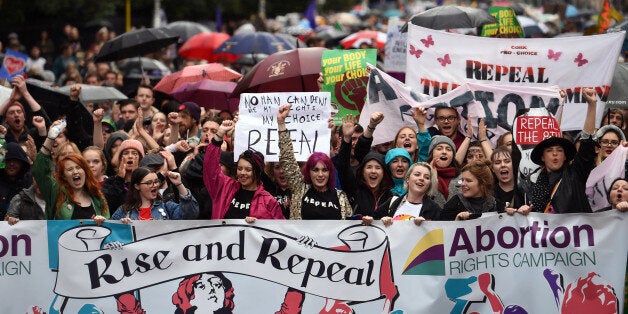 There is nothing more inspiring than hearing the pioneers of the 1967 Abortion Act speak about the battles they fought in the 1960s.
They talk of the horror of seeing hospital wards reserved for women on a Friday - pay day -dying from a backstreet abortion, and deciding that this was the cause they would dedicate their lives to.
They talk of donning their most conservative pink suits to meet parliamentarians and infiltrate anti-abortion meetings.
They talk of having a glass of champagne on the terrace of the House of Commons to toast the passage of a bill that would set the standard for abortion rights across Europe.
And while this International Women's Day is the right time to celebrate all that they achieved, the best way we can honour the work of these remarkable women is by taking the next step forward on the journey they started - and decriminalising abortion.
The 1967 Act was a huge achievement. It brought abortion out from the backstreets and in to safe, legal clinics, and meant that your ability to determine your reproductive destiny was no longer determined by your bank balance. But it was never the end goal.
While abortion became safer, it was not decriminalised. A law passed by an all-male parliament in 1861 before women had the right to vote made abortion a crime, and the Abortion Act did not overturn this piece of legislation, but provided exemptions to allow women to obtain an abortion if she meets certain criteria. This Victorian law still sits on our statute books - and it still threatens women with up to life imprisonment for ending their own pregnancy.
But women aren't being routinely prosecuted for ending their own pregnancy - so what's the problem? Well, the problem is that we are playing a dangerous game with women's liberty - and their lives - if we wait until they are being prosecuted regularly before we repeal this law. And we know that more women are putting themselves at risk of prosecution, with data released by the Medicines and Healthcare Products Regulatory Agency (MHRA) showing that the number of illegal abortion pills being seized entering England, Wales, and Scotland has risen by over 7000% since 2013. Prosecutions are not inevitable, but they are certainly becoming more likely.
The risk of prosecution isn't the sole reason why the fight for abortion rights is not yet won in this country. The provisions carved out in our Abortion Act are at best deeply patronising and at worst downright misogynistic. No woman in any part of the UK has a right to an abortion, but must have her request for an abortion approved by two separate doctors. Not only does this requirement place the decision to end a pregnancy in the hands of doctors, rather than the pregnant woman herself, it is also preventing women accessing abortion care. It may sound shocking, but every week a woman is forced to continue a pregnancy against her will because she cannot find doctors willing or able to authorise or provide an abortion.
If we believe that women should be free from prosecution, free to make their own decisions about their own pregnancies, and able to access abortion care when she needs to, then it is time to overhaul our archaic abortion law.
This International Women's Day, we have the opportunity to take a stand for abortion rights. Next week on Monday 13th March, parliament will debate a bill proposed by Diana Johnson MP which seeks to decriminalise abortion in England and Wales up to 24 weeks of pregnancy. This will be the first pro-choice bill debated in the House of Commons since the 1967 Abortion Act, and its passage will be contingent on the pro-choice majority in this country making our voices heard.
There is no better way to honour the work of the great pro-choice campaigners who came before us and help move abortion rights forwards in this country than by supporting this bill. Tell your MP to back Diana Johnson MP's Reproductive Health (Access to Terminations) Bill now.
HuffPost UK is running a month-long project in March called All Women Everywhere, providing a platform to reflect the diverse mix of female experience and voices in Britain today
Through blogs, features and video, we'll be exploring the issues facing women specific to their age, ethnicity, social status, sexuality and gender identity. If you'd like to blog on our platform around these topics, email ukblogteam@huffingtonpost.com