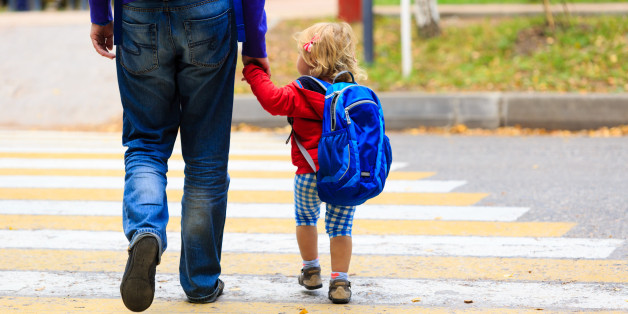 Nadezhda1906 via Getty Images

In a matter of days some working families may benefit from an increase in free childcare. When my eldest son, Anthony, turned three years old he received 15 hours of free childcare a week. This was really helpful and made it possible for me to continue working. When David turned three years old, he should have been entitled to the same amount, but that's not what happened. He got seven. David only got seven hours because he has autism - because he has additional needs. Looking back, I can't believe I let it happen.
I can't believe that I let my autistic son's education be cut before he was even of school age. What if that had been now? Very soon some working parents in the UK may be able to take advantage of an increase in free childcare. From September 2017, three and four year old children may be able to receive 30 hours of free child education a week. Would David have benefitted from this? I don't think so.
Anthony and David were both diagnosed with autism before they were four years old. When it became obvious that Anthony needed more support to go to nursery and pre-school, the nursery applied to our council for some special educational needs early years funding. This could pay for an extra member of staff to help him. At the time you could apply for 15 hours worth of funding - which makes sense. If a child needs constant 1:1 support, then they would need it for 15 hours.
But in the three years between Anthony accessing his 15 hours of free childcare and it being David's turn, local budgets had been cut for special educational needs in early years and the number of children needing this support had increased significantly. The council simply didn't have enough money to offer 15 hours of extra support to kids with special needs so they could get help during their 15 hours in pre-school.
Despite David's difficulties being far greater than his brother's, he could only get the maximum then available - seven hours. David was three years old but he didn't speak a single word and he couldn't communicate at all. Sometimes he lashed out and sometimes other kids got the sharp end of his frustration.
He needed support to interact with anyone. He had sensory needs. He needed help to sit when he should, eat when he should and let's not talk about how late his toilet training was. The nursery simply couldn't take David without a dedicated assistant to care for him.
The result was that David only got seven free hours of childcare a week, less than his more able peers. And even then, there was no funding for extra training, so the staff didn't always know how to help him. Even other mums thought it was wrong.
It seemed backwards. The child who needed the most opportunity to 'catch-up' and be independent, the child who needed the greatest help in socialising, was getting the least time to do both.
So while I am pleased that some parents may be accessing further childcare to help them stay in work and their children access education, I fear that once again, families like ours, and children like David, may get the bum end of the deal and fall even further behind.
This article originally appeared on Rainbows are too beautiful. Here Ann shares her stories and ideas about raising her neurotypical, ASD and ADHD family. Follow them on Facebook.
HuffPost UK Lifestyle has launched EveryBody, a new section calling for better equality and inclusivity for people living with disability and invisible illness. The aim is to empower those whose voices are not always heard and redefine attitudes to identity, lifestyle and ability in 2017. We'll be covering all manner of lifestyle topics - from health and fitness to dating, sex and relationships.
We'd love to hear your stories. To blog for the section, please email ukblogteam@huffingtonpost.com with the subject line 'EveryBody'. To flag any issues that are close to your heart, please email natasha.hinde@huffingtonpost.com, again with the subject line 'EveryBody'.
Join in the conversation with #HPEveryBody on Twitter and Instagram.