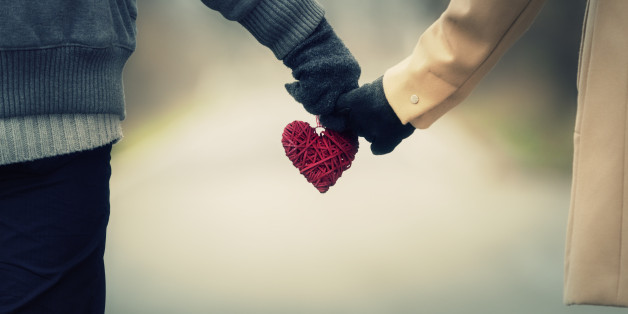 KristinaJovanovic via Getty Images
It's what so many songs and films are based on, what many apps are now built on, and (perhaps despite our best efforts) is one of our strongest, most instinctual of emotions: Love - specifically the romantic kind.
For those lucky enough to find someone to share these feelings with, being in a loving, and good quality relationship has indisputably positive effects. Positive relationships are likely to make us feel happier, healthier, more confident and more secure. And the impact isn't just felt by those in the relationship, but - for those who have them - it is also a huge factor in the outcomes of children. Happier couples make for better parents and healthier children too.
On the flipside, our relationships are not invincible. When things break down, or relationship stress increases, the impact on us is profound: relationship distress has been linked to increased risk of recurrent coronary events, negative health behaviours and depression and anxiety. And, as recently highlighted by the Early Intervention Foundation, we know that inter-parental conflict can have hugely adverse effects on children's mental health and long-term life chances.
Given the importance of these relationships, just how 'happy' are the UK's couples today? Relate, Relationships Scotland's and Marriage Care's latest research published today It takes two: The quality of the UK's adult couple relationships, examines our romantic partnerships and presents findings from our landmark The Way We Are Now survey of over 5,000 people in the UK.
Broadly speaking, our research paints a healthy picture: nearly four out of five (78%) people are happy with their relationships, three-quarters (75%) are in satisfying relationships, and almost three-fifths (57%) are in a relationship that is completely or almost completely rewarding. Encouragingly, nearly half of couples (45%) find dedicated time to spend together (for example on a 'date night') once a week or more.
Our data showed the clear impact of such positive relationships, with those in good-quality partnerships more likely to feel good about themselves, feel optimistic and feel loved; and less likely to report feeling lonely, or down, depressed or hopeless.
However, beneath this healthy picture, our data also showed a sizeable minority of people in much less positive relationships. A quarter of people (25%) are in distressed relationships, and levels of distress increase with factors such as length of relationship, having children, poor health/disability, and lower socio-economic position. Over one in ten people (13%) occasionally regret getting married or civil-partnered, and nearly one in six (16%) of those married/civil partnered or cohabiting think about ending their relationship at least occasionally. Given what we know about the effect of endured relationship distress, these are potentially worrying trends.
The biggest strain on relationships is money worries - with over a quarter of people (26%) experiencing this pressure in their relationship. In many ways, this is unsurprising; when the financial outlook gets worse, our relationships often follow suit. With recent analysis by the Institute for Fiscal Studies and Resolution Foundation showing wages will not rise for 15 years and the UK is in the midst of the worst decade for pay growth for 200 years, Relate is concerned that money worries are going to remain the top relationship strain for the foreseeable future.
People's attitudes towards and awareness of relationship support also gives us cause for concern. Whilst over half of people (56%) agree that 'all relationships come under pressure from time to time and everyone can benefit from support', only one in five (22%) would actually seek professional support if their relationship was under strain, and over half (54%) would not want anyone to know if they sought help. And, worryingly, two-fifths (40%) of people don't even know where to access relationship support. It's clear that stigma and awareness barriers still prevent many people from reaching out, and it's important we remove these barriers, so that relationship support services are open and accessible to all.
It is incredibly encouraging that Relationships & Sex Education will soon be compulsory in schools - embedding the importance of healthy relationships from an early age. But Relate think more can be done, and in our latest report we are calling on policy makers to put relationships at the core of mainstream family support services, and to support a public education and awareness campaign to break down the help-seeking barriers that currently prevent people from accessing support.
Our research demonstrates just how crucial our couple relationships are. While good quality partnerships are hugely positive forces in our lives, they are equally not immune from pressure. Policy makers must do more to offset the impact of such stressors, and ensure we all have the tools and confidence to reach out for support when we need it.