Travelling is extremely popular with students and graduates but we don't always have the time (or money!) to go gallivanting around the world for months. I have just got back from 8 glorious days in bella Italia- no, not the restaurant- beautiful Italy! If you are strategic with your time, especially in European cities, it is possible to tick every 'must-see-and-do' off your list before heading to your next destination. Here is my guide to getting the complete Italian experience in only 8 days (excluding travel time):
Fly to Rome, land in the evening. Get settled in your apartment, hotel or hostel. Grab a pizza and a good night's sleep ready for...
Day 1: VATICAN CITY AND SITE SEEING
Our apartment was near to Rome Santa Nuova train station, overlooking Vatican City and the stunning St Peter's Basilica. It cost around 30€ per person per night (pppn) and central Rome was only a 30 minute walk away. On our first day we decided to explore Vatican City. We went into the basilica (which is free of charge) and decided to climb the 500+ steps to the top of the Dome (for 5€). The ascent is a claustrophobic, dizzying and sweaty experience but the amazing views of the city from the top make it all worth it. We decided not to opt for a group tourist tour at around 30€ but if you wanted a more complete and guided experience of The Vatican (and many other monuments in Rome) then there are many operators you can buy tickets off- but beware of overpriced scams and check what is included! We found we made do with just our travel book, which has handy maps and routes to all the sites and plenty of details of the interior of buildings and churches too. After a few more pictures we headed into Central Rome to start ticking off the sites there. By the end of the day we had seen the Trevi Fountain, The Pantheon, The Spanish Steps, Victor Emmanuel Monument (aka 'The Wedding Cake'), Piazza Navona and many other must-sees. We grabbed snacks along the way to save time and money but treated ourselves to a big, delicious meal in the evening.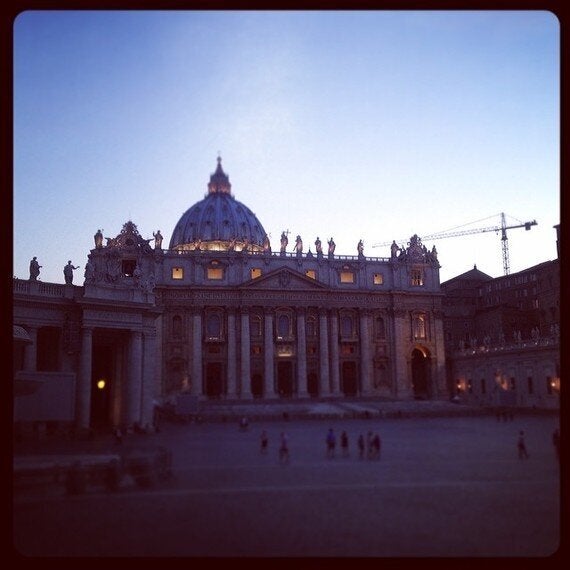 Day 2: ROMAN FORUMS AND COLOSSEUM
We took the metro (1.50€ per journey) to 'Colosseo' which exits straight onto the Colosseum. The Roman Forums (the old centre of Rome) are just next door and you can get a combined ticket to both for around 8€. Handy tip- everyone goes to Colosseum to queue so head to the Forums ticket office to get exactly the same deal in half the time! We spent a few hours wandering around the ruins at The Forums most of which are huge, surprisingly well preserved palaces, statues and castles set in stunning gardens. We then explored the Colosseum which can be done fairly quickly if you do not want a guided tour. Afterwards we walked back through town doing more site-seeing along the way to our apartment before heading back out again for dinner and drinks.
Day 3: LAST MINUTE EXPLORING AND TRAIN TO FLORENCE
Our last day in Rome involved packing up our things and leaving the apartment at 10am- subsequently dragging suitcases in 34 degree heat through the city. Not ideal but necessary! We decided to set up camp in a coffee shop near Termini train station and do some last minute site seeing before getting the train to Florence at 4pm. We booked our connecting trains in advance to get cheaper fares. By 7pm we were in our next apartment just round the corner from the breath-taking Duomo for 25€ pppn. We explored Florence in the evening and ended up in Piazza san Spirito- the trendy nightlife spot for students in Florence.
Day 4: EL DUOMO, SITE SEEING AND SIENA
Our first stop of the day was El Duomo (free entry but longish queues) before investigating the rest of Florence. Be aware that for most of the Duomo's and Basilica's in Italy you cannot have bare shoulders or knees, so make sure you take clothes to cover them (or you have to buy plastic shawls and sarongs off the staff at 1€ per garment). Our favourite square was Piazza della Signoria which is home to Michael Angelo's David replica, Neptune's fountain and a whole army of famous statues. We wandered over the Ponte Vecchio and by 2pm were satisfied we'd seen most of Florence. Not wanting to waste an afternoon we grabbed a bus to Siena (15€ return, one hour journey) and did a whistle-stop tour of El campo and the Duomo. We were back in Florence in time for another delicious dinner.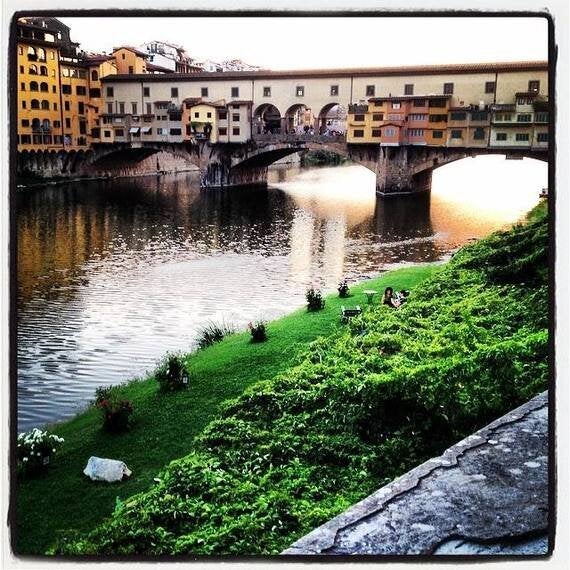 We got the train to the quaint, walled town of Luca where we hired bikes (4€per hour) and cycled atop the walls around the town- twice (it doesn't take long!) On foot, we then explored the town but most of the churches were closed between 12-3pm however they are still beautiful to see from the outside. From Luca we caught to the train to Pisa for a few quick snaps with the infamous leaning tower before heading back to Florence for our last evening.
Day 6: LAST MINUTE EXPLORING AND TRAIN TO VENICE
We awoke to torrential rain and thunder but, undeterred, we headed out like the committed tourists we are. As I forgot my rain jacket I had to buy a rather fashionable bright yellow poncho, much to the amusement of both my friend and every other person we passed. So, take a raincoat! It turned out trudging around in the torrential downpour wasn't much fun so we packed up and caught the train to Venice, our final destination. The weather was slightly perkier when we got there and we had a nice evening of bar hopping. Venues included the famous 'Harry's bar' birthplace of the Bellini (at 16.50€)!
Day 7: BASILICA, STROLLING AND SHOPPING
The sun made a reappearance for our first full day exploring the wonder that is Venice. We went into the Basilica in Piazza San Marco and then made our way through the maze of narrow streets, somehow managing to walk from one end of Venice to the other in one afternoon. There is plenty to ogle at as you stroll- from mask shops to fancy ice cream parlours, you can easily fill your time. We had dinner at a restaurant at the Rialto Bridge and enjoyed the free musical entertainment in the main square in the evening.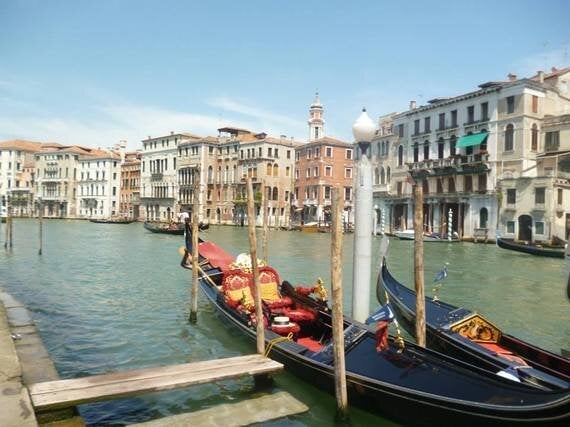 Day 8: GONDOLAS AND OPERA
Our last day was very relaxed. Obviously, one of the famous things to do in Venice is a gondola ride along the canals. We didn't actually do this as it can be quite pricey but plenty of other people were enjoying the experience! After more shopping and strolling we got ready for our last evening. We booked tickets to an Opera (with a twist). We saw 'The Barber de Seville' in a unique palace setting- each act took place in a different room so after each interval the audience all move to the next location. It's a fun, different experience and a great way to get a sneaky peak at more Venetian architecture. It was a lovely evening and the perfect end to our Italian tour.
Fly home from Venice airport after catching a water taxi to the mainland, doing some last minute site seeing of the island from the water on the way!
Et Voilà! Italy, check- now where to next?
Written by Anna Pitts, a Marketing Assistant and Online Researcher at the Graduate Recruitment Bureau. Her work involves PR and outreach and writing informative, interesting advice based articles for graduates and students. Follow her on twitter or connect with her on LinkedIn.
Related