You know that feeling you get when you first enter a place and you know you've come home? When we find the right place to live, it gives us a sense of peace and enjoyment. Somehow everything just feels right.
So what exactly is this feeling of 'home'? We all know the expression 'Home is where the heart is' or 'My home is my castle'. 'Home' might be a particular country with its own vibe, music, customs, history and mentality. Or it could be a city or village, a flat or a house, even a person or some favorite natural spot. And for many of us, home is a place for privacy, where what we do is nobody else's business.
The specific question 'What is home?' arose most obviously when I started looking for a flat. For more than five years now I have lived in my patrida Greece, my chosen homeland. I loved the downtown area of Athens called Kolonaki, which I secretly named 'my little New York'. Even the cabs were yellow! Kolonaki is at the foot of Lykavittos Hill, aka Mount Lykabettos, the highest peak in Athens. From there, you can see the whole city, clear to the Acropolis and the sea. It has pine trees and lots of varieties of cacti, and turtles crawl around in the bushes. Whenever I go there with my dog, we both find it a great place to recharge our power. My mixed-breed hunting dog loves to sniff around in the brush, chase cats he never catches and run to the top of the hill.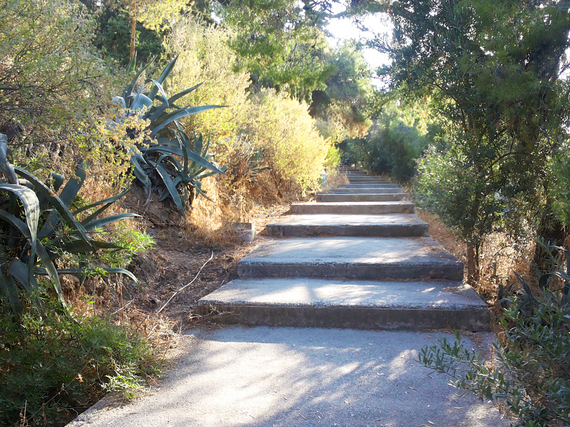 Now, I found a flat I loved, complete with balconies, near the mountain. Even the former residents had left behind a feeling of positive energy. My dog loves it, too. Where we live now, there are birds all around us. One particular blackbird likes to sit on the balcony ledge for short periods of time. Most of the time, he holds a worm or some leaves in his beak and looks at me curiously, like he's trying to figure out who or what I am. The other day a sparrow paraded into my living room. It walked right past the balcony doors, looked around, chirped a bit and then flew away. For me, all of that is 'home'.
But 'home' means different things to different people. I've even met people whose restlessness and curiosity has become a kind of home. They get bored when they feel there's no longer anything new for them to experience, and at that point they again start to search for their true calling, whether in their business or personal lives. 'Home' then takes on a whole different meaning. As one of my friends told me: 'I'm a traveller. When I arrive in a new city, the first thing I look for is a good coffee shop.' The smell of coffee reminds him of when he was a child and his mother used to brew coffee in the mornings.
'Home' can also mean your body. Do you feel comfortable in your physical temple? Do you nurture it with healthy food, fresh air and movement? Our bodies mirror how much we care about our own well-being.
'Philosophy is really nostalgia, the desire to be at home', said the German Romantic poet, author, and philosopher Novalis.
In her 2014 TED talk, author Elizabeth Gilbert tells how, before she wrote Eat Pray Love, it took a while for her writing to be acknowledged. But she didn't give up. 'I am not gonna quit. I am going home,' she said. For her, home wasn't a place but her writing, what she called the 'worthiest' thing in her life, and she advises all of us to find that thing and to fight our way back to it, whatever our worthiest thing in life might be.
For me, home is that place where I can be receptive to others and where I also inspire others. Silence is my home. Nature is my home. Sunlight is my home. The hill is my home. I'm at home when my dog waits for me at the door, excitedly wagging his tail.
In my search for home, I came across a quote written centuries ago:
There is a candle in your heart, ready to be kindled.
There is a void in your soul, ready to be filled.
You feel it, don't you?
― Rumi
How do you see your home? Where would you rather live? Drop me a line. I'd like to know.
Anna