Forget hi-tech gadgets, expensive perfume and stacks of smellies. UK kitchens are turning into present production lines as families get into the Blue Peter spirit this Christmas.
From chutneys to truffles, jams to gingerbread houses, research is showing that two thirds (67%) of families are getting their bake-on for friends and family.
Kids are leading the Christmas cooking charge as Mum is revealed to be the top target for a homemade gift, closely followed by teachers, then grandparents.
Most popular kitchen creations are:
We have been inundated with people requesting edible gift recipes, and cookies are by far a festive favourite!
Not only is it a great way to save money and give something with a personal touch, but it's the perfect opportunity to get the kids involved in creating foodie treats for loved ones.
Don't worry if your edible creation doesn't look perfect - as long as it's packaged up nicely and tastes good, you'll be in for brownie points!
I have put in a couple of my favourite festive treats in below, for more recipe ideas visit www.annabelkarmel.com
Wishing you a very Happy Christmas!
Christmas Pudding Truffles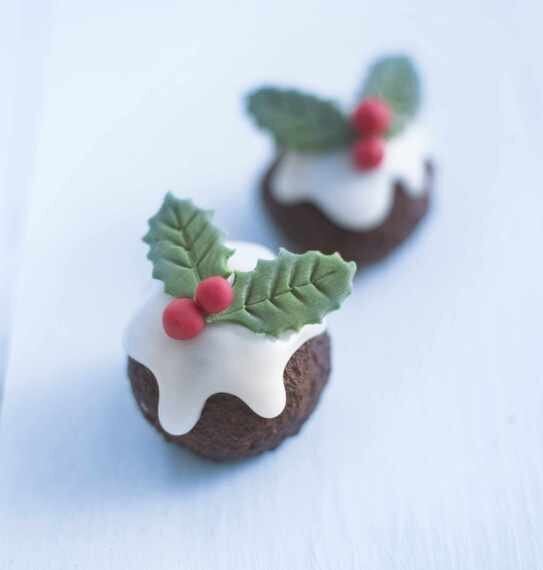 75g raisins or dried cranberries cut in half
1 X 300g ready-made ginger cake
150g (6oz) ready to roll icing
green and red food colouring
1. Soak the raisins or cranberries in orange juice for about half an hour. Melt the butter and chocolate either over a pan of simmering water or in a microwave. Stir in the raisins or cranberries and then crumble in the cake. Mix well and leave to cool slightly.
2. Place in the fridge for about 1 hour to firm up and then roll into 10 walnut sized balls.
3. Colour 50g of the icing green roll out on a clean work surface dusted with a little icing sugar and cut into holly leaves using cutters. Colour 10g of the icing red and roll into berries. Roll out the remaining white icing and cut out 10 wiggly circles for the brandy butter and place these on top of each of the mini Christmas puddings. Decorate with the holly leaves and red berries (dampen the icing underneath to stick onto the cake).
Prep time 40 mins plus 1 hour chilling time
Makes 12 truffle puddings
Stained Glass Window Cookies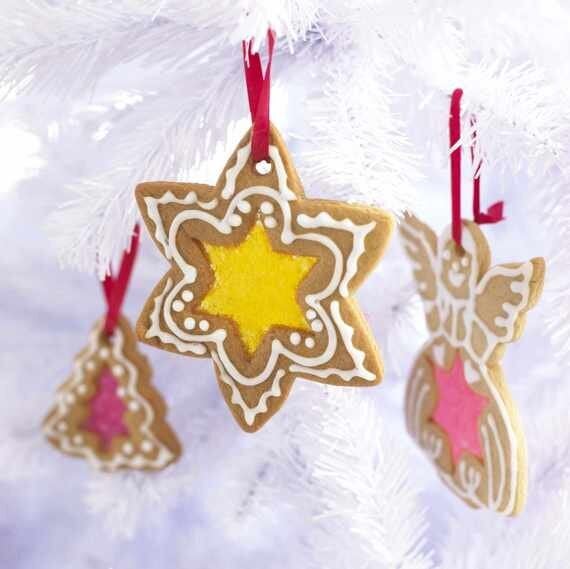 1 tsp bicarbonate of soda
175g (6 oz) soft brown sugar
Different coloured fruit flavoured boiled sweets
1. Pre-heat the oven to 180C/350F/Gas 4. Mix the flour, bicarbonate of soda, ginger and salt into a bowl. Rub in the butter until the mixture resembles fine breadcrumbs, and then stir in the sugar. Beat together the egg and golden syrup and mix into the flour mixture to make a smooth dough, kneading lightly with your hands.
2. Crush the sweets in their wrappers using a rolling pin. Sprinkle flour on a clean work surface and roll out the dough until about 1/2cm (1/4in) thick, then cut into shapes using a selection of Christmas Cookie cutters. Transfer to lined baking sheets.
3. Cut out shapes in the centre of each biscuit, making sure you leave a good edge all around the biscuit. Completely fill the hole in each biscuit with crushed boiled sweets.
4. Make a hole at the top of each biscuit using a drinking straw so that you will be able to thread a ribbon through it later. Bake for 11-12 minutes until golden.
5. While the biscuits are still warm, check the holes are still there, otherwise push a straw through again. Do not remove the biscuits from the baking tray until they have cooled as the boiled sweets need to harden. Once the sweets have hardened, gently lift the biscuits onto a wire rack with a palette knife to finish cooling.
6. You can decorate the biscuits with piped white icing.
7. Thread ribbons through the holes to make loops for hanging.