I had a love/hate relationship with dinner time when my children were young. I absolutely loved it as it was a chance to spend uninterrupted quality time with my precious bundles of joy. I also loathed it because I could never predict how feeding time would pan out - would it be clean plates and angel faces or teatime in the trenches?
When you've got a fussy eater to contend with, it's of little wonder parents become locked in a battle of wills and meal times begin to feel like a war zone. The battle lines were drawn more times than I care to remember - especially with my son. But somewhere in the back of my mind I knew there had to be a way for me to declare victory.
Most children go through a phase of fussy eating, whether it's picking at their food before pushing their plate away, eating a few favourite foods, or flatly refusing to eat at meal times.
It's so easy to feel frustrated and powerless when your child simply refuses to eat certain foods. But the key is not to give in or give up. Day in, day out, I persisted with new foods, new recipes and creative ways to hide the good bits my son didn't like. In fact, it was coming up with these new and novel recipes that inspired me to create my very first book - Complete Baby and Toddler Meal Planner.
Truth be told, 90% of children go through at least one lengthy stage of fussy eating. It is now official: the UK's toddlers are the toughest food critics in Europe! I spotted a new study this month which highlighted UK toddlers to be the fussiest in Europe with 69% refusing food.
While it can be frustrating when a child rejects the food we give them, it's actually the way that we deal with the situation that impacts on their eating habits. According to the study, over four in ten UK mums let their toddler get away with not eating certain foods in order to keep the peace. However, giving your children a limited number of foods will only escalate their fussiness, and deprive them of the essential nutrients they need to grow and develop.
Variety is definitely the spice of life when it comes to feeding little ones. A few ways I used to get my children to eat new foods was either by reward systems using stars on charts, or by making healthy versions of their favourite 'junk food' such as nuggets and pizzas.
I also used to disguise vegetables with tasty sauces and finely mince beef or chicken to make a very fine pureed Bolognese. If I am honest, hiding the good bits in a meal didn't always get past my children, but I found it really important to hide my frustrations. Instead, I gave them lots of praise when they ate well or tried something new. Yes, this may mean that you have to ignore some of their bad behaviour and instead focus your attention on their good behaviour, but by doing this, mealtimes are likely to be less stressful and more enjoyable.
Remember, you are not alone! Keep trying out new ideas and eventually you will see positive results. Don't be afraid to quiz other mums on how they tackle fussy eating. I used to share my recipes at my son's nursery and it felt so good to be able to help other mums in my position.
For starters, here are my fussy eating tips as well as a recipe I created to introduce chicken into my son's diet. Try out my app too - there are lots of recipe ideas on there.
Tips to help cope with a fussy eater:
1. It's important to introduce as many foods as possible at an early age. You could try playing a game and blindfold your child before introducing a new food and ask him to guess what it is.
2. If your child refuses to eat anything other than junk food, don't worry. They will soon find there's not much point making a fuss if you don't react.
3. Avoid empty calorie snacks like crisps or soft drinks and keep a supply of healthy snacks on hand - maybe have a low shelf in the fridge with cut up fresh fruit and other healthy foods. When children are hungry, they won't wait.
4. Try making your own healthy junk food using good quality lean meat for burgers, English muffins for pizza bases and a good way to coat homemade fish fingers is to dip them in seasoned flour, beaten egg and crushed cornflakes. For dessert it's easy to make fresh fruit ice lollies from fruit juice and pureed fruits.
5. Without going to unnecessary lengths, try to make your child's food not only tastes good but looks good too. Make mini portions in ramekins, make chicken skewers or thread bite sized pieces of fruit onto a straw.
6. Most children adore cooking and tasks like squeezing fresh orange juice or cracking eggs are well within the capabilities of a young child. It's amazing how being involved in the planning and preparation of a meal can stimulate a child's appetite.
7. Children like to assemble their own food, so you could lay ingredients out in bowls and let your child fill and fold their own wraps or choose their favourite toppings for their home made pizzas.
8. If your child is underweight and not eating well they need as much energy (calories) as possible. Choose full fat dairy products like cheese, milkshakes or good quality ice-cream and avoid using 'low fat' dairy products.
9. Reward schemes like a sticker chart in the kitchen can work well with older children. Make the chart yourself perhaps decorating it with pictures of their favourite characters. Give your child a sticker for eating new foods. When they have collected a few stickers, reward them with a prize. The first one should be easily attainable to incentivise your child.
10. If children will not eat vegetables, create recipes that vegetables can be blended into such as a tomato and vegetable sauce for pasta or mashed potato with carrot. What children can't see, they can't pick out. Also many children like eating with their fingers so serve vegetables like whole corn on the cob or carrot and cucumber sticks.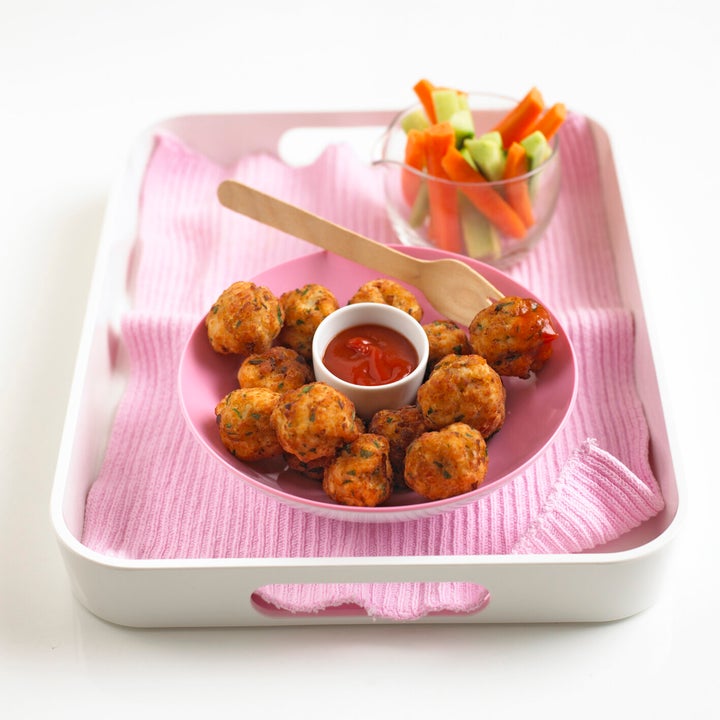 RECIPE: MINI CHICKEN PATTIES
Recipe and image from 'Complete Baby and Toddler Meal Planner' Ebury Press
This recipe first appeared in my first book, Complete Baby and Toddler Meal Planner. It's good to find finger foods for children that are also nutritious. Combining the natural sweetness of the apple with chicken provides a lovely flavour.
Suitable for freezing - put the patties on a baking sheet lined with cling film. Cover with more cling film and freeze until solid. When frozen, transfer to a freezer bag.
Preparation time: 10 minutes
1/2 red onion, finely chopped
1/2 medium carrot, coarsely grated
1/2 medium apple, peeled, cored and grated
1 tbsp sunflower or canola oil
1/2 tsp chopped fresh thyme
1 slice white bread, crusts removed
250g (9 oz) minced chicken
1/2 crumbled chicken stock cube (for babies of 1 year and older)
salt and pepper, to taste
1. Pre-heat the oven to 180◦C / 350F / Gas 4.
2. In a large frying pan, sauté the onion, carrot and apple in 1 tablespoon of oil for 4 minutes. Stir in the thyme and garlic and cook for 1 minute. Remove from the heat and allow to cool.
3. Meanwhile, put the bread in a food processor and whiz into crumbs. Add the onion mixture, chicken and crumbled stock cube (if using) and combine for 1-2 minutes.
4. Using your hands, roll 30 small balls and place on a baking sheet. Flatten them slightly to make patties. Cook on the middle shelf of the oven for 18-20 minutes until golden brown and cooked through.
For more recipes, click here or download Annabel's Essential Guide to Feeding your Baby and Toddler available on iTunes and Google Play.
This Blogger's Books from amazon.com