Amanda Byram is one of Ireland's most famous exports. She is best known for presenting BBC's Total Wipeout.
Brunette beauty Amanda started off her working life as a model, before taking the TV world by storm, presenting shows such as The Big Breakfast and Liquid News. She has since progressed to American TV and hosted the reality TV series Paradise Hotel and The Swan.
Fitness fanatic Amanda is currently leading a series of half marathons across the UK and promoting the charity Udo's Choice, of which she is ambassador, worldwide. She is also the ambassador for Love146, a charity whose aim is to abolish child sex slavery, exploitation and trafficking.
Here Amanda shares her beauty secrets with me.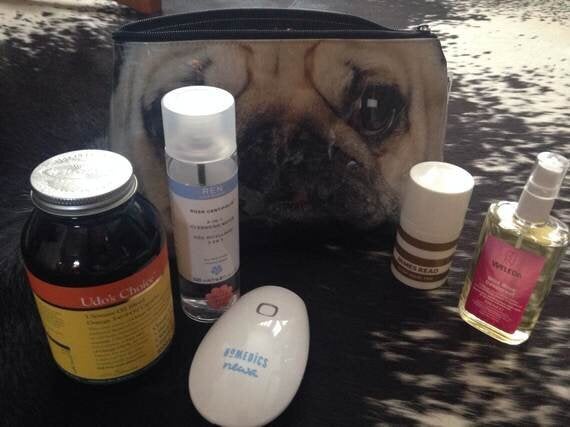 UDOS oil Capsules. My idea of beauty, anti-aging and beautiful glowing skin, comes as much from what you put INTO your body as what you put ONTO your body. For years I have been taking UDOS Choice Ultimate Oil Blend. My Mum passed on this little beauty gem, and I have been obsessed ever since. Our bodies need essential fatty acids for best health, but they're not provided enough in our daily diets, and the ones that are, are damaged by food processing! Because I am out and about so much, its impractical for me to carry the bottle of oil everywhere! I swear by this product as my intake of good essential fatty acids to keep my skin glowing. These capsules are the next best thing when on the road.
REN Rosa Centifolia 3 in 1 Cleanser: I'm a big believer of PARABEN free products. Parabens are toxic (and unfortunately in a lot of women's beauty care products). The side effects from these parabens can include fertility problems and cancers! I love RENs 3 in one Cleanser-Make up Remover-Toner- water. Great for me to remove make up easily before having to reapply between jobs and on the go.
HoMedics Newa skin care rejuvenation system: An anti-aging regime is really important to me and I always make time for taking care of my skin, even when I am on the go. When I turned 40 last year, I started to really take care of my skin drinking plenty of water and using numerous lotions and potions. Now I have discovered this amazing product which is a professional non-invasive anti-aging device that you can use in the comfort of your home, or hotel rooms for busy folk like me! It works with a specially formulated Activator Gel, and "3DEEP technology" which delivers controlled radio frequency deep into the skin using a hand piece. This triggers the natural production of new collagen in the skin, in turn reducing wrinkles around the face and neck. It is a great addition to my skin care regime and I have noticed it has really help plump my skin and reduce my wrinkles.
JAMES READ Sleep Mask tan: I love being bronzed, but can't justify sitting in the sun anymore. My go-to tan guru for a spray tan is James Read. However he is a busy man, and when I can't see him his range of products are absolutely amazing. His 'Sleep Mask Tan' is GENIUS! Apply for 2 hours then wash off, or keep on for a deeper tan. It gives you the most natural glow! It's super lightweight and has hyaluronic acid and aloe vera so your skin feels smooth too!
Weleda deodorant: I stopped using deodorant years ago because it contains so many toxic chemicals that we need to be aware of. Recently I discovered Weleda Citrus deodorant and carry a small bottle with me as it doubles as a refreshing room spray! I am a firm believer in paraben free and aluminium free deodorants and Weleda products are all natural, organic, eco-friendly, sustainable and fair trade.
1. I insist on drinking 3 litres of filtered water a day, we are made up of water, and we also ingest so many toxins through the environment that flushing them out is paramount for good skin and healthy cells.
2. I start every day with warm water and lemon to wake up the digestive system and kick your day off with an alkaline hit. You wouldn't wake up with a splash of cold or boiling hot water? So treat your digestive system the same way!
3. I never microwave anything. In fact I haven't ever owned one! Overheating food just kills the enzymes so you might as well just eat cardboard, it's just as nutritious! I tend to eat as close to raw as often as I can, eating lots and lots of raw or steamed vegetables.
4. QUIT SUGAR! I haven't really eaten sugar for a few years. But until I mostly gave up alcohol last year, I didn't really start seeing the effects. My skin is much healthier, and I really feel as though I stopped ageing a little! Turning 41 this year, I feel healthier now than I did at 21
With Amanda Byram taking such meticulous care of her skin and body, no wonder she looks so good.