With a half Italian mother and English father you can imagine what the build up was like for the opening game in my parents' house! Born in England I am of course a Lion through and through and I come from a family of football and food lovers. My Italian granddad - Carmino Tomasso came over from Sicily to my home city, Southampton many years ago to open up a chip shop, my uncle was a chef on the boats, my brother is executive chef at Winchester hospital and worked there for years, my mum before retiring had also been in the catering business and my career has not stopped - spanning from developing food for supermarkets, big brands to working as I am now as Head of food for a restaurant group.
I am a total football head though! A lot of chefs are....
I've played football from the age of 10 until recently. My eldest son plays football and my youngest son well, I am coaching and running a mini soccer team for him and his friends at weekends. I love it, coaching 7 year old boys is so much fun and very rewarding...
Here is little Stanley on the ball...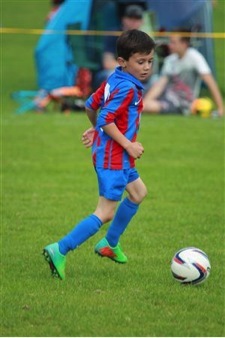 The team I support is of course Southampton FC and everyone in the city is very proud to know that so many of the first team players were out in Brazil. Saints had Adam Lallana and Luke Shaw in the England side (would have said Ricky Lambert who was also out in Brazil but has signed for Liverpool)
Even though the team fell short, there is still a good buzz in the city, we have signed one of the most important management signings in History in Ronald Koeman as Head Coach, Ronald was an incredible player for his country and a real star player in the Holland World Cup side alongside Marco van Basten and co.. He won the Euro 88 and I can remember as a kid coming home from School and watching the TV when he was playing at the 1990 and 1994 FIFA World Cups...what a long range strike he had on him, he was my idol back then, he played defence but used to score some belters!
Go luck with Saints RoKo!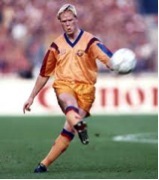 As my Job as head of food for La Tasca requires a hell of a lot of food tasting, being responsible for my waistline that was slowly but surely gaining I decided to take up playing local Saturday 11-a-side football again in March this year, 2 games in and it wasn't such a good idea... I injured my knee and had to be stretchered off, turns out I completely ruptured my ACL , MCL and both meniscus as well as damaging, my thigh bone and all the other ligaments in my knee.
So since March I have been in and out of hospital. With Physio pre-hab and re-hab before and in between the 2 operations.
As I sustained quite a significant injury I helped my Physio at the Spire Hospital to open the brand new Perform centre in Southampton. They wanted to use me as an example of how a patient is treated with multi ligament damage and explained the journey I had been on to the local press, as far as I knew that was it and then in walks Southampton FC and England striker Jay Rodriguez to officially open the centre. Lovely guy, who missed out on the World Cup due to rupturing his ACL. I've been following his injury as a saints fan on the news, but to get to meet him was just awesome ... we chatted about ACLs and MCLs for ages.. Jay Rod wish you all the best!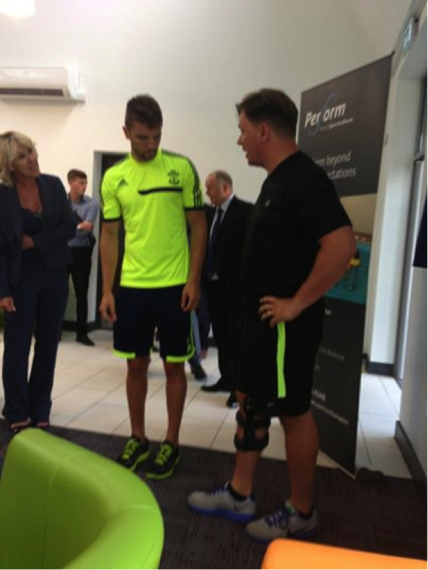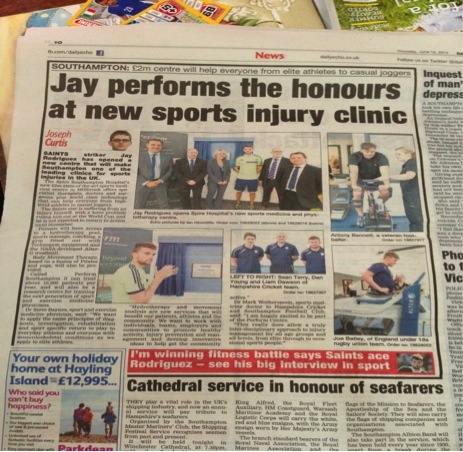 Anyway as I type this I have now been officially fixed! It's going to be some time before I get back into the full swing of things in the La Tasca kitchens but we have a cracking team of chefs who I talk to all the time and throughout the extended family at La Tasca have been so supportive, I've continued to do my job from home, set up an office space to continue my food buying role and write recipes, and have been testing future menu recipes in my own kitchen. Simon our CEO even popped down for a day while I hobbled about and cooked off the next La Vina menu... Seeing him wash up in my kitchen sink was quite refreshing! Top guy he is!!
So with the world cup reaching its culmination, with some amazing football on show and the nice weather still here, here are a couple of recipes in dedication to two teams, who like England and Italy, didn't quite make the grade.
Chorizo Tostada inspired by Mexico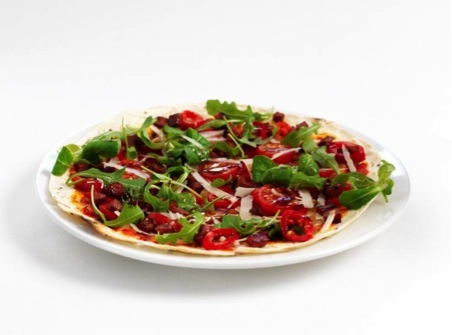 To make 4 of these, you will need:
4 10" tortilla wraps
1 small jar of red pepper sauce or tapenade
350g of fresh spicy chorizo sausage, diced small
1 packet of rocket leaves
Small 250g pack of cherry tomatoes, cut in half
1 small jar of sliced red roquito peppers, drained (or red Jalapenos)
Small block of parmesan cheese
Salt and pepper seasoning
4 tbsp of balsamic dressing
Pre-heat the oven to 180c gas mark 5, whilst you are waiting for the oven to warm up spread the red pepper sauce onto the wraps, just like you would if making a pizza! Pop the wraps onto a couple of wire cake cooling racks or onto a couple of cookie trays and place them into the oven for 5 minutes until they become crisp on the edges.
Place a non-stick pan onto the stove and turn on to a medium-high heat. Throw in the diced chorizo and dry fry for about 2 minutes until the edges are starting to caramelise and the oil is released from the meat. Set aside.
Remove the Tostadas from the oven and place onto 4 large plates, then evenly top them all together, I usually add the chorizo first followed by the cherry tomatoes, then the roquito peppers, rocket, shave over a bit of parmesan, then do a balsamic dressing then a pinch of salt and pepper..but it's up to you, just get it all on quick!
Enjoy
Souvlaki Chicken Skewer Salad with tabbouleh and Tzatziki inspired by Greece
To make 4 salad bowls you will need:
4 Chicken breasts, diced
100ml Garlic Olive Oil
2 Lemons
1 tsp garlic puree
500g of Natural Yogurt
Pinch of Salt & pepper
Half a Cucumber, sliced into long thin strips
Small pack of fresh mint
Small pack of fresh parsley
½ a small White onion, finely chopped
300g of cooked couscous
2 Red Peppers, diced into 2cm cubes
1 small Red onion, 2/3 diced into 2cm cubes the rest thinly sliced
2 Baby gem lettuces, leaves removed and washed
Small pack of cherry tomatoes, sliced
4 tbsp of balsamic dressing
Pitta Breads (optional)
You will also need 8 metal skewers (Tip: metal is best because it helps to cook the chicken from the inside as the skewer itself maintains the heat)
Dice up all the chicken, coat in half the garlic oil, half the yogurt, and the juice of 1 lemon. Add a pinch of salt & pepper. Seal in a container and leave in the fridge overnight.
I make the Tabbouleh and the Tzatiki the day before too, so it's just a case of cooking the kebabs and assembling the salad on the night, makes it really quick.
To make Tzatziki;
Place the sliced cucumber, the rest of the natural yogurt and take about half of the mint out of the packet and finely slice, almost shred the mint. Mix in the garlic puree, the rest of the garlic olive oil, lemon juice and a pinch of salt. Mix the ingredients together and store back in the fridge for the next day.
To make Tabbouleh;
Tabbouleh is more of a Levantine dish than it is Greek but it works so well with this recipe. Place the couscous in a bowl (you can use the more traditional bulgar wheat if required) add the chopped white onion, the packet of chopped parsley, the juice of 1 lemon and the rest of the garlic olive oil. Give it a good mix, season with salt and pepper and store back in the fridge for the next day.
(Remember the only thing to add to this before serving is the leftover fresh mint, I never chop that until the last minute)
When you are ready to cook the dish. First make the skewers, use half the marinated chicken breast per skewer, it works out about 3 bits of chicken, 3 bits of pepper and 3 bits of red onion per skewer. Once you have made all of the skewers place them under a grill and cook turning every 3 minutes for about 12 minutes.
Place the gem salad leaves into the bowls, then add the rest of the red pepper, the tomatoes and some slithers of red onion, together with the Tzatziki, Tabbouleh (don't forget to add the rest of the chopped mint at this stage, some warm pitta breads and drizzle with the balsamic dressing
Remove the skewers from the grill and plate up then allow you and your guests to make your own filled pittas in front a game and enjoy!