Starting nursery for our first born and only child was anxiety ridden for us, but fortunately both nurseries our son has been to thus far have met our expectations and, most importantly, make him happy. I want to share the issues we considered to help other parents who are in a similar situation.
1. Reviews and basics
The official reports (Ofsted) are a good guide, although I must admit that I strongly disliked a nursery that was rated 'oustanding' so I highly recommend doing a tour before making a decision. Talk to other parents whose children go to the nursery to get their perspective, some nurseries are happy to introduce prospective parents to current parents. If you want your child to be in one school for a few years, look at schools that start at nursery and continue through primary school. Consider the distance to your home and workplace. Toddlers can be fussy in the mornings and some may take a long time to get ready, so if you're rushing to work before dropping your child, it helps to have a nursery that is not too far from home, your train station or workplace. Find out the time they open and close each day, and how they deal with summer, Christmas and half-term breaks. Question them about the time a child should be dropped off and picked up and their flexibility. When discussing fees, ask about a deposit, and if you only pay on days you attend or if payment is expected regardless of sick days and holidays. Children of that age need to be potty trained, so it is useful find out how they handle it.
2. Physical space
Children spend a considerable amount of their time at nursery so the safety, hygiene and appearance of an establishment are of utmost importance. One of the nurseries we visited although rated 'outstanding' had hardly any natural light and looked more like an attic than a space for children, which was a big turn off for us. Additionally, safe and attractive outdoor spaces so children can play outside scores highly in my opinion. A clean and tidy kitchen, children's toilets, sinks and nappy changing areas are also essential.
3. Food
Ask the nursery how many meals and snacks your child will be offered. In my experience there's breakfast, hot food at lunch time and at tea time. One of the things I really appreciate about my son's current nursery, is that the owner's sister runs the kitchen and I could smell the aroma of food that's cooking at drop off and pick-up time which tells me the food is made fresh onsite. She is happy to engage with parents and talks about what she cooks in addition to displaying the menu on a chalkboard as seen in the picture below.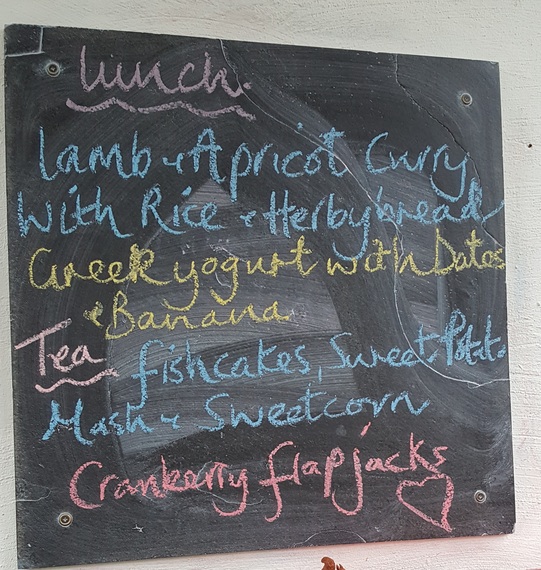 4. Assessment and feedback
Look into how often they report on your child's progress and in what format (a written report/face to face meeting). The protocol in case of an accident at the nursery will give you peace of mind and after enrolling your child, observe how meticulous they are at reporting even small accidents so you have an idea how they might handle a bigger emergency. You can also ask about past experiences and how they have dealt with them. Nurseries vary in their policies to administer medicine; some are happy to give medicines such as Calpol while others are not; so ask what would happen if your child runs a temperature and if you will be required to pick up the child immediately.
5. Teaching and Learning
a) Teachers - A nursery where the turnover of teachers is very high could be alarming, so ask for how long teachers have been working at the nursery and the years of experience they've had. A mix of teachers is ideal in my opinion so there is a healthy balance between maturity and youthful energy. And most importantly, I want my child to feel loved and cared for as the teachers will stand in place of family for a significant part of the day. Teachers who are affectionate and form a healthy bond with the child will create a pleasant environment for the child to keep returning to.
b) Learning - try to understand the learning philosophy of the nursery as there are many different approaches from the Montessori Method to Reggio Emilia to Steiner. It is worth asking about this to ensure it matches your expectations and goals. Additionally, explore children's work to find out the variety, quality and quantity of activities they do. Some may emphasise academic learning, while others less so and still some others have unstructured play time. There are some nurseries that offer extra lessons in foreign languages, music, and sport so it is worth inquiring about them. Ask them about the process through which they observe and flag issues related to a child's development as it is important to detect problems early. Furthermore, find out what support they offer children with special needs if the need arises. During the tour look at the quantity and quality of learning aids and books that are used in the classroom.
Anushka Fernando-Goonetilleke is the Founder of Mamabuys where she reviews children's books and other products. She also features stories of mum entrepreneurs.