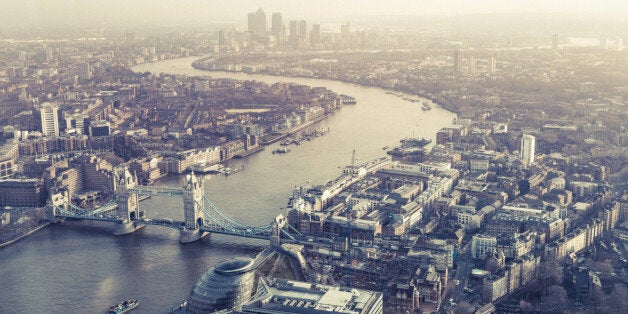 It was a regular Saturday afternoon but, with the holidays inching closer, Euston Square looked far busier than usual.
Across the street from the station, hundreds of doctors, health professionals and medical students had been attending a two day conference organised by Medact, exploring the interconnections between a healthy planet and human well-being.
At 1:00 pm, when the attendees of the conference should have been taking a much needed lunch break from back to back events and sessions, they started emerging in swarms from their venue and crossed the busy road to step into a little green patch next to the bus station. First, it looked like a crowd of about thirty, but it grew fast and more and more people crossed the street in groups. In the park, a few people started giving out face masks. The crowd put on their white coats. Someone unfurled a bright banner with big black letters that read: Doctors Against Diesel. There were about a hundred people there now, holding up the banner, wearing white coats and face masks. And their message was clear: we need to get rid of diesel to prevent health impacts owing to air pollution.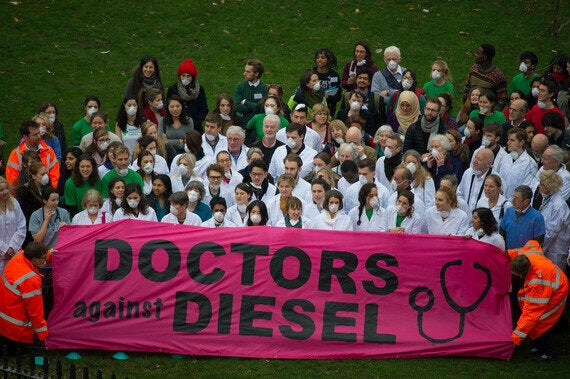 Doctors and health professionals are right to take this seriously. Air pollution in the UK has been described as a public health emergency. Research shows that nitrogen and its oxides are emitted from diesel vehicles, are toxic to human health. And London has one of the highest levels of NO2 in Europe. Its impacts fall especially hard on children, the elderly and people with existing lung diseases such as asthma and COPD. And people who work or exercise outside are susceptible to adverse effects such as damage to lung tissue and reduction in lung function
We also know from available data that London has some of the highest levels of NO2 in Europe. In fact, the European Environment Agency (EEA) found that more people have their lives cut short by diesel pollution in Britain than in any other European country apart from Italy. That's 12,000 premature deaths a year owing to pollution from diesel.
Doctors and health professionals are witnessing this first hand. They have started to advise their most vulnerable patients about avoiding air pollution, but they know this is not enough. Avoiding busy roads or not going out when the air quality is bad is only a sticking plaster.
But improving air quality is possible and solutions do exist.
Data modelling shows that if London has to meet its NOx limits, it will have to commit to phasing diesel vehicles out by 2025. This is not only necessary, but also politically possible as the Mayors of Paris, Athens, Madrid and Mexico City have already shown us.
It will not be a decision devoid of challenges-- businesses and public transport run on diesel and will need incentives and encouragement to make the transition. Global auto manufacturers will have to move away from diesel and provide cleaner alternatives--the technology already exists. And they will have to do it within the next decade.
In addition, the national government will have to work in tandem with the city governments to get rid of dirty diesel. Nine in ten new diesel cars being sold in the UK right now, are emitting up to 15 times legal limits of NOx. That is inexcusable.
In the longer term, governments must legislate to force the car companies to make a shift so that all new vehicles run on clean fuel.
A recent High Court case has forced the national government to review their inadequate plans to tackle air pollution in the UK, and take into account the additional air pollution caused by hundreds of thousands of mis-sold diesel cars on our roads that are breaking NOx limits. It is critical that citizens, campaigners and politicians, and key stakeholders like doctors, hold the government to account and make sure their next set of proposals are good enough to deal with this crisis.
All in all, ambitious action is needed at the global, national, city and local level. Getting rid of diesel vehicles is one step toward cleaning up our air. Sadiq Khan has already shown serious intention to deal with air quality in London; he can lead the way to a diesel free London and eventually push the national government towards a diesel free UK.
Let's be clear, we are faced with a crucial choice: exposing an entire generation to the potentially irreversible impacts of air pollution or continuing to run our cities on diesel. I am on the side of doctors on this one--and so should be you.
Related