Minutes after I have arrived at OneWorld Retreats venue just outside central Ubud, I knew I'm at the sanctuary of calm and piece where the sense of home and comfort is stronger than the smell of frangipanis in the air.
OneWorld Retreats is a spacious and cosy Balinese style 10-room yoga retreat venue set in the jungle overlooking a gorge and a river, with stunning views of rice fields all around. Narrow paths and tight staircases meant I kept missing the way to my room and a swimming pool a few times when I first arrived. As you wonder in that labyrinth you keep discovering new beautiful pockets of the venue, just as you keep unveiling your own inner peace whilst there.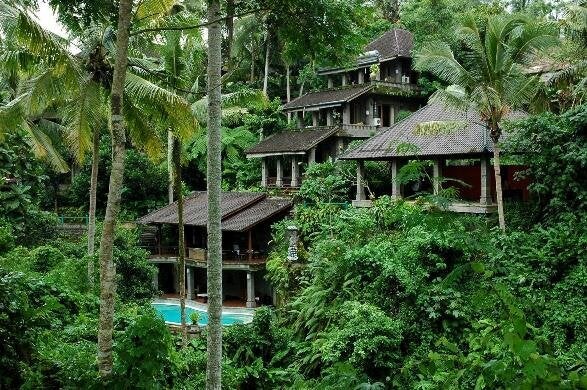 Wondering around paid off; my airy, bright and immaculate room offered rice field and sun set views to die for, and turned dining on my private veranda into an unforgettable experience.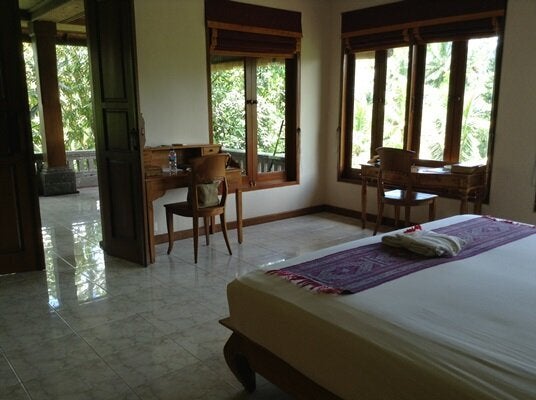 The views at the open yoga pavilion were no less spectacular. I'm starting to get used to doing my yoga practice in the lush tropical surroundings where the music accompaniment is the sounds of nature (how will I feel back being back in an enclosed yoga studio in a city??). Resident yoga teacher Wayan delivered a very thoughtful, meditative yoga practice with a deep sense of connection to self. This is how I want my group yoga classes to feel like.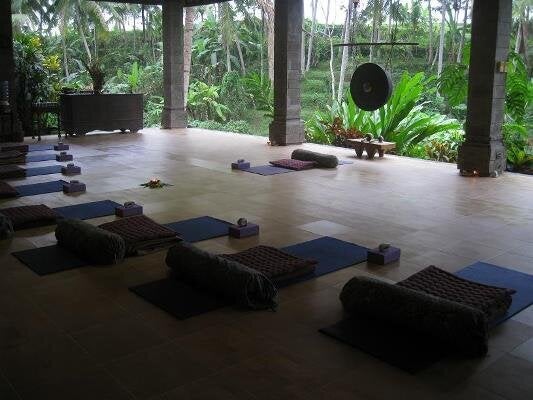 On my arrival at OneWorld Retreats I was lucky to have joined a very special ceremony taking place on the last morning of the regular signature yoga retreat "Escape the World": the "letting go" ceremony. A group of us sat together in a circle at a yoga shala. Being guided by the retreat leader, we all learned how to make traditional Balinese offering of a bamboo box of flowers. My first handicraft experience since pre-school times went surprisingly well and felt quite rewarding.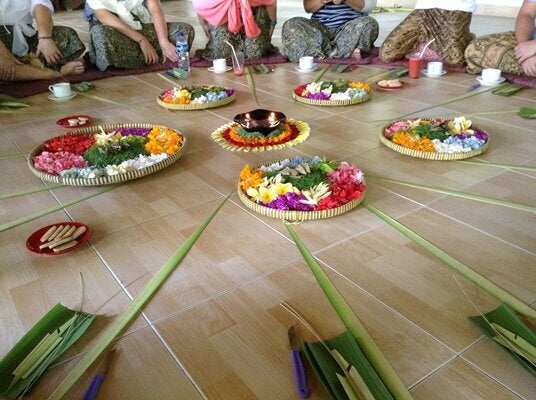 Then followed the main part - the fire ceremony. Each of us took time to write down a list of things we wanted to let go of on a piece of paper. We then slowly and meditatively burned those pieces of paper, as we sat in front of the teacher, one by one, lighting them from the candle and leaving the ashes in a big communal basket full of flower petals. After the last piece of paper has been burned, the teacher silently led us down the stairs towards the river and sent the basket floating down the river. Ceremoniously, we all threw handfuls of flower petals into the river. Somebody emotionally burst into tears. Others kept silent. Two minutes later, the basket with the ashes disappeared into the jungle. First step towards letting go done.
A powerful start to the weekend it was. Having just arrived at OneWorld Retreats, I was already overwhelmed with a myriad of emotions surrounding all kinds of issues that no longer serve me.
Then followed the easier part - my first treatment at the OneWorld Retreats Spa. A soothing full body massage was just what I needed after a three hour journey from the north of Bali very early that morning. I love Spa rooms with the view; here you feel like you are in the very middle of rice fields which makes an overall experience quite special.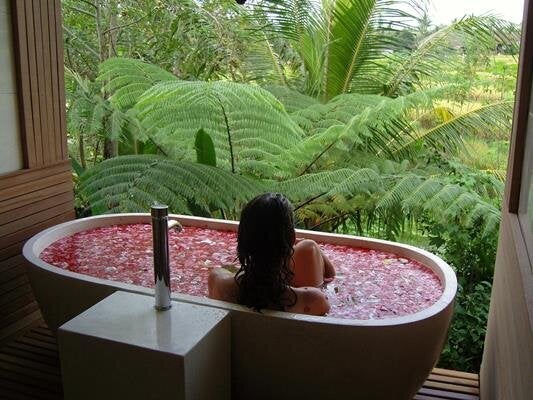 OneWorld Retreats Spa is nothing too fancy, but the quality of treatments and service are excellent. I'm a big fan of little details that turn a treatment into an experience: the Spa therapists introduce themselves as you arrive; you fill out the form before each treatment to indicate the level of desired pressure (and, thankfully, the therapists do deliver what you are requesting); you can adjust the volume of the background music in the room; a feedback form at the end of each treatment, a yummy ginger tea and endless, caring smiles from the therapists. This is what I call a memorable Spa experience.
On the second day of my stay at the retreat I got to experience the signature Chakra Dhara treatment. I love my Ayurveda; the sense of warm oil on my skin is the most soothing and relaxing thing ever. This 2.5 hour Ayurvedic ecstasy included a full body massage and Shirodhara treatment which sent me into the deepest relaxation state ever. Life can be so utterly blissful sometimes!
In between treatments I was experiencing another dimension of OneWorld Retreats pleasures - its glorious food. Healthy, organic, creative, local and international, bursting with colours and flavours. Don't forget yummy nature views are part of the menu.
All in all, my Spa weekend at OneWorld Retreats was both inspirational and pleasurable. I cannot wait to go back there to join one of the retreats; having experienced a taster of what the place has to offer, I can only imagine how its own healing energy can magnify the retreat experience, and all the amenities and services on offer make the stay very comfortable and nurturing and an overall experience truly memorable.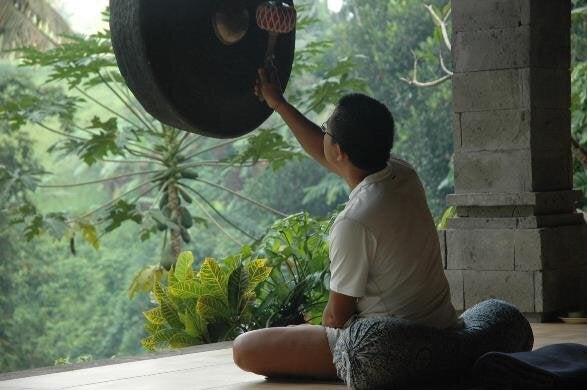 All pictures: OneWorld Retreats