Bali is a true Mecca for Spa lovers, with the choice of resorts and treatments on offer being as wide as the smiles of the Balinese people themselves, and even the most dedicated spa junkies can find something that will surprise them.
On my third visit to the island of Gods, it was time to try the crème de la crème of Bali Spas. After some googling and tripadvising, I've decided to go for one of the top luxury resorts in south Bali - Ayana Resort and Spa. It was the anticipation of the indulgence that kept me alive during the 20-hour journey en route to Bali. I'm not good with long-haul flights otherwise.
Set on 77 hectares of cliff-top tropical gardens perched 35 meters above Jimbaran Bay, Ayana offers breath-taking landscape and ocean views in a secluded location. The property boasts 290 hotel rooms and 78 luxury private villas spread out along its 1.3 kilometer coastline, which makes it the most spacious resort in Bali.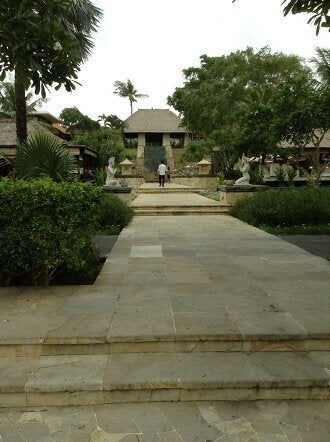 Whether it's a romantic vacation, a honeymoon, a wedding, an escape from the busy world or just a pure relaxation and a Spa experience you are after - Ayana can do it all. I paid a one-day visit to the resort to get a taste of its wide offer.
A busy reception area runs smoothly, with plenty of helpful smiley staff at hand. The resort is massive and, as you would expect, very well looked after, with plenty of open space, undulating hills, perfect lawns, lots of water features and a tasteful landscape design. Just the right balance between luxury and chilled out environment.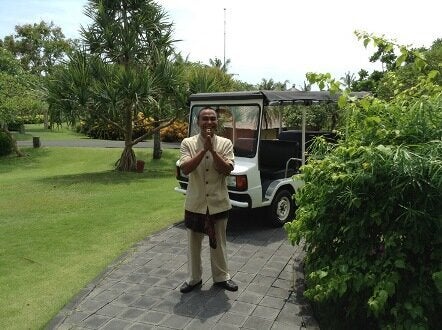 My experience started with a lunch at Soma Soma restaurant, one of the seven (!) restaurants at Ayana. I just couldn't wish for a better experience of authentic Italian cuisine. Buffalo mozzarella salad followed by lobster risotto topped up with a healthy juice were absolutely delicious, but I couldn't decide what I was enjoying more - the mouth-watering food or spectacular views of the ocean in front of me.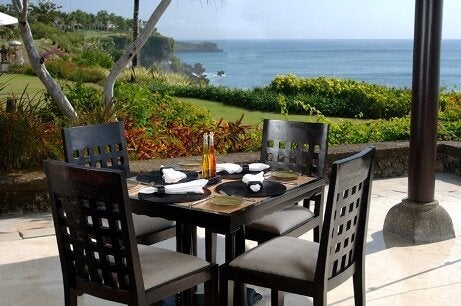 After lunch it was the much anticipated indulgence time at Ayana's Thermes Marins Spa. Being a Spa addict that I am, I was expecting an impeccable service and perfect treatments, and Ayana didn't fail.
The dedicated Spa area is beautifully set up, with loads of space to chill out, a spacious changing area with a very helpful attendant and well-established procedures (I didn't have to wait around for more than 2 minutes; waiting for your treatment at the Spa is my idea of wasted time). The attention of the Spa staff was exemplary, from reception to pool attendants. It's always good to know you are in capable hands when your goal is to total relaxation.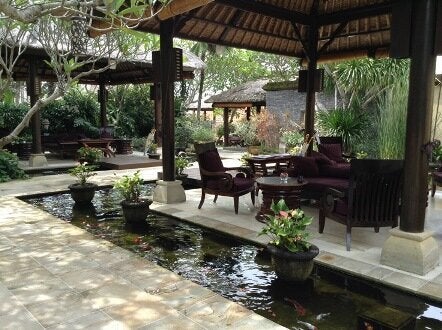 I've been loving Jacuzzi since I first tried it, but I've always had one problem with it. Do you know that feeling when you get those jet-streams massaging a few different points on your body, and you so wish it was a proper full body experience? Well I do. So what I always end up doing is having to twist my body in various pretzel-like shapes (thank God it's under water) in order to get those jet streams massaging not only my bum and shoulders but also all the other parts of my body. At Ayana's signature thalassotherapy pool you don't have to do any of that.
When I first saw the pool I thought I wouldn't want to stay there for over an hour, let alone the recommended two hours - it didn't look massive or particularly extravagant either. It was only after the first 10-15 min after I got in that I've realised how wrong I was.
The Aquatonic Seawater Therapy Pool contains 700 million liters of water directly supplied from the underlying Indian Ocean and warmed to optimum temperatures.
The first thing you do when you get into the pool is having to walk against quite a strong water stream. Not the most relaxing start. But the effort pays off almost immediately, as you get to the point at which you slowly start making you way through 12 separate hydromassage stations, containing over 60 individual therapeutic jet streams, micro-bubbles and geysers.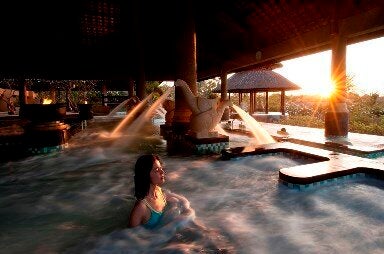 As the time goes by, you swing from one hydromassage station to another, and the jet streams are doing their work on every single part of your body, each station focusing on one particular area, from head to toe. It doesn't get boring at all; first, you can't wait to experience what the water massage at the next "station" is going to feel like; second, you are in the anticipation of coming towards the end of the circle as it offers spectacular ocean views, at which point it's water everywhere - around you and before you.
One of my highlights of the jet stream euphoria was foot massage - two powerful water streams from the floor literally raised my body up as I stood in the pool; that could be a good preparation for experiencing levitation.
The effect of this bubble extravaganza was quite significant. Earlier that morning I felt tired from a massive jet leg and the lack of proper sleep for the past two nights. All of that was washed off entirely. The one-hour session at the pool has re-charged my body, taken the tiredness away, relaxed my mind and pretty much made me feel like new.
Lucky me, the thalassotherapy session was followed by another sea-themed treatment: hot seashell massage. There is hot stone massage, and there is hot seashell massage - Ayana Spa likes doing things differently.
Before the treatment started, the therapist demonstrated her "tools" to me; beautiful seashells of various shapes and colours were being kept hot on an electric blanket. A small glimpse of the deep ocean's floor.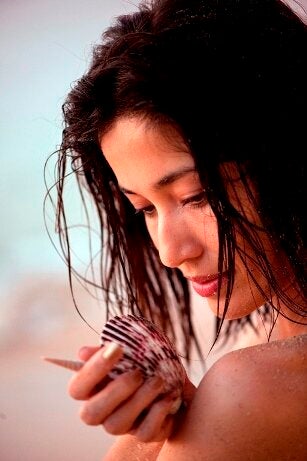 The treatment was a combination of full body deep tissue massage done with oil, followed by the hot seashell massage. The therapist slowly worked my whole body with the seashells, and their hot, firm touch was a great way to undo the knots in my body, whilst I was sinking into the relaxation state deeper and deeper. At the end of the treatment the seashells were laid out on various energy centres on my body as I was enjoying a facial massage.
After all that relaxation in the pool previously I nearly fell asleep during the massage, but the touch of hot seashells against my skin kept me alert.
The finale of my sea-themed visit to Ayana was Rock Bar which the resort is famous for not only in the whole of Bali but also well beyond (voted as one of the world's best bars with a view). This open-topped space is right by the ocean and you need to take a cable car from the resort's main area to get there (once you are done with the queue that is, but not unless you stay at the resort). The bar has a minimalist sleek design to keep your attention on the view of massive rocks and crashing waves all around you. The scenery is quite spectacular, but wait till the sunset - this is when you realise that queuing was worth it. The DJ up on the rock is playing soothing tracks as you are sipping on some of the best cocktails around enjoying the sunset and great views.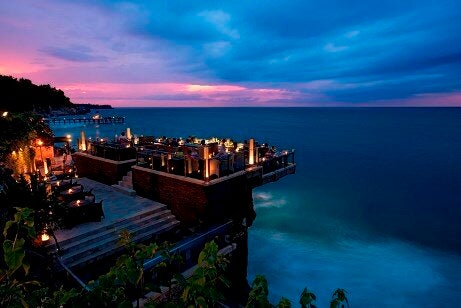 There couldn't be a better way to start my month-long stay in Bali than a day visit to Ayana. Next time I'm coming back to experience their Spa on the Rocks with its unique treatments. Shall I go for the "Diamond Miracle" treatment with the use of diamonds, silk, pearls, petals from 500 red roses and Champagne? Yes, not bad.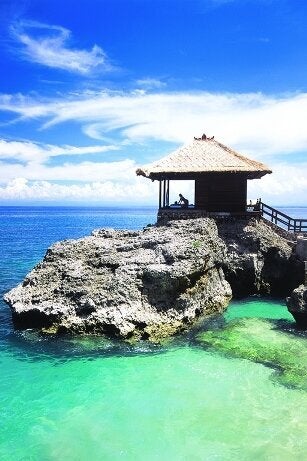 All photos courtesy of Ayana Resort and Spa