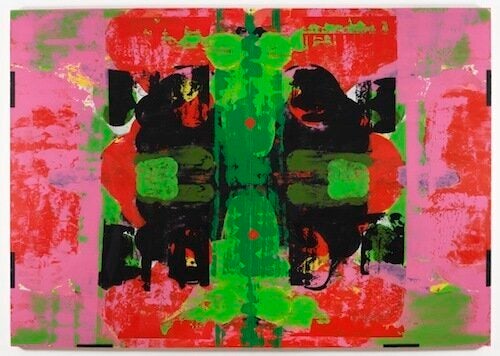 Kerry James Marshall, "Untitled (Blot)"
However, the most striking show of the season - and possibly the year - is currently to be found at David Zwirner's Mayfair gallery, where Kerry James Marshall has staged, "Look See," his first solo show in the city since 2005. Marshall is not a new artist - born in Alabama in 1955, he has exhibited throughout Europe and the United States since the late 1970s. His rich, layered paintings depict a real and occult history of African-American life, one that both plays with and counters stereotypical portrayals of black people. But with this new show, the sense is of an artist newly energized and at the peak of his ability. The appearance of Beyonce at the gallery and her subsequent posting of a selfie taken alongside his painting, "Untitled (Crowning Moment)" doesn't make the work any more valid, but has probably given it more coverage than the most optimistic gallery could have hoped for.
The paintings in "Look See," frequently deal with figures of black women - at once both hyper-real (piercing eyes, fluorescent nails, curves stretched beyond the usual shape of the human form) and shorn of the airbrushed perfection of the typical pin-up. Marshall's use of color itself is remarkable - rings, jewels and lurid cocktails leap off the canvas, while the deep blackness of the skin shines out. Marshall has spoken in interviews of this being both an aesthetic and identity choice, "answering the challenge that blackness has always been stigmatized."
Arranged over two floors, this is a beautifully hung show. Paintings which could potentially be overwhelming are each allowed to breathe in their own space. There's a Gauguin-meets-Hype-Williams feel to the whole installation, which genuinely dazzles the viewer. With this arrangement, you can absorb each painting and notice the smaller details that slowly creep out - the cat buried in shadow at the back of the sofa, the attention to the way fabric falls, the reflected pinpricks of green light in a pair of sunglasses. This is a show that repays repeat viewing and will be talked about for a long time to come.
--Justin Quirk is a contributor to ARTPHAIRE. He is a journalist and editor based in London, England. He is editorial director of House, the Soho House Group's quarterly culture journal, and also of Victor, Hasselblad's photographic biannual. He writes features for The Guardian and Sunday Times newspapers, Wallpaper* magazine and Phaidon's Agenda site. When not working he mentors young creatives at The Cut and writes graphic novels.