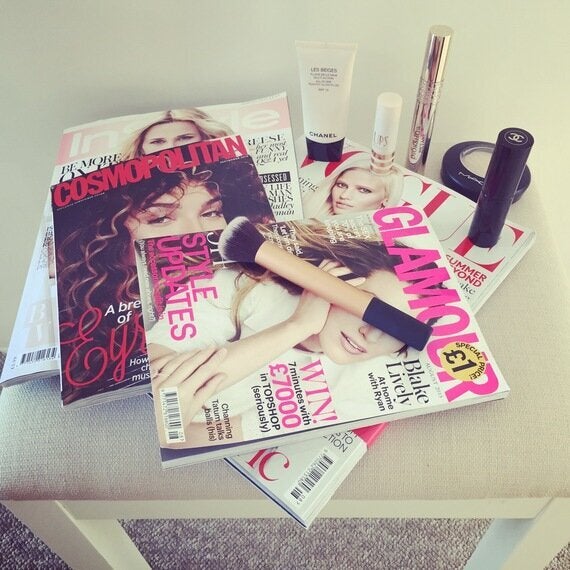 I have never been one for wearing much make-up, apart from the days when I was 13 and foundation two shades darker than my skin tone was the in thing. I guess I have followed in the footsteps of my mother and grandmother, who opt for minimal make-up and quality skincare products. I am a true believer that if you look after your skin in your youth, you'll reap the benefits in your 30s and beyond! So, when summer comes around, I am fully embracing the natural 'freckles in abundance look'.
Whilst I discovered fashion from the ripe age of 2, dictating to my poor mother what outfit I wore each day, even if that meant an array of clashing colour and print, make-up is something I have really come to discover in the last few years. Immersing myself in the beauty pages of my favourite glossies, reading blogs and browsing cosmetic counters have all sparked my interest and helped me to find my signature look. There are now some products in my life that I just couldn't live without. They're all fabulous for achieving that healthy glow we all strive for both throughout the summer and into the bleaker winter months, when a radiant pick-me-up is key.
Chanel All-In-One Healthy Glow Fluid
It's not a secret that I am a huge fan of Chanel attire and the beauty collection is no different; I adore Les Beiges range. Until the release of this formula, I had struggled to find a Chanel foundation that wasn't too yellow for my rosy undertones, but the All-In-One Healthy Glow Fluid in No 10 ticks all the boxes. Somewhere between a tinted moisturiser and BB cream, it floods the skin with luminosity, providing a great moisturising base to work from. Its lovely floral scent and SPF 15 are a plus too! Although I favour a light to medium coverage to prevent that clogged-up feeling, I have been suffering with breakouts recently, so a good concealer is a must with this sheer, breathable product.
MAC Mineralize Skinfinish
When you're sitting at the beauty counter, under artificial lighting with a professional applying them, it's easy to see products through rose-tinted glasses, but this highlighter did not fail to meet my expectation when I tried it again at home. It emphasises the features women want to embrace with a frosty glistening glow, leaving the skin feeling illuminated and polished. Being fair-skinned, it can be difficult to find highlighters that aren't too golden. MAC Mineralize Skinfinish in Lightscapade enhances pale skin tones with its cool champagne, blue-veined colouring. Sweep under the brow bones, over the bridge of the nose and across the top of the cheekbones for a soft shimmering finish.
There's something about summer that makes coral lips so irresistibly kissable, but it's a trend I have struggled to trial, owing to my English Rose skin tone. I have always played it safe with red or pink shades when it comes to my lips, orangey pigments have just never looked great. When one of my girlfriends bought me a Topshop Lipstick for my birthday in Ohh La La, complete with a limited edition rose gold case, I discovered I can make coral work for me. Ohh La La has pink undertones, which complements paler rosy hues and it has a lovely creamy texture - yay! I'll leave the more vibrant oranges for all you olive beauties out there.
If there's one thing in my make-up bag that I like to be bold and maybe not so natural, it's mascara; my lashes can never be too voluminous. I cannot praise Dior enough for their mascaras; with little effort they achieve big results! Diorshow Extase in Black is my all-time favourite and certainly lives up to the claim that it 'creates instant volume and a false-lash look in a single stroke'. As well as its instant 'volume plumping effect' and 'lash-care' formula, it stays put for the day and doesn't flake. Let's not forget its beautiful gold packaging that adds a touch of luxury to any dressing table or handbag.
Chanel Healthy Glow Sheer Colour Stick
I'm a cream blusher kind of girl, so when I saw Chanel had launched the Healthy Glow Sheer Colour Stick, I thought it would be rude not to go and test it out at my local counter. The stick comes in three colours: golden brown (No 20), pink (No 21) and coral (No 22). As usual, I headed straight for the pink, but the beauty consultant suggested that I tried No 20. I reluctantly let her apply some to the apples of my cheeks, over my All-In-One Healthy Glow Fluid. Adamant the bronzed effect wouldn't compliment my pale complexion, I was pleasantly surprised when I looked in the mirror at the end result. It gave my skin a natural sun-kissed glow, without looking too bronzed. It's so easy to use, simply apply the stick to the cheekbones and then blend in the velvety formula lightly with your fingertips.
Related