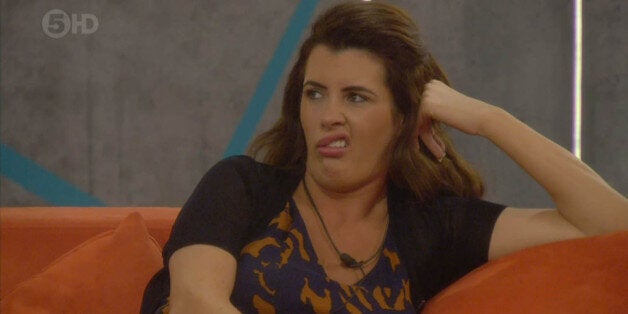 Reality TV baddies are nothing new - there's been plenty of characters we've loved to hate on shows such as 'Big Brother', 'I'm A Celebrity' and 'The X Factor' over the years. But watching Helen Wood on the latest series of 'BB' has made for seriously uncomfortable viewing.
Helen - who first made the headlines back in 2010, when she claimied Wayne Rooney paid her for sex - became a force to be reckoned with when she first entered the Channel 5 reality show in 2014, regularly finding herself in ugly and aggressive confrontations with her fellow housemates.
Helen and Brian had clashed on a number of occasions since both re-entering the Borehamwood bungalow earlier this month, but things reached boiling point when Brian jumped in to defend fellow returnee Nikki Grahame, after Helen made a series of personal comments about the star, who has suffered from an eating disorder and mental health issues in the past. Despite previously lending her support to mental health awareness group The Self Esteem Team, she then went on to repeatedly call Brian a "psycho", ordering him to get a straitjacket from the store room. When he fought back, she told him: "Brian you look like a rapist, you look like a murderer, murderer slash rapist. The man in the white coat is waiting for you, Brian." The star was so upset by her comments, that he ended up scaling a wall and leaving the house.
This is, without question, bullying. And much like you wouldn't want to watch a child being bullied in the playground, I sure as hell don't want to watch a grown man being picked apart by someone with very clear issues. The fact that someone who mocks eating disorders, mental health issues and compares an innocent man to "a murderer and a rapist" is STILL on TV - and also has an online column for a national newspaper - is nothing less than deplorable.
However, Channel 5 don't seem to agree and have kept Helen in the house, only dishing out a formal warning. Last time I checked, there were many other housemates who have been chucked out for much lesser offences, so viewers can only assume that the desperate star is being given preferential treatment by producers to keep her in the house - something that Brian himself has also agreed with.
Much like Katie Hopkins, Helen hides behind the bravado of "being honest", claiming she is just telling things how they are. But maybe someone needs to dish out some real talk to her, as it would appear that as well as being absolutely vile, she's pretty delusional too, given what she astonishingly told fellow housemate Danny Wisker.
"I'm actually a very caring person. I'm a good friend to a lot of people. The last thing I am is a bully," she claimed, seemingly unaware of the definition of the word.
Asked if she'd consider thinking more before she speaks, Helen added: "I don't know, because that would take away my personality and my honesty, and I think that's one good thing about me."
Helen Wood may accuse housemates like Cristian MJC of being boring and "having the personality of a piece of toast", but I would rather watch someone like that than an overgrown school bully, who sails through life without any repercussions, any night of the week.
I only wish 'Big Brother' agreed.
Related