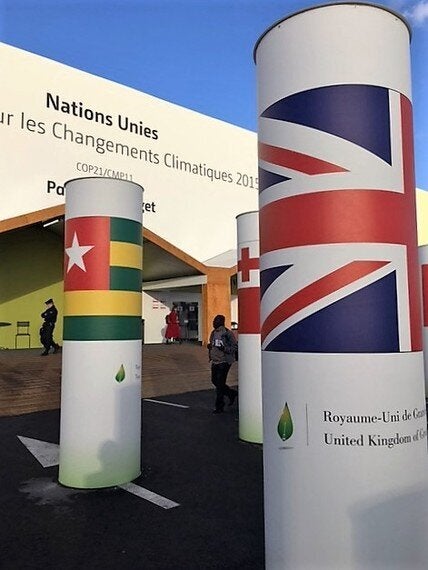 Britain's post-Brexit government has scrapped the Department of Energy and Climate Change, or DECC. Good riddance: If we're serious about fighting climate change, we shouldn't have created the department in the first place.
Merging DECC into a super-department for Business, Energy and Industrial Strategy has been controversial. Former ministers Ed Davey and Ed Miliband - DECC's first secretary of state when it was created in 2008 by Labour - called it "a major setback for the UK's climate change efforts" and "plain stupid". Global brands Kofi Annan, Mary Robinson and Desmond Tutu regretted the decision. Environmental groups Greenpeace, Friends of the Earth and ClientEarth, among others, also chimed in, worried. The Green Party topped them all by deeply worrying.
They all seem to think this is the culmination of David Cameron's order to his aides in 2013 to "get rid of all the green crap".
But they are misguided. The truth is that there shouldn't be a Department of Energy and Climate Change: All government departments should be sensitive to climate change issues, and global warming issues should be hard-wired into government policy and practice, especially in the UK. Indeed, the UK's Climate Change Act 2007 makes it a government duty to cut emissions 80 per cent below 1990 by 2050, one of the most ambitious targets in the world and certainly the most ambitious of the G7 nations.
However, under DECC's watch, the UK was the only G7 major economy to dramatically increase subsidies to harmful fossil fuels in recent years, in an orgy of tax breaks for oil and gas. DECC also managed to spectacularly bungle the planned Hinkley Point C nuclear power plant, upping its cost to as much as £37bn this month, from £14bn just 12 months earlier. That's what happens when you create a department that can act as a climate alibi for other ministries, instead of allowing the rest of us, through the absence of such a department, to shine a climate change light on all of the business and industrial strategies of government.
And while we're at it with scrapping unnecessary green crap, there also shouldn't be any green political parties: All political parties should be green. Why bother with a green party which has no chance of winning a general election? Isn't it far more effective for Green Party members and supporters to join mainstream parties and influence their agenda from the inside? We already know that most of the public supports green policies (pretty much around the world), so why not seek to mainstream these?
Similarly, the world of finance should not concern itself with green bonds - all bonds and other investments should be green. What's the use of a tiny "green bonds" segment in the capital markets that merely serves to highlight that all other bonds are likely not climate-friendly? This only diverts talent and resources into pushing green bonds, instead of channelling the efforts of so many well-meaning and capable professionals into greening all bonds.
The very real problem we face is that the proliferation of climate change departments, green parties, green bonds, eco-this and eco-that is marginalising the effort to fight climate change and to decisively transition to clean energy lifestyles and economies. On the surface, they appear to be championing environmental causes, but in reality they - more and more - act as a hindrance, entrenching the idea of climate action as a fringe issue, not the concern of "real" departments, political parties, citizens and investors.
Now that we have the Paris Agreement in place, the climate movement should seriously consider growing up by dissolving itself into larger and more powerful agents of change, with the specific goal of infecting them with the green bug and pushing from within.
Meanwhile, as the UK initiates its negotiations to leave the EU, the new Department of Business, Energy and Industrial Strategy should be initially taken at its word: that it will deliver a comprehensive industrial strategy where climate action across multiple industry sectors is embedded. Certainly the man in charge, Greg Clark, inspires confidence and has impeccable climate change credentials.
Green energy is fast becoming the best option for energy security and low prices across the word, and removing it from the fringes will only help increase its spread. The green revolution is happening - but it's not yet mainstream. So if you are in a climate department or a green party, unshackle yourself by joining the mainstream and make a difference there.
Related