Imagine if there wasn't a single emergency number you could call when a friend or loved one had an accident or health emergency. Instead, you had to individually call private ambulance companies and inquire about prices until you found one that had availability and a vehicle nearby.
That's exactly the situation in Nairobi, Kenya, that Flare, a product developed by Capsule Ltd., founded by Caitlin Dolkart and Maria Rabinovich, is trying to solve. The two friends have worked in health in Africa for the past decade, Caitlin in policy and implementation, and Maria in software development and design.
"The issue isn't that there aren't enough ambulances or that people can't afford to pay for them," Caitlin explained. "It's that there is no coordinated or integrated system. There is no equivalent of 911 [or 999 in the UK]."
The number of ambulances in Nairobi exceeds the World Health Organization's recommendation of 1 for every 50,000 people by 30. The average cost for a ride, factoring in both Advanced and Basic Life Services levels, is only $55 USD.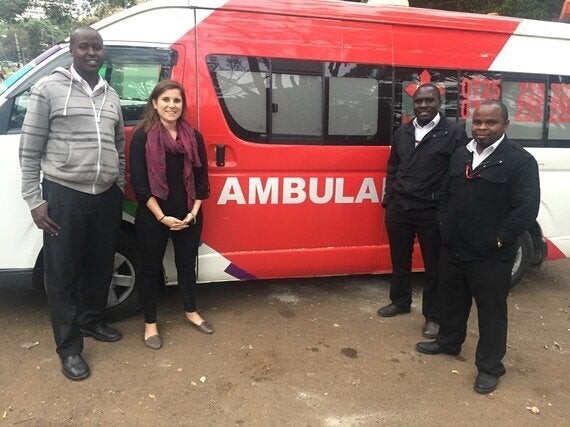 Caitlin in front of an ambulance in Nairobi. Photo Credit: Duncan.
Flare is an app that centralizes all of the ambulance providers and their vehicles.
Currently, the average ambulance trip time in Nairobi is 2 hours from start to finish. Without Flare, each company's dispatcher has to call individual drivers to check their location and coordinate pickups. Digitally tracking and mapping the vehicles through Flare will increase their ability to more quickly respond to calls. Additionally, Flare's use of Google Maps' real-time traffic information will allow for route optimization, further reducing trip time.
Flare will also make it easier for people in need to reach the ambulance providers. Many people don't take an ambulance when they need one now because they don't know how long it will take to arrive or they don't have the phone numbers readily available.
"One of the biggest successes we've had so far is we have gotten buy-in from the seven providers that comprise approximately 80% of the market," Caitlin said.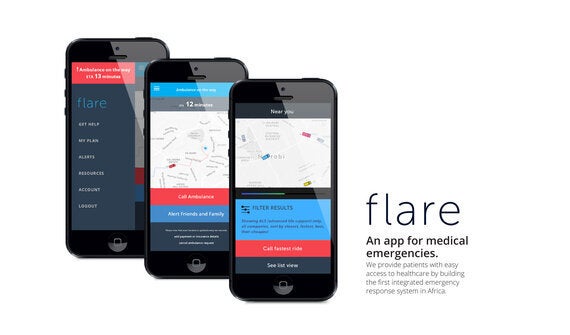 An overview of the app's interface. Image Credit: Maria Rabinovich.
Unlike in an app like uber, each provider will still maintain their independent company and pricing structure. Flare will provide transparency to patients about wait times and prices.
"Once we have a more organized market it will make it more competitive," Caitlin said. "But many of the ambulance providers are led by former EMTs or health practitioners. They have worked with us and have very much co-designed the app. They are extremely committed to bringing more reliable and faster emergency health transport to people in need."
The app, after making several product iterations and enhancements with the ambulance providers this summer, will launch in stages - first, to the ambulance providers next month, then to hospitals, and finally to individual consumers. The team received funding from MIT, where Caitlin recently completed an MBA, and independent investors, and was a participant in the Merck Global Accelerator.
"We've opted for a staggered launch to incorporate feedback at stage," Caitlin explained. "We really want to get it right by the time we're offering the service to individual patients."
Throughout the development process, the team has compiled a great deal information that didn't previously exist, such as a comprehensive list of ambulance providers. This information, as well as data the app will collect, can be used to improve the level of care that is provided across the city, country and ultimately, the entire region.
"We aim to provide access to emergency transport to people who need it and to reduce the number of people who don't survive the wait, whether it's expectant mothers or people who have sustained major trauma," Caitlin said.
If you have experience working to develop an emergency health transport system or have worked in emergency health systems, the team would love to hear from you, to learn what has or hasn't worked that might be relevant to their context.