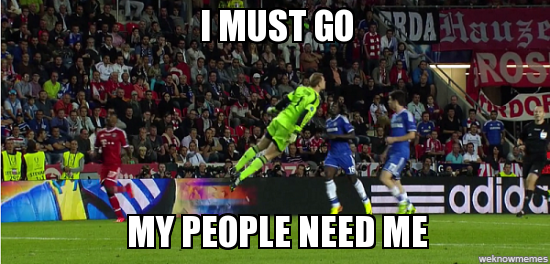 An attempt to score against this 2014 edition of the German football machine is a treacherously difficult scenario. It could begin by catching the masterful Toni Kroos in possession of the football, a feat few accomplish. A route would have to be navigated safely out of the most dynamic and organised of midfield triumvirates, which also including Bastian Schweinsteiger and Sami Khedira, only to find that "you're still in the middle of the goddam desert." Following this escape a pass would then have to be threaded past Phillip Lahm's eagle-eye. And as the man reads opposition players' minds and intents in the way Einstein would read an undergraduate's physics textbook (with consummate ease) and with a far greater vision of the universe-come-football pitch, the task again grows in size. Though, with this achieved the elegant beast, Mats Hummels, must be pulled from his deep-sitting lair or defeated in one-on-one combat by some fool-hardy foe; two occurrences of equally slim chance. This monstrous task then yields a goal.
Except, in the case of this supreme team, it doesn't. Take the tale of Jason and his Argonauts as the example: after he and his men chased off Harpies, slayed fire-breathing bulls, defeated earthborn men in order to return with the Golden Fleece, they still had to enter the fated cave where the Fleece hung and defeat this last and greatest of obstacles, the dragon. So must a team looking to score against the Huns beat, fool or coerce in any manner Manuel Neuer. In this World Cup the goalkeeper of the tournament. Perhaps, even in this festival of attacking sensation, the player of the tournament. A man who stands tall, endowed to the hilt with the full-set of - what could be termed - Classical goalkeeping attributes, combined with his own, novel weaponry.
Primarily, he executes the basics; he stops shots. Neuer's quarter-final opposite number, Hugo Lloris, is regarded by many as the world's finest shot-stopper. Though, where Lloris springs like a house-cat, with feline reflexes, Neuer handles attackers' shots with the paw of a lion. A-join these rustically-sized mitts, strong reflexes and a metallic strength of arm - demonstrated by the propulsion with which Kareem Benzema's extra-time effort cannoned off Neuer's foreman - and the task of the player who strikes the ball at Neuer's goal is roughly understood.
The lion-esque features transcend to his whole body and psyche as crosses and lofted balls fly through the airwaves of his domain. And as a lion would leap and grasp an over-confident, encircling egret, with which it could feed its family, so Neuer plucks the lofted footballs that fall into his territory, with which he feeds his kind with the meal of possession.
And dine his herd do on the fine German cuisine of caressed long balls from the turf, accurate short passing to feet, long throws - spun like Shane Warne's flipper - to kick and run (having already landed over the halfway line). And, of course, the snow-clad Neuer bomb, which drops from the skies with the precision of a Luftwaffe bomber, and striking similar fear into central defenders.
From this, then comes the fresh artillery the Gelsenkirchen-born keeper is bringing to the game; his sweeping. This is not an entirely new feat for goalkeepers. Since the introduction of the back-pass rule, in 1992, keepers have become more and more involved in footballing enterprise. The sweeping facet, Neuer has been attempting himself for many years, though not always with such success; one may recall his gallant launch at Estaban Cambiasso's longball, while Neuer still represented Schalke 04. It was a gargantuan header but one that offered Goran Pandev a glimmer of an opportunity (one the Macedonian took with aplomb). Nowadays, Neuer does not give such glimmers, he seems too dominant to offer a crack.
However, so once - in this same position twelve years ago - did Oliver Kahn. And in this same position of dominance he offered a crack. He spilled the ball in a World Cup final. So there may be hope yet for the Argentines. And if such a crack appears Lionel Messi and his Argonauts could slip through it and retrieve the Golden Fleece for their eager nation.
Popular in the Community