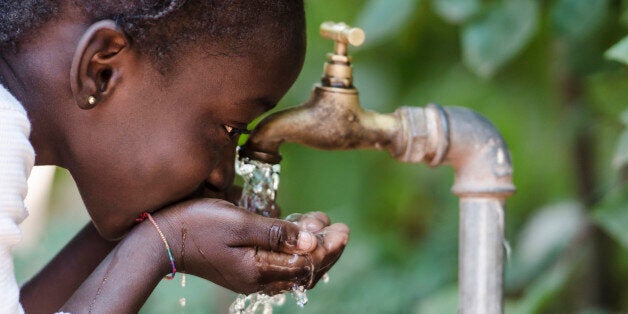 This autumn, the world will mark the first anniversary of the UN Global Goals for Sustainable Development -- a set of 17 commitments which world leaders signed last September to eradicate poverty in all its forms by 2030.
Global Goal 6 commits the global community to reaching everyone, everywhere with access to clean water and basic toilets by 2030, leaving no one behind.
But fourteen years isn't much time, and getting off to the right start matters. If we're to end extreme poverty, the important groundwork must begin now, and that requires efforts from everyone including national governments, service providers and the private sector.
That's why WaterAid is delighted to announce a five-year strategic partnership with Diageo. This new partnership builds on support Diageo has given WaterAid over the last 15 years to help reach some of the world's most marginalised communities with access to water, sanitation and hygiene services.
As a global drinks company, Diageo understands that water is an essential resource, and its careful management and conservation is a top priority. Through this partnership we can use our collective influence to advocate and promote access equitable, inclusive and sustainable water, sanitation and hygiene services; empowering and investing in the communities in which Diageo works, and by amplifying the calls for change.
Access to water and sanitation are human rights, but hundreds of millions in our world are deprived of these most basic of life's necessities. Some 650 million people do not have access to clean water, and 2.3 billion do not have access to decent toilets.
Ending this crisis will mean saving the lives of the 315,000 children under five each year who die as a result of diarrhoeal illness. And it means helping many millions of other children to reach their potential. Some 159 million children in the world have had their growth and development stunted from malnutrition, at least half of that linked to chronic diarrhoea and worm infestations -- depriving their communities and countries of a new generation of great thinkers, athletes, entrepreneurs and leaders.
There is a moral imperative to end this crisis. It's also an economically sound investment.
For every £1 invested in water and sanitation, at least £4 is returned in increased productivity. These basic essentials increase employee wellbeing and help address workforce absenteeism. Communities become more prosperous, and less consumed with basic day-to-day survival.
I've seen first-hand the difference this makes. When women and children no longer have to spend hours collecting water, or are no longer constantly ill from dirty water and a lack of good sanitation and hygiene, they can go to school or set up their own businesses. In the long run this contributes to economic growth and productivity, as well as to health and well-being.
60-year-old Jesca Mugala has lived without access to clean, safe water in Kangalaba village in Uganda her entire life. Every day since she was a child, she has walked to collect water from an open spring about three kilometres from her home. Over her lifetime, she has walked the equivalent of nearly three times around the Earth, just to get water.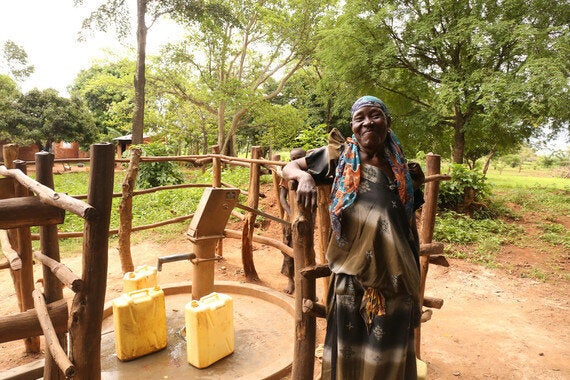 Jessica Mugala - Water User Committee chairperson, Kangalaba Village, Uganda. Credit: WaterAid/ James Kiyimba
The effort and time spent on collecting this vital resource left her little time to do anything else. But that changed in 2014 when a borehole was installed in her community. Since then the village has prospered and women like Jesca have seized new opportunities. She's now the chairperson of the Water Users committee, which manages the new water points, which she is extremely proud of.
Partnerships such as this one with Diageo will make long walks for water a thing of the past for more women in more villages across the globe, and enable more women like Jesca to prosper. It will also help girls finish their education, through safe toilets and running water in their schools which help them to manage their periods with dignity.
But there are many such villages still to reach, and we can't reach everyone, everywhere on our own. Our partnerships are key to magnifying our voice as well as our reach, to help influence the decision-makers to make change happen.
It's in everyone's interest to address the global water and sanitation crisis. Diageo has raised more than £1 million for WaterAid's work in the last five years, helping us reach more than 141,500 people with access to safe water, and 152,700 people with access to a decent toilet. We have just started a new project together in Bauchi State in Nigeria which will provide access to safe water, improved sanitation and hygiene for over 10,000 people.
Water is a vital resource, and access a basic human right. By working together, we can create bigger impact and empower local communities affected by water scarcity and poor sanitation, in order to reach everyone, everywhere by 2030.
Related