Giant jugs of beer, sausages and hordes of tourists / Germans in lederhosen? It must be Oktoberfest, time to don a dirndl and do your best to booze like a Bavarian.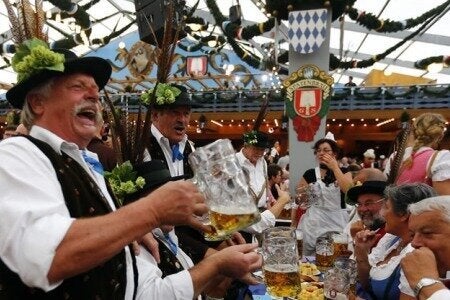 Over 200 years ago, a Royal Wedding took place a la Wills n Kate, between Prince Ludwig of Bavaria and Princess Therese of Saxony. They threw such a massive party (sound familiar?), that the newlyweds vowed to celebrate forever more, and so Oktoberfest was born (come on HRH, let's do it again!). It started with horse racing, games, contests and music, and, eventually, beer tents. Now Oktoberfest is the biggest funfair in the world, with 7million litres of beer consumed over 16 days, up to the first Sunday in October.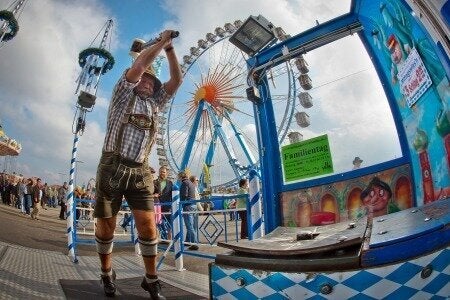 What to drink and how to drink it?
No prizes for guessing - beer and lots of it. At the original Munich Oktoberfest, the only beer allowed is the stuff brewed within the city limits. Once approved, it's branded - showing a certain lack of inventiveness - Oktoberfest Beer. London gets its own special brew shipped in straight from Deutschland for the occasion. If you really want to look the part, it's best swigged from a stein. This translates to stone, which the original beer mugs were made from, holding up to one litre of the good stuff. Pick up a souvenir clay stein because, let's face it, the rest of your experience is going to be a little hazy.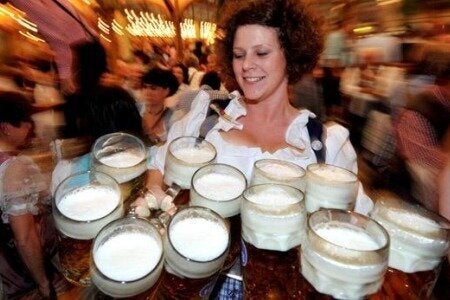 Sausages and on the regs. Wherever in the world you are it's a Bratwurst (a sausage in a baguette) or a curry wurst (chopped sausage in a ketchup and curry powder sauce) that you are after. If you really want to go all out, throw some apple strudel in there too.
Other German favourites include pork and dumplings, or pork knuckle with braised cabbage, featuring on Hong Kong's German menu, while Brazil complements their sausage stock with a tasty pork knee.
The large doughy pretzels are also great for soaking up all the beer.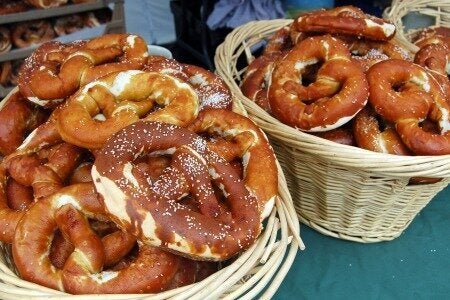 The Bavarian capital of Munich, of course, where it all began, along with six million other drinkers. Sound stressful?
You've got options, with Oktoberfest spreading its beer kegs wide and far. Canada's twin cities of Kitchener-Waterloo, Ontario, host the largest festivities outside of Germany and like to keep things traditional. With a strong German heritage, the German language is still widely spoken and Kitchener was previously called Berlin, giving them a pretty valid claim to the party.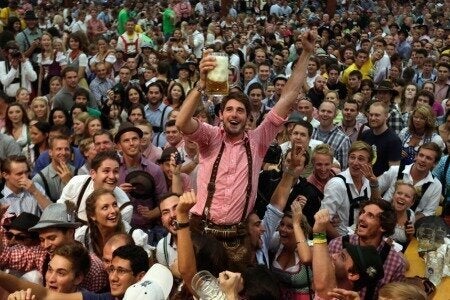 Argentina has been on board since 1963 hosting Fiesta Nacional de la Cerveza and Brazil's Oktoberfest-Blumenau is massive. In Asia? Go for Hong Kong's Marco Polo German Bierfest, or hit up Kingfisher Beer's newish Great Indian Octoberfest (sic) in Bangalore.
London has a double dose of the action with two separate locations set for festivities over four weeks - Kennington Park and Millwall Park, Canary Wharf.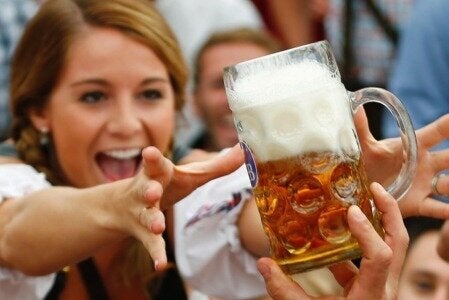 • Ordering: In Germany you don't signal one beer with your forefinger you do it with your thumb.
• Warning: Oktoberfest Beer is said to be 1 percent stronger than normal beer, so pace yourself.
• More is more: Men, if you're adding a hat to your lederhosen look it's all about the tuft of goat hair in the brim. A highly-valued object back in the day, the more goat hair you displayed the wealthier you were seen to be. Roll with it.
• Plan: Oktoberfest draws in the crowds everywhere, so if you want a seat in one of the more popular tents opt for a weekday or book ahead where possible.
• Right or left: Ladies if you're donning a dirndl take note of your apron tie - tied to the right and you are taken, but tied to the left is a signal for the singles.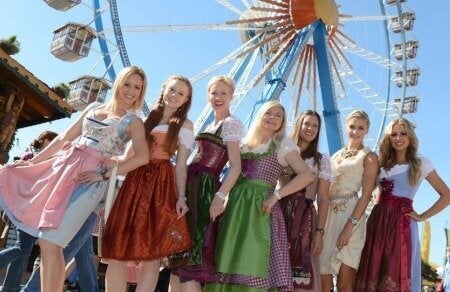 Canada: 10-18 October, 2014 http://www.oktoberfest.ca/
Brazil: 8-26 October, 2014 http://www.oktoberfestblumenau.com.br/en/
Hong Kong: 17 Oct-8 Nov, 2014 http://www.gbfhk.com/
London, Kennington: 18 -28 Sept (Thurs to Sun)
London, Millwall Park: 2-12 Oct (Thurs to Sun) http://www.london-oktoberfest.co.uk/