It's the time of year that everyone gets eggstatic over chocolate, but BarChick will be swapping chocolate eggs for egg cocktails - and no we're not yolking. Whether it's whipping up whites in a sour or shaking yolks for a flip, eggstraordinary things can be done with those babies. Some of our favourite London bartenders have cracked it and are eggcited to showouef their recipes:
Ryan Chetiyawardana - White Lyan and Dandelyan
This ledge behind the botanical menu at Dandelyan loves nothing more than going au naturale with his ingredients; unsurprisingly he's all over egg: 'using whole eggs gives an amazing body, richness and texture that's hard to replace - plus they're fun to challenge/freak people out with!'
Rum N Coke Float
50ml golden rum
20ml cola syrup
1 egg
Shake, double strain into cola glass, garnish with lime twist.
Three Storms Flip
50ml golden rum
25ml falernum
7ml Lagavulin
2 dashes orange bitters
Pinch salt and pepper
1 egg
Shake double strain into cocktail glass. Garnish with grated nutmeg
JJ Goodman - London Cocktail Club
Fancy some bacon with that eggy booze? LCC is where it's at. JJ aka. the King of the Cocktail Clubs has teamed egg with bacon (classic), whisky and maple syrup to twist the whisky sour into something even better.
Beacon and Egg Martini
50ml Bacon Infused Jack Daniel's
15ml Lemon Juice
15ml Maple Syrup
0.5ml Orange Bitters
1 Egg white
Double shake and strain into a coupe glass, garnish with a strip of bacon and a Haribo egg.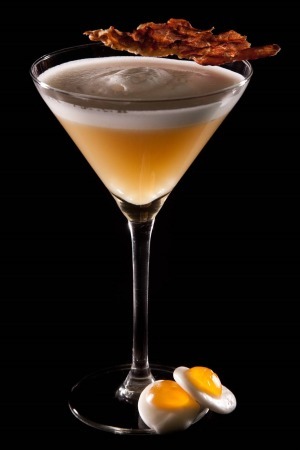 Miguel Arbe - Ceviche
Pimp of all things Pisco, Miguel heads things up at the Pisco bar at the Ceviche in Old Street. Despite doing mad things with the Peruvian spirit (including basically making it in to gin) he's all for keeping it classic with a Pisco Sour: 'This is the classic cocktail, and this is our way of doing it. As everyone's tastes for sugar and sour vary, it's definitely one you can play around with to suit yourself.'
The egg brings all the flavours together making it a well-balanced drink. Plus you can finish that meringue top with a spoon when the liquid is gone.
Pisco Sour
50ml Pisco Acholado
1 egg white
3 drops of Angostura or chuncho bitters
For the sour mix
30ml lime juice
20ml sugar syrup
Either put all the ingredients into a blender with a few ice cubes and blend until smooth.
Or
Fill a shaker with ice, add the other ingredients and shake vigorously for at least 30 seconds.
Carefully hold the froth back with the lid of the shaker or blender and pour the liquid into a chilled glass; you will still end up with a drink with a good head of foam.
To serve, add 3 drops of bitters.
Paolo Tonellotto - Demon, Wise & Partners
Fellowship Porter
50 ml Santa Teresa Gran Reserva
1 whole egg
15 ml of spicy chocolate syrup
15 ml of Porter
Blend all the ingredients with a hand blender and then with a "throwing" technique cool the drink down.
Garnish consists of an eggshell pegged on the glass and filled with a vanilla whipped cream.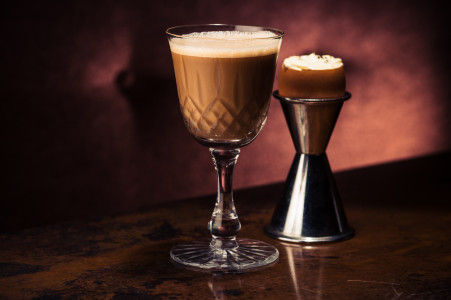 Eric Lorincz - The American Bar at The Savoy
It doesn't get more classic that this drink, or this bar. Harry Craddock first knocked this cocktail up when he swapped making moonshine in Prohibition America for creating classics at The Savoy. The egg gives it texture and makes the drink: as let's face it - without the egg you're just looking at some kind of boring boozy lemonade.
White Lady
Bombay Sapphire Gin
Triple Sec
Freshly squeezed lemon
Sugar syrup
Egg white
Olly Brading - The Cocktail Trading Co.
Olly and the gang are doing some mad sh*t down in this Soho basement, egg is absolutely the most normal thing on that menu (watch out for the amazing veggie bacon crispy noodles).
For Whom The Bell Bols
2 parts lavender and chamomile infused Bols Genever
1 part golden syrup
1 part lemon juice
1/4 part egg white
Served in a beautiful bell, because.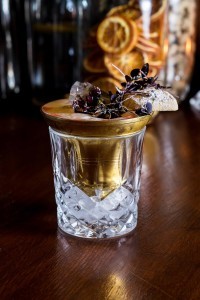 Oskar Kinsberg - Oskar's Bar at Dabbous
Whether it's making a festive Pistachio Flip or a classic toddy, Oskar sure knows how to work those ouefs in his mega basement hangout: 'eggs not only give great head to any cocktail. The yolks can be used to make toddies and flips and the shells can be used as serving vessels.'
King of the Swingers
25ml Mount Gay Black Barrel
20ml Casa D'Aristi coconut liqueur
20ml la Fontaine chocolate infused with fig leaf
4 kaffir lime leaves
10ml lime juice
Egg white
Shake all ingredients and top up with Kentucky bourbon barrel aged ale. Garnish with toasted coconut shavings.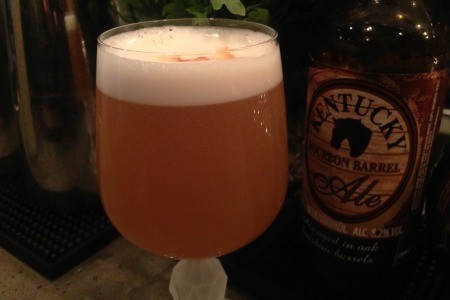 Ali Reynolds - Hawksmoor Spitalfields Bar
Hawksmoor's booze hero Ali shared how he will be celebrating the long weekend...
Up the Rum and No Flipping Baileys
50ml Appleton 12yr
15ml Homemade Baileys
1 whole lion stamped egg
Shake with ice
Garnish with nutmeg and a slice of banana
For homemade Baileys;
250ml condensed milk
500ml Guinness
Simmer with 5 star anise, 10pimento, 1 cinnamon stick for 20mins
Tom Gibson - Ruby's
Ambassadors Flip
Diplomatico Rum
Cherry Marnier
Vanilla syrup
Chocolate bitters
A whole egg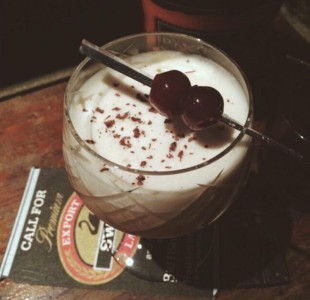 Bonny Hiddleston & Mia Johansson - Callooh Callay
Founders Keepers
Half an egg white
15ml lemon
15ml sugar syrup
15ml Amaro
1 raspberry
25ml rhubarb vodka
25ml bourbon.
Dry shake and strain to to a coupe. Garnished with dry rose water crackers or a fresh raspberry, for colour.