Last Saturday night I had the immense privilege of dining with a 26 metre-long, pink Diplodocus. The iconic skeleton cast affectionately known as 'Dippy' provided a stunning centre-piece as we celebrated the 20th Anniversary of Breast Cancer Campaign's annual Pink Ribbon Ball at the prestigious Natural History Museum.
History was made for our organisation in the atmospheric grand entrance hall of the museum, with over 450 supporters enjoying a night of fantastic food, entertainment and fundraising for the future of breast cancer research.
Our guests were as unconditionally generous as they were glamorous. Hosted by the flawless Kate Thornton, the 20 Pink Ribbon Ball raised a staggering £340,000, topping its previous fundraising total and taking the event's cumulative total to a remarkable £2 million in its last eight years.
This is quite frankly a phenomenal achievement, and we owe an awful lot of gratitude to our fantastic Pink Ribbon Ball Committee for their unrelenting hard work and commitment to helping fund world class research into breast cancer.
With celebrity supporters Morwenna Banks, Zandra Rhodes and Kat Shoob in attendance alongside the Pink Ribbon Ball's wonderful patron Linda Nolan, guests were treated to a very special performance from award-winning artist Lisa Stansfield as well as acrobatic highlights from aerialist troupe La Luna.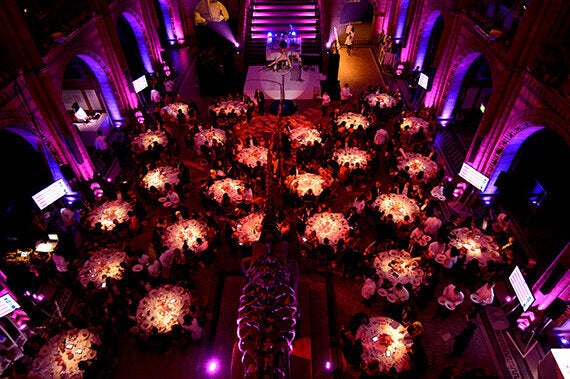 It meant an awful lot to me personally and to all at Breast Cancer Campaign to have two very special ladies celebrating with us last Saturday night.
We were delighted to welcome supporters, and dear friends, Shonagh and Abbey: two incredibly inspiring women living with secondary breast cancer, which means the disease has spread from the primary site of the breast to other parts of the body.
Shonagh and Abbey have shown courage and compassion beyond belief to feature in our Spring marketing campaign and our ongoing 'Spread the word' campaign respectively.
Powerfully introduced by Linda Nolan after dinner, we were also able to show an extremely moving and poignant video that included testimony from Shonagh on the effect of her diagnosis on her family and why research funded by Breast Cancer Campaign has been so important to her.
The three-minute feature faded out as an emotional and spontaneous round of applause spread across the captivated room, an inspirational moment fitting of the strength and bravery shown by Shonagh at an impossible time for her and her family.
Whilst celebrating the achievements of an event and supporters who have made such a difference to our work over the past twenty years, it was so important to us to be able to speak about an issue that has for too long been shied away from and one that is so very close to our hearts as an organisation.
Unfortunately, the heart-breaking reality is that when breast cancer spreads to another part of the body it (currently) cannot be cured.
The survey, conducted by ICM on behalf of our organisation, also highlighted that 79% of people believing that secondary breast cancer could be cured if it was caught early enough. This is simply not the case, yet.
With such a serious issue still largely sitting outside of the public consciousness, we were thrilled to have long-term supporter, Linda Nolan, publicly back our 'Spread the word' campaign and join us in calling for greater focus on the needs of women with secondary breast cancer, for whom there is no cure.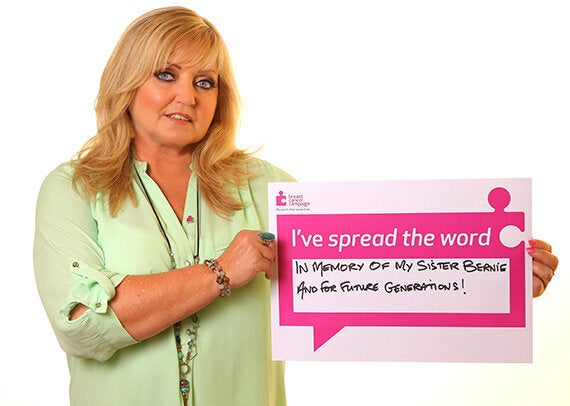 Breast cancer simply is not a done deal in the UK. With 12,000 women dying every year as a result of breast cancer beginning to spread to other sites of the body, we need to do so much more to understand the biology of the disease and how we can most effectively tackle it.
Through research, we believe that one day a cure can be found for secondary breast cancer and that we might be able to stop breast cancer spreading. But we must also act for the women for whom this cure just will not come soon enough.
By spreading the word, we are calling for much greater emphasis to be placed on the support available to women with secondary breast cancer and for improved understanding of the experiences these women and their families face.
Secondary breast cancer has not had the attention it needs to date, perhaps because our British stiff upper lip leaves us reticent to discuss such an emotionally-charged subject. But we must do all we can to ensure that this changes.
We must urgently stand up and speak up to improve outcomes for the thousands of mothers, sisters, wives and daughters that receive the news that their breast cancer has spread every year.
Unfortunately, there are a number of stumbling blocks to progress. At this very moment, the Cancer Peer Review Programme, which regularly checks on the safety and quality of local cancer services across England, including breast cancer, is under serious threat.
We urgently need your help to spread the word to ensure that local health care services are providing the best possible care for women living with secondary breast cancer. We are asking NHS England to save this vital programme, and, as always, we cannot do it alone.
To join Linda, Shonagh, Abbey and all at Breast Cancer Campaign in spreading the word, please sign the petition to ask NHS England to save vital breast cancer service checks.