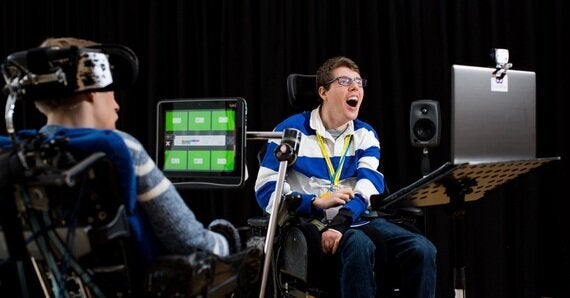 Back in 2012, as part of the Paralympic closing ceremony, 7.7 million people across the globe tuned in to witness the breathtaking debut performance of the British Paraorchestra - the world's first professional ensemble for disabled musicians. I had been running music workshops within special schools across the South-West for several years, and I started to wonder how many of the young disabled people I was working with might have the opportunity to participate in an orchestra at school?
And so, on a dull and overcast March morning, I contacted about 50 different schools, all situated in the South-West of England, to ask if they had a school orchestra. Just over 50% of the mainstream secondary schools I spoke to told me that they had one - not a single special school did. To add insult to injury at least two of the receptionists I spoke to actually laughed at the question, with one asking me if I was aware that their school was 'special'.
Unfortunately there was nothing special about what I found out that morning. Across the UK there are very few orchestras within special schools and there appear to be even fewer youth ensembles outside of school that make provision for the young disabled musicians we work with. It was this tragic paucity of provision, expectation and opportunities for musical progression that led myself and our Musical Director Doug Bott to found OpenUp Music.
OpenUp Music was established to empower young disabled musicians to build inclusive youth orchestras - but of course you can't have an orchestra if your musicians don't have anything to play! Musical instruments can be pretty inaccessible things at the best of times, anyone who has tried learning one will attest to that. But for many disabled musicians, not being able to play a conventional musical instrument isn't a matter of how much practice they are willing to put in, it's like being asked to blow a saxophone with 3 mouth pieces.
Many conventional musical instruments require dextrous fingers in order to play them (or at least digits, as demonstrated by French Horn player Felix Klieser who plays using his toes) for many disabled musicians these instruments are completely inaccessible. If you are a budding musician who experiences restricted dexterity or mobility this can present a barrier that no amount of practice will traverse. The trouble is that conventional musical instruments are actually pretty static things - their sound dictates the way they are formed and that dictates the shapes you need to put yourself in to play them.
For the past 2 years, with support from the Nominet Trust and the National Foundation for Youth Music, OpenUp Music have been designing and developing a new musical instrument that flips this long standing, and often disabling, paradigm. The "Clarion" (named after OpenUp Music's Paton, the world famous disabled musician Clarence Adoo MBE) - is a challenging instrument to pigeon hole. In many respects it isn't a single musical instrument at all, but an infinite number of instruments all contained within a single piece of musical software.
What makes the Clarion unique is that it allows the musician to change every conceivable element of the instrument. This includes the sound the instrument makes; the number of notes that are available to play; the shape, position and colour of the notes; and crucially the way in which you play them. For whilst it is entirely possible to play the Clarion with your fingers - it is also possible to play it with any other part of the body, including your head, feet or even by moving your eyes. The crucial difference is that the instrument adapts to the musician, not the other way around.
Thanks to the Clarion, we have been able to launch a truly ground-breaking musical initiative - the South-West Open Youth Orchestra - the UK's only disabled-led regional youth orchestra. Bradley Warwick is a founding member of this groundbreaking new orchestra, he has Cerebral Palsy and plays the Clarion with his eyes. "Being part of an orchestra is new to me. I love it, and feel a kind of freedom and belonging. Disability should never be a barrier to enjoying music and getting involved."
HuffPost UK Tech is running a two-week focus on our Tech For Good campaign, which aims to highlight the technology that is driving social change and making a positive, long-lasting difference to our world. If you'd like to blog on our platform around this topic, email ukblogteam@huffingtonpost.com with a summary of who you are and what you'd like to blog about.
Popular in the Community