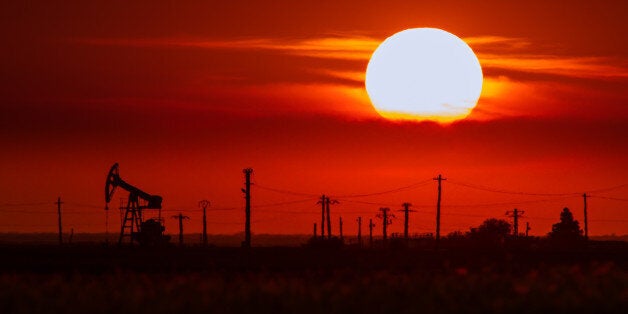 Today, the Labour Party took another major step. As announced today at our conference, the next Labour government will ban fracking. So we came out gunning for the clean technologies of the future, with the jobs and investment that these industries create.
Fracking locks the UK into an industry that is based on fossil fuels long after our country needs to have moved to renewables. Labour's mission is now to work with our colleagues in trade unions and industry to develop the best way to transition our energy industry, making sure we create the vital long-term jobs and apprenticeships we need to build the UK's low carbon future.
My announcement today clarifies and strengthens Labour's position to date on this highly controversial technology.
Previously Labour had called for a nationwide moratorium on fracking, after the Tories weakened strict environmental safeguards and introduced measures to undermine full and proper community consultation.
Because Labour has always been sceptical about the supposed benefits of fracking. We have never believed that any potential future benefits from fracking make it acceptable for the government to bulldoze over the concerns of local communities or the very real environmental dangers that can occur as a result of weak safeguards controlling the technical process.
Our view has been that unless stringent environmental tests can be passed by would-be frackers, then no fracking should take place. Last year, when Parliament was debating the Infrastructure Bill, Labour outlined 13 core environmental tests that we believed the fracking regime would have to pass before any drilling could start. These included an outright ban on fracking in or under areas of environmental sensitivity, such as National Parks, Areas of Outstanding Natural Beauty and all levels of water protection zones.
Our amendment to the Bill stated that without meeting all of these 13 strict conditions, fracking 'cannot take place'.
And here we got clear sight of the extent the government would go to in order to ram through this technology in the UK. While the Government accepted Labour's amendment, they then chose to U-turn and radically watered down these safeguards. They later withdrew further protections through secondary legislation. This meant our non-negotiable conditions have been disregarded or weakened to such an extent that the credible environmental safeguards did not exist for us to be able to endorse fracking in the UK. For this reason, Labour called for a moratorium until all these robust safeguards were - if ever - put in place.
But this ignores the fact that the global transition to a 100% clean energy economy is rapidly accelerating.
The last Labour government's Climate Change Act set the ball rolling for governments to come together and thrash out how to really get a grip on this problem. Last December, the international community reached the landmark Paris Agreement on climate change. At the heart of this historic deal is a commitment from 196 governments to reach a net-zero emissions global economy in the second half of this century.
Now we have to get there.
Mark Carney, the Governor of the Bank of England, warned last week that to minimise the risks to financial stability from such a bold transformation of the global economy, the transition away from high-carbon industries should begin early. He said it should follow a predictable path to help markets anticipate this transition to a net zero economy.
And so, to provide regulatory certainty about the direction of travel for the UK economy long-term, Labour is now calling for an outright ban on fracking. It is clear that gas will continue to play a part in the UK's energy mix in the short to medium term. But developing a fracking industry in the UK will lock the country into an energy infrastructure that is based on fossil fuels long after our country needs to have moved to clean energy to avoid dangerous global climate change. Failing to acknowledge this is either ignorant or deceitful - and not the Labour way.
Earlier this year, the independent Committee on Climate Change analysed the latest science and warned that exploitation of shale gas on a significant scale was not compatible with UK legal climate targets unless three further regulatory conditions were met. The government took zero action in response. No new measures were introduced; no clarification of the existing rules was provided to ensure the UK would meet these three tests.
Labour MPs have consistently called out the Conservatives' last-minute changes to energy policy since they were elected, which have wrecked investor confidence and caused a crisis in energy investment. A cross-party committee of MPs warned back in February that the Tories' sudden energy policy changes since May 2015 risked creating a 'hiatus' in project developments, which could threaten the UK's ability to keep the lights on and upgrade our energy system while lowering emissions.
Today's announcement sends a clear signal to investors about a future Labour Government's position on fracking.
Labour is clear on the long-term direction of travel of the British economy. The Tories are trying to lock the country into the old, dirty technologies that harm our communities and the people who are forced to live with disruption on their doorstep.
Their own figures show that it will be cheaper to power the country using solar and onshore wind over gas within the next decade. Yet they continue to plan to bribe communities into dropping opposition to fracking. They are cutting support for clean renewable power at the cost of thousands of jobs. They are even introducing a new tax on businesses that have done the right thing by installing solar panels on the roof of their buildings.
By contrast, Labour will back the clean technologies of the future, and make sure the opportunities for good jobs, investment and a safe environment are shared across the whole of the UK.
Popular in the Community