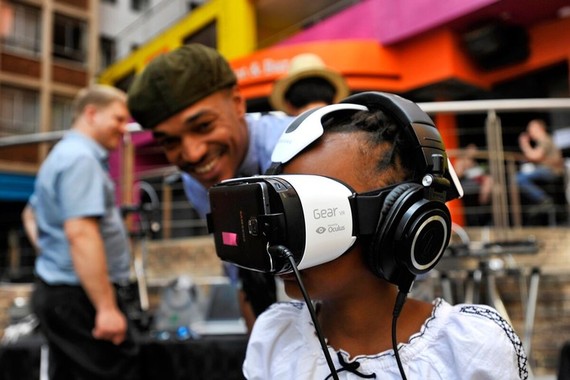 I'm in downtown Johannesburg, invited to 'meet my future selfie'. Jepchumba, a Kenyan-born digital artist, has built a booth for local residents to record messages to themselves as if from the future. These time travellers can choose how far into the future they want to journey and record messages to inspire their present reality. The results are fascinating, personal, intimate, funny and sad.
"...in my culture speaking about the future is taboo. I wonder why that is?...You are told not to share or speak of plans in the future because something bad may befall you..."
Jepchumba's work is part of a three-week open lab during the Fak'ugesi African Digital Innovation Festival. 'Fak'ugesi' is Zulu street slang for 'switch on the electricity' or 'shine more light'. During this time, resident artists and makers engage visitors and run workshops with the public in the development of a final installation that responds to the theme: "Futurist visions of Johannesburg".
The residencies are based in the dynamic area of Braamfontein, a hub for art, music and good food. Earlier that day I'd taken part in a 'market hack' just behind Neighbourgoods Market, with street stalls, demonstrations and activities for public audiences to try cutting-edge, creative electronic and design tools.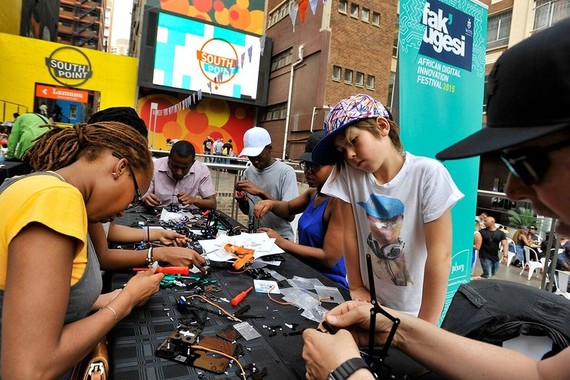 Makers, designers and artists have come from around SA and beyond to show work - and gave hundreds of people the chance to test robotic arms, wearable game controllers, 3D printers and a virtual reality headset that transports viewers on a sea voyage through the Arctic, as well as more simple games with basic electronic circuits and the chance to craft paper sculptures.
The market is surrounded by coffee shops, bars, pop up galleries and boutiques. Street art adorns empty buildings, just waiting to be reimagined for creative venture. On the surface it has all the signs of ubiquitous hipster culture, regurgitated in so many parts of the world. But Braamfontein is still in a period of transition, particularly compared to other more controlled neighbourhoods nearby. Several streets in the same block are unsafe to walk, even in daylight. Security seems to shape every interaction in the city.
Another of the lab residents, Ling Tan, a designer, coder and trained architect based in the UK, is interested in how people experience and navigate different spaces using wearable and mobile technology. She originally wanted to collect urban environmental data like pollution or temperature levels but after chatting to locals realized that safety was one of their main concerns. Hoping to address the 'invisible boundary of safety' between different neighbourhoods, Tan invited residents to design wearable technology that could be used to collect data about safe and unsafe areas in the city. She later transformed these prototypes into pieces of jewellery using South African beading, which, when tilted, covered or bent, would notify an app that the wearer felt vulnerable or frightened. The resulting exhibition includes maps that compare secure and insecure areas by averaging the data drawn from all participants, and a video projection of interviews in which the participants discuss their experiences. Tan hopes to pass her findings on to government organisations - enabling citizens to influence the way safety issues in the city are addressed.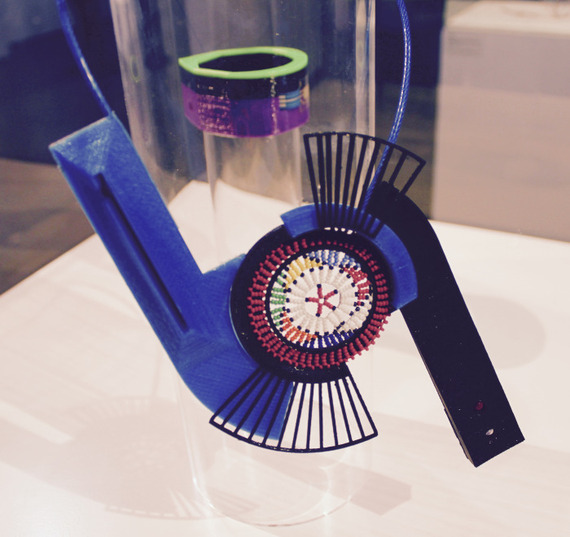 All these events form part of Innovation ZA, a month of activities supported by British Council exploring creative uses of technology with artists, makers, technologists and the public. It's part of a long-term partnership with key city players in this space such as Wits University and the Fa'kugesi Digital Festival. It includes pop-up tech events in community centres in Soweto and Alexandra, mobile maker stations travelling to rural areas, gaming workshops, Onedotzero Cascade workshops, as well as an month-long open Makerlibrary Network in Ithuba Art Gallery, running daily workshops in 3D printing, robotics, textiles and pattern-cutting.
Irini Papadimitriou, Head of New Media Arts at Watermans, helped curate the events and set out to create a welcoming atmosphere to those who may be intimidated by the technology. She believes it is the open nature of the events that is so important and encourages the makers and engineers to adapt their technology so that it is relevant and useful to local people and their context.
Innovation ZA, now in its second year, taps into a real drive by local players to use digital technology to reinvent the city economy and residents' lives. Plans are underway for a new Digital Innovation Zone, led by Wits University, which will include co-workspace, a global incubator with IBM and better connectivity to inspire the development of a new generation. In a country with the highest levels of youth unemployment (16-25) in the whole continent (official figures estimate over 60% but the reality could be much higher), harnessing the potential of tech for not only new skills and employment, but also for new passions and creative expression is vital. It's part of a much bigger programme of work that the British Council do in building skills and education. One of these is the new Digify Bytes course with Livity and Google, a two-day workshop aiming to introduce thousands of young people to the world of digital marketing.
Access to digital connectivity is still a big issue. Just under 50% of the SA population use the internet and 40% of these use their mobile for access (a third own a smartphone although this number is rising). Efforts to improve broadband have been slow and exclusive to large cities, which is clearly a challenge for tech reliant on a connection at broadband standard. But some are finding ingenious ways around this.
Nathan Gates, another member of the lab residency, is a South African digital technologist interested in Johannesburg's numerous informal networks. He found over 1,000 visible networks in Braamfontein, but says the ubiquitous official WiFi hotspots are mainly closed and inaccessible. In response, he created two 'Exquisite Corpse Poetic Machines', which allow people to not only log in and access them for free but to customize them and send messages to each other - which when viewed together, produce a kind of digital poetry.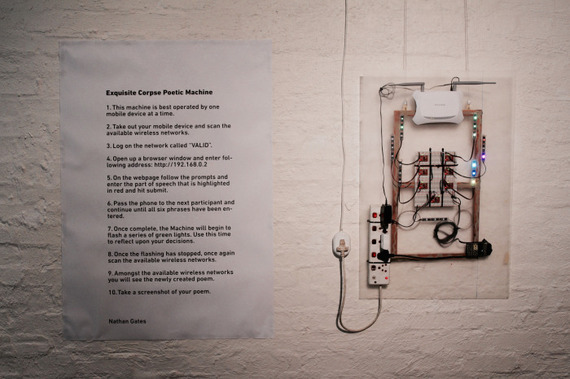 Ownership is, of course a constantly contested theme in the city. That evening I attend a Creative Hustle, a monthly networking event where over 100 young people have turned up to take part of in a debate with a panel of four talented women in tech. The debate is live, feisty and passionate. What starts as a conversation about 'Creative Collaborations' quickly becomes a discussion about gender, representation, race and politics of the internet, fuelled by the audience's thoughtful, complex questions. My colleagues tell me this is typical of every day life - everything must be debated. South Africa's raw, recent history underpins every conversation and ensures that all power structures need to be questioned. And this, rightfully, means the role of the British Council too.
For now, working with local partners to convene a relatively neutral and safe space in a changing downtown neighbourhood, where young minds from different places can meet, access free wifi, skills and inspiration seems to be important and much-wanted. By developing a creative and critical understanding of technology, they can be powered to create new prospects and imagine their future visions of Johannesburg with hope.
The cultural exchange will continue when the residents come to the UK in October as part of Watermans Digital Performance Weekender in London, 7-9 November 2015.
Beatrice Pembroke is Director of Creative Economy at British Council, which supports international collaborations, innovation and enterprise with the creative and cultural industries. She is also co-founder of techforgood.global.