What is about that bloke on the opposite desk? You work just as hard as him. You're just as good at your job. Better even. But somehow he keeps getting noticed.
Why?
Because he's shouting about what he does.
In my book Little Miss Geek, which campaigns to get more girls interested in technology, I use a lot of big words when talking about some women's achievements. Words that are worth shouting about: Ambassador. Hero. Champion.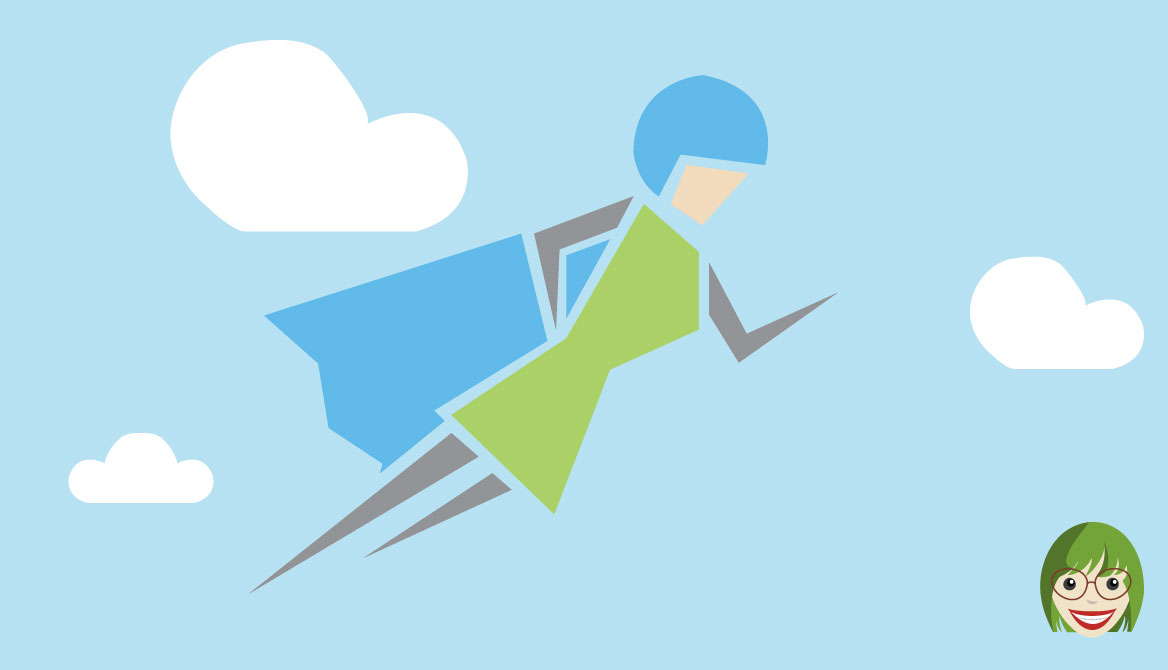 Last month I was lucky enough to be invited to speak at learning technology conference Bett 2013 in order to discuss the Little Miss Geek campaign and what we can do to alleviate the gender imbalance.
After giving my speech I fielded a question from a female teacher of secondary-school girls, who had taken issue with my dramatic language. Her girls, she told me, were naturally modest, and would be intimidated by words like hero or ambassador.
I tried to picture myself at that age. Would I have balked at one day being labelled a hero? Perhaps I would.
Modesty is expected in a girl. We are brought up to get on with things, to be respectful, to not shout about our achievements. It can be a fine quality, and one that I'm doing my best to instill in my own two children. But there comes a time when modesty must be put aside in order to get ahead. There's a time for shouting, not whispering.
Would the teacher at Bett have said the same thing about a classroom full of boys? I doubt it. Young men are often brought up to feel comfortable competing, to be vocal about their achievements. When young women do it they are treated as odd, aggressive, or both.
Statistics already show that women are less likely to ask for a pay rise than their male colleagues. Men are also far more likely to apply for a job where they match only a portion of the criteria. It's a confidence trick.
To get more women behaving like this, we've got to start encouraging confidence from a young age. We need our girls to grow up embracing the big ambitions, thinking 'Yes. I want to be a hero! I can be a pioneer!'.
I refer to prominent women in tech as heroes not because I want to inflate their egos, but because I understand how important it is for young girls to have strong female role models. Somebody at the top of an industry that they can look up to and say 'One day I want to be where she is.'
That's why, to celebrate International Women's Day this Friday 8 March, Lady Geek will be bringing an inspirational team of some of the most amazing women working in gaming and technology - including Siobhan Reddy of Media Molecule, Olivia Solon of Wired and Rhianna Pratchett, games writer and the woman behind the new-look Lara Croft - to take over two inner-London girls' schools - Queen Elizabeth's Girls' in Barnet, and St. Saviour's & St. Olave's in Southwark - for the day. Our special-guest teachers will work with Year Seven pupils on a variety of exciting tech-based subjects, turning their schools into a tech version of Jamie Oliver's 'Dream School'.
By bringing these high-profile women to the classroom, and showcasing their achievements in the most emphatic way we can, we can start to light the way for those coming up behind.
We need to get the next generation of women shouting loud.
Please follow us on Twitter @LadyGeek and check out #LittleMissGeek to keep up-to-date with our events on International Woman's Day #WomensDay. Find out more about the Little Miss Geek campaign.