The headlines during the build-up to the 2014 FIFA World Cup were dominated by the number of absent high profile stars, those failing to recover from injury in-time to compete in what many consider to be the pinnacle of their playing career; Radamel Falcao, Marco Reus et al. But Brazil was hoping to continue an encouraging trend which in recent times has seen the number of reported injuries steadily decline since 2002 and our initial analysis indicates a hugely positive step towards the improvement in the health and well-being of those representing their country in a major tournament.
Competitive match injuries dropped by almost 40% from 125 in 2010 to just 78 in Brazil, an average of around 1.2 reported issues per game comparing favourably to the high of Japan / Korea which registered an average of 2.7 injuries per match. Incidents which caused player withdrawal during the first half (15) were almost half of that in the second (27), results typical of the research we have conducted previously with around 60% being attributed to muscular problems - the hamstring being the most common. There were a further two players injured prior to kick-off; Wesley Sneijder (hamstring) and the unfortunate Sami Khedira who suffered a calf problem moments before the World Cup final. Pivotal during the rout over Brazil, the current Real Madrid midfielder had only just made the tournament after his remarkable recovery from an ACL injury and his inclusion was fully justified with a string of solid displays; it took the Germans time to regain their composure at the Maracana following his late withdrawal.
Half-time saw a further seven players replaced throughout Brazil while Gary Medel was the only player to suffer during extra-time; the Chile defender was stretchered off against Brazil after 108 minutes - finally losing his ongoing battle against a thigh strain; an outstanding performance from the Cardiff City player.
Non-competitive injuries accounted for around a fifth of the total recorded with the majority limiting player game-time; Manchester United goalkeeper David de Gea was a candidate to replace the decidedly shaky Iker Casillas following Spain's 5-1 drubbing at the hands of the Netherlands only for the 23 year-old to suffer a hip flexor injury during training. Casillas looked a pale shadow of his former self during the defeat to Chile, a result which would ultimately cost them progression to round two; the Manchester United Player of the Year has certainly grown in stature over the past season and his availability could have ensured a different outcome altogether.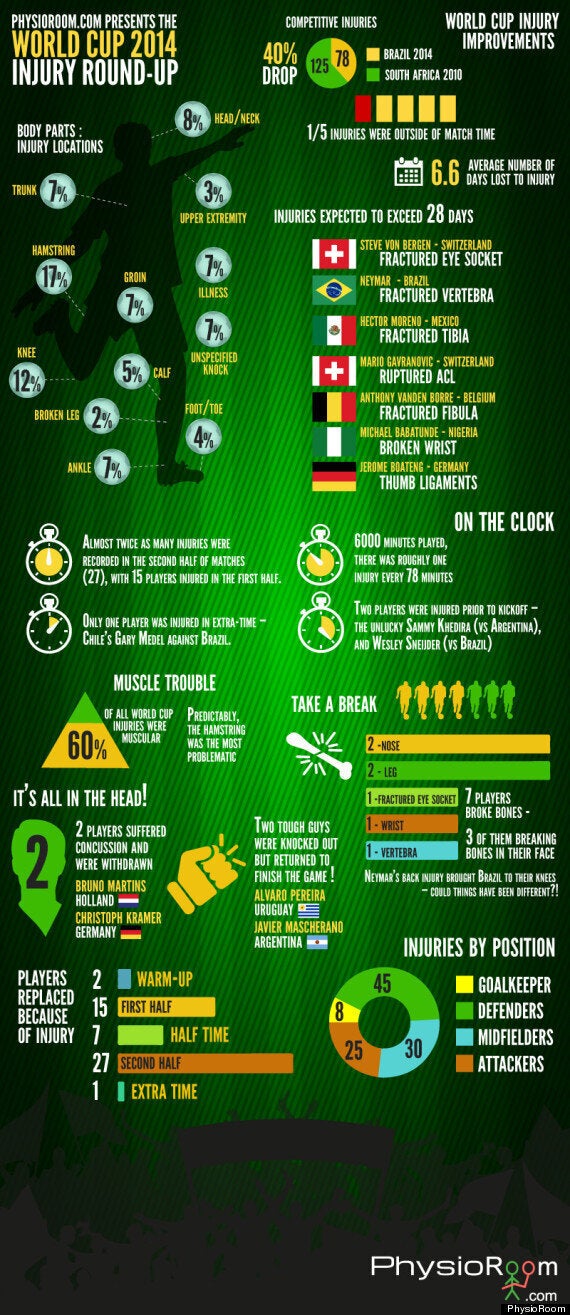 Several players suffered breaks during Brazil to varying degrees; Clint Dempsey and Jermaine Jones of the USA both suffered a broken nose (unrelated during separate games) but were still able soldier on for the red, white and blue with seemingly little issue. However others were less fortunate; Steve von Bergen caught a stray Olivier Giroud boot to the face which led to a fractured eye socket while Nigeria midfielder Michael Babatunde was the unfortunate recipient of a broken wrist after his arm was struck by a powerful shot from teammate Ogenyi Onazi. Anthony Vanden Borre of Belgium and Hector Moreno of Mexico also saw their World Cup dreams come to an abrupt end after fracturing fibula and tibia bones respectively.
And of course who could forget Neymar, who carried the hopes of a nation; a fractured vertebra curtailing any further play. Luckily for the Barcelona midfielder team doctor Rodrigo Lasmar confirmed the damage would not cause any long-term problems with a full recovery expected within 4-6 weeks. "It's not serious in the sense that it requires surgery, but he's in pain and he'll need to immobilise it to recover. He'll have to have it immobilised with a belt for a few weeks to be able to get back to full mobility." As if to emphasise his importance to the national team Brazil went on to lose the next two matches - rated as one of the tournament's best players by the respected WhoScored.com website Neymar contributed four goals, averaged more key passes (2.6) and more dribbles per game (3.4) than any of his Brazilian teammates while winning the ball in the attacking third more than any other player during the World Cup (11) - their loss was to ultimately cost Luis Felipe Scolari his job.
The award for the most bizarre injury of the tournament must surely go to Croatian forward Ivica Olic who required stitches in a foot laceration after stepping on glass while getting out of the shower just hours before their crucial second game versus Cameroon. Fortunately a pain-killing injection prior to kick-off offered enough respite with Olic even managing to score but that was to be the players first and last goal of Brazil with the Wolfsburg forward failing to complete 90 minutes in either of his country's remaining games.
Defenders led the way with almost half of the total number of injury / illness-related problems (45) throughout June and July with Germany contributing the majority (8); although this slightly misleading statistic can in the main be attributed to two players - Mats Hummels (3) : Thigh / Illness / Knee Tendonitis and Jerome Boateng (3) : Thumb Ligaments / Thigh / Knee - the cornerstone of their solid defensive unit. Of the total number of injuries for each nation no-one suffered more than Germany (14); however only the hamstring injury to reserve defender Shkodran Mustafi was significant with the majority of players only picking up minor issues; this is reflected in the fact that seven players started every game with a further two members playing over 500 of the 690 minutes in total - undoubtedly a telling factor en route to becoming World Champions.
Dark horses Belgium were next along with the Dutch who reported nine problems in total, although Louis van Gaal could argue his side suffered more as key players struggled to attain their previous high levels of performance during the semi-final loss to Argentina. Nigel de Jong was a surprise inclusion after only ten days out; the Dutch FA had previously announced via their social media account that the player "has a tear in his groin muscle. He's probably out for two to four weeks," an injury which van Gaal described as a "big setback." De Jong managed 62 minutes before he was replaced; and what of Robin van Persie, a doubt until the very last moment having been suffering from "stomach and intestinal problems," the player was replaced during the first half of extra-time after a below-par game.
And quite possibly the star of Brazil, one James Rodriguez; a relatively unknown Colombian who walked away with the Golden Boot having scored six goals and assisting twice; his performances were to bely his 23 years. After playing second fiddle to Radamel Falcao at club and country the Monaco starlet shone stepping out of the shadow of El Tigre to take all the accolades