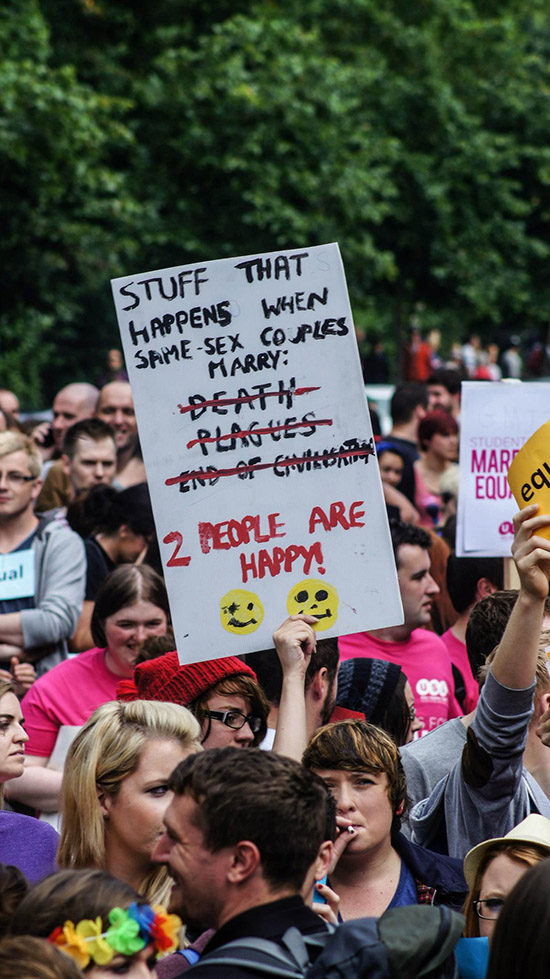 Four years is a usually a short time in politics. The length of time it takes to enact political change is usually much longer than it takes for public mood to move drastically. This is the case with the campaign for equal marriage in Ireland. In the past few years the public's opinion has almost doubled from forty per cent of people in favour of gay marriage to 73 per cent.
This was a fact celebrated at Sunday's March for Marriage in Dublin where 6,000 people snaked through the streets from City Hall to St. Stephen's Green. The infectious snap of samba drums ricocheted up and down Kildare Street where protestors chanted: "What do we want? Equal rights! When do we want it? Now!" as they stopped outside the gates of Leinster House, the home of the Dáil and Seanad (the upper and lower houses of parliament).
Signs such as: "This faggot wants to get married," and: "In fairness Enda [Kenny] it's not like I want to marry you," were held high as the march began making its way to the Department of Justice on the south side of St. Stephen's Green.
The speeches at the Department were optimistic but not over-confident: "Many people think that marriage equality is inevitable," said Anna McCarthy of LGBT Noise. "Many think we will have it soon. 73 per cent of the public is in favour, but the Constitutional Convention won't report back for one and a half years. They can decide to support it or not but they can't decide on a referendum. This could be decided tomorrow, it's nowhere in the constitution that marriage is between a man and a woman. We are here and we demand equality."
However, a spokesperson for the Department of Justice and Equality said on Monday: "In relation to making marriage available to same-sex couples, successive Attorneys-General have advised that it would be necessary to amend the constitution. The forthcoming constitutional convention will consider a range of possible constitutional reforms to put to the people. Among the issues for consideration, the convention will consider changes which would allow for legislation for same-sex marriage, if passed in a referendum."
The Irish Constitution does not make specific reference to who should marry who, but it does say: "The State pledges itself to guard with special care the institution of Marriage, on which the Family is founded, and to protect it against attack." Whether this needs amended to allow for same sex marriage is a moot point, but the view of campaigners seems to be that the issue has been kicked into the long grass. It will not be decided by politicians, but by the 100 members of the convention, 66 of whom are from the public, and a referendum.
In 2011 the campaigning group Marriage Equality released a report called 'Missing Pieces' which found 169 differences between civil partnership and civil marriage legislation. Some of the most serious of these include a lack of family home protections for civil partners whose partner has left them, the omission of equivalent provisions that apply to certain housing grants, and the fact there is no recourse to judicial separation for civil partners.
This is alongside legislation that allows religious, medical and educational organisations to discriminate against the LGBT community on employment matters and a lack of legal recognition for Transgender people, despite an EU directive in 2007. One of the speakers at Sunday's march, Louise Hannon, said: "For me to be legally recognised I have to be diagnosed as having a mental illness." There are currently proposals for gender recognition legislation would force happily married couples to divorce before the transgender partner's true gender can be legally recognised.
Following the march, Hannon, who is a board member for the Transgender Equality Network Ireland, said: "This is an offensive and barbaric proposal. No-one should be forced to choose between their family and their basic human right. This proposal goes against the Irish Constitution, which affords special protection to the family. I believe this is a key moment for Ireland. We have a golden opportunity to lead Europe in inclusive, marriage-friendly gender recognition legislation. We need to get this right." Equality of marriage would remove this need.
It's the final mile for campaigners, but the public support is there. As the Director of Marriage Equality, Moninne Griffith, said on Tuesday: "The main barrier to equal marriage would be if it's off the political agenda. We've got to make sure that it's a political priority. It's got to get through the Constitutional Convention, it may require legislation post-referendum. But a huge majority feel the time has come to make Ireland a fairer, more inclusive place. With the long term economic issues that may not be fixed for a number of years equal marriage could be this government's positive legacy."
Image courtesy of Tyler McNally.