By Jack Owen and Ben Goldstein.
Ben and Jack are currently cycling through Hampshire visiting local cheese producers. To read their first blog, click here.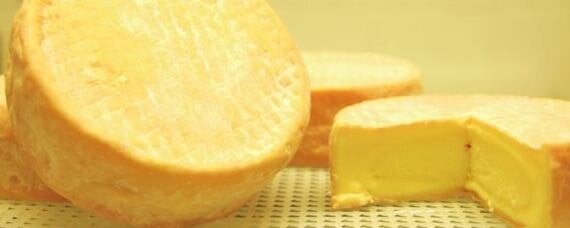 Day two of the #cheesequest is best described as a story of plans made and unmade.
Plan A was a cheesemaker near Liss. But, it turned out, she had shut up shop, left for America and, according to rumours, was in training to be an international goat judge. (We genuinely did not make that up.)
So we engaged Plan B - after a quick stop to repair Ben's puncture, we'd cycle to cheese consultant Paul Thomas to investigate his small-scale cheese factory. We were all of twenty minutes into our journey before Jack received word: busy Paul was only available on Friday.
His reasons were objectively justifiable - but we were devastated. We were embarking on a day of our cheese quest with no plans whatsoever to see any cheesemakers. At all. The cheese train had been derailed.
We entered panic mode, and were desperately clutching at any cheese straws we could find. We started hitting the phones.
"Hi, is that the ancient Iron Age farm recreation near Clanfield? I know you don't technically have any cheese - but I hear you stock goats."
Jack meanwhile was dialling the tautologically titled Haslemere Educational Museum, and earnestly reassuring Ben that they must have some antique cheese-making equipment that we could photograph. ("Even a butter churn will do!")
However, the staff at the museum were so helpful that not only could they accurately tell us their opening times but something much more exciting.
"One of my friends has just started an artisan cheese production line in Haslemere - would you like their phone number?"
Somewhere, the cheese gods (and maybe even the Cheese Lady Juliet Harbutt herself) were smiling on us. We'd been gifted another cheesemaker out of the blue, and this one had literally only been going for six weeks. We'd be the first outsiders to taste their cheese.
"This must be how proper food journalists feel," squealed Jack.
We'd been granted a reprieve: Plan C was on.
Seven hours later after a Herculean cycle, a long stop at a lovely village pub and a not-at-all-cheating train ride, we pulled up at Gimblett Cheese, aka the family home of Pam and Francis.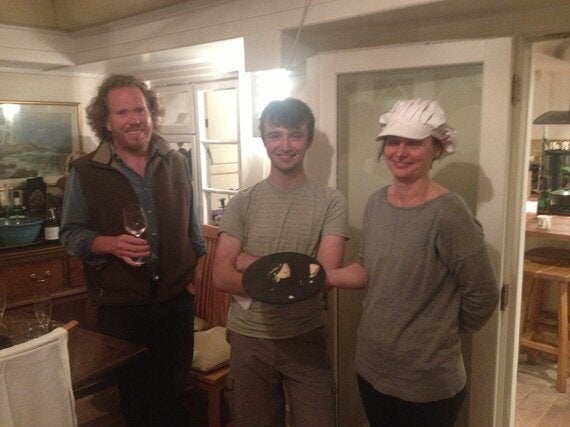 The cheese board after we were done with it
The Gimbletts were experimenting with cheese, building on their experience of running a successful wine tasting company. And talking to them, it became clear very quickly that their wine background informs their entire approach.
"Francis can eat a cheese or drink a wine and write copious notes on it. He can instantly give it a score with reference to years' worth of tastings," Pam explained.
Within a few minutes of arrival, we were offered fantastic local sparkling wine ("better value for money than Champagne, and I love Champagne") and ushered in to the Gimblett prototype facility tucked behind their kitchen. As we toasted our champagne flutes with one of the UK's leading wine experts and watched Pam introduce us to her fledgling dairy, we couldn't believe our luck.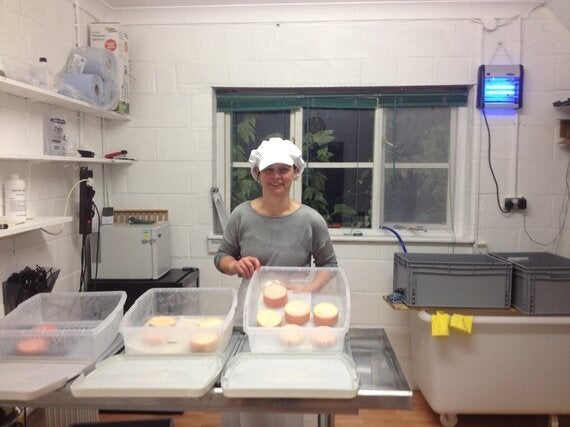 "Holding your first cheese is like holding a baby," said Pam, mother of two
"Right - I think it's time to try the cheese," Francis said as he led us into the dining room. Before us was an immaculately laid table, with red wine, beer, bread and - of course - cheese.
We settled down for the feast. The wine was from the nearby Bolney Estate, the beer was from a brewery down the road in Petworth and Pam had milled local wheat to bake the bread at home. The Gimbletts clearly meant business when it came to sourcing their food and drink.
As the business grows, Pam and Francis plan to build partnerships with local producers as they incorporate their cheeses into their wine tasting events. Just last year, Francis organised Haslemere30, a local food festival.
We sat down, and were guided through both the cheese itself and the appropriate accompaniments. We tasted samples from the second and third batches ever produced by Gimblett Cheese. Pam and Francis had been careful not to overpower their cheese with a single strong flavour - an insight they picked up in the wine industry. And it was successful. You could taste creamy, mushroom and gamey flavours coming one after the other as the cheese made its way around the palate.
"Both in wine and cheese, we think it's good to have a vibrancy of aromatics". You could tell that Francis' day job is delivering corporate wine tasting presentations - but his loquaciousness was not hiding a lack of actual talent. This pair could definitely make cheese.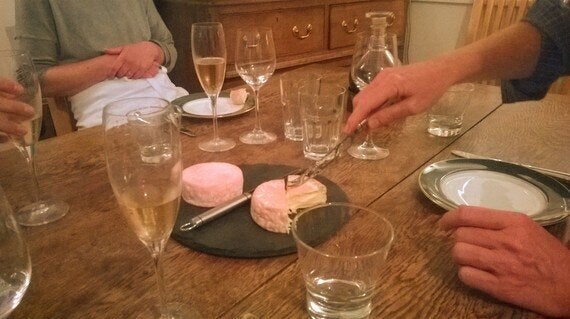 And Francis could definitely cut cheese
After our unexpected dinner party and a kind offer of a lift home, Francis wanted to show us his grand plans.
"We are going to grow the business organically and slowly, but eventually we might end up with something like this," Francis said, flicking through the pages of the architectural drawings of his cheese factory/events space/wine cellar vision. It was a big plan, but we both found ourselves drawn in: Pam and Francis combine being real foodies with a level-headed entrepreneurial spirit.
"We do still want to have a social life as well, which may be an oxymoron in the cheese world," said Francis.
We wish them the best of luck.
*******************************
Follow the action at #cheesequest.
Ben and Jack are staying with Leonie in Haslemere.
Gimblett Cheese is not yet available to the general public, though you can read about their progress on their blog. The Gimbletts also wine tasting company Taste of the Vine, and Francis has written a book on wine available from his website.
If you want to know anything more about cheese, just talk to the Cheese Lady.
Popular in the Community