With London Art Week now in full swing, we meet up with Hang-Up Director Ben Cotton and Moniker's Frankie Shea ahead of Moniker Art Fair 2013's opening to hear their take on the current art scene in London and what makes Moniker a truly innovative and unique must-see event.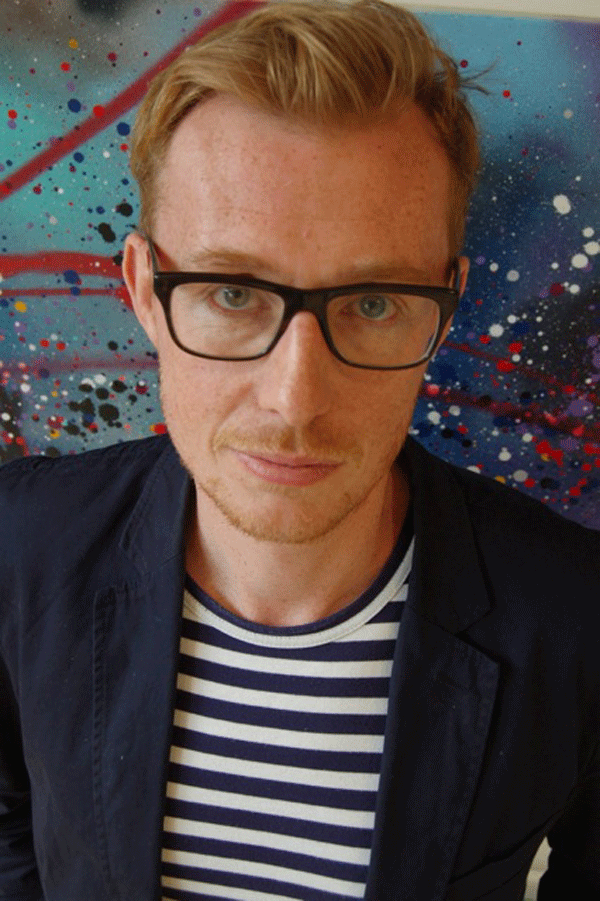 How did you choose to participate at Moniker Art Fair?
There are so many art fairs on at this time of year but Moniker is the one that truly stands out as being really innovative. It's a world a way feeling like a generic art fair, it's fresh and exciting and as such I am really happy for Hang-Up to be a part of it in 2013.
Hang-Up offers a prime and unique mix of contemporary and street/urban art, tell us more about the balance of art shown at the gallery? How did you choose the artists for the Fair?
We exhibited Mark in his first solo exhibition at the gallery a few months ago. His work is fascinating to me, he draws directly onto old vintage documents using a bic biro pen. There is also no room for error and the level of detail and precision is incredible.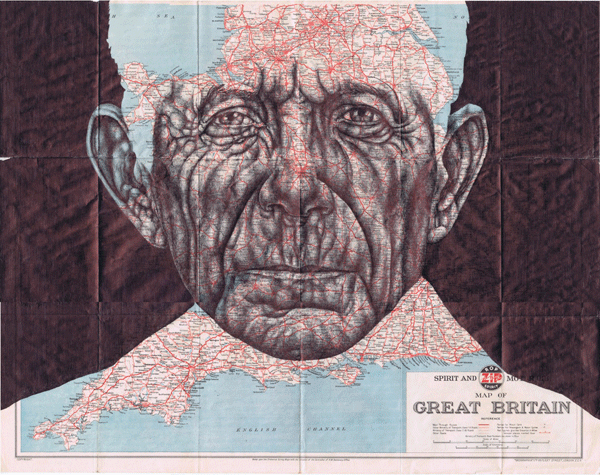 Joe Webb, our second artist, primarily works in collage although he is also a very skilled painter. There is the element of playfulness in his work which I like as he often will juxtapose two very contrasting ideas and present them in one image. We are showing new collage works at the fair as well as a new painting created especially for Moniker.

Lauren Baker we have started working more recently. She is a creator, turning skulls, deers antlers, coffins, skeletons to name but a few into amazing works of art. She has an incredible energy and passion for what she does which shines through in the pieces themselves. We have a solo show with Lauren at the Hang-Up gallery in December - can't wait for that I think she will blow us way.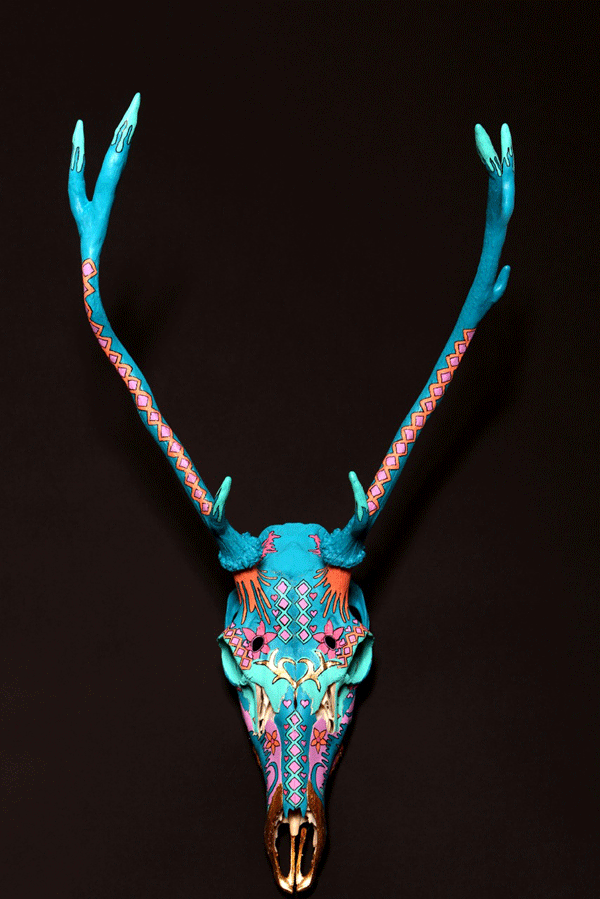 Magnus's work is clean and contemporary and I have always been drawn to it. He had a very successful first show at the gallery in 2012 and we have been working closely since. Magnus will be displaying his first paintings at Moniker they are worth checking out our stand alone for!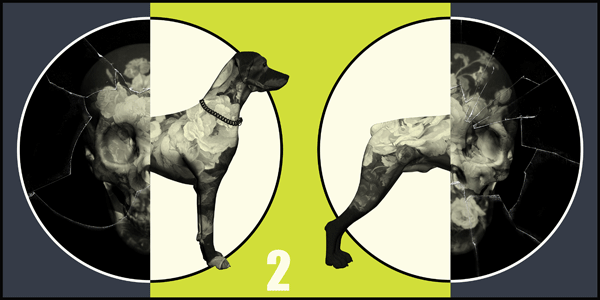 What is the message that Hang-Up carry across?
We are lucky to have some really talented artists on our books but we steer away from that exclusive austere gallery model Hang-Up is about being welcoming and accessible. We are based in Stoke Newington as we wanted to get that friendly neighbourhood vibe and we try and make that shine through in all that we do.
What is next for Hang-Up?
Coming up at the gallery we have Radiohead illustrator Stanley Donwood in November for a retrospective exhibition titled Apocolylse Boutique. Then we have Lauren Baker for what will be her epic Christmas show in December/Jan followed by graphic artist Patrick Thomas in February 2014.
That's all we can reveal for now but rest assured there will be lots going on at Hang-Up HQ in 2014.
Moniker Art Fair is in its fourth year now and considered London's premiere event for contemporary art - tell us more about the balance of art shown at the fair? How did you choose the participants?
When we set out four years ago we invited all the exhibiting galleries, but now, being four years in and firmly established, we get approached by many galleries throughout the year and we decide as a team who we'd be excited to work with. Myself and co-director Kristophe Hofford take part in this process.
We have a core of returning gallerists like Shoreditch's premier gallery StolenSpace, Amsterdams Andenken Gallery and Print Masters and Gallery, Jealous. The works shown at the fair are almost entirely from the primary market.We attract galleries showing urban/outsider art and its subcultures like pop surrealist and tend to show artists the finder side of the street art movement. We have become known for exhibiting artists at strong stages of their careers and on the cusp of even greater things and that is also what we look for.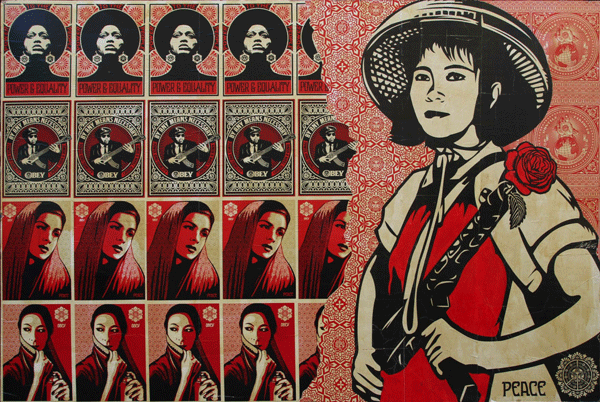 How does the programme attempt to counter and reflect that balance contemporary - street/urban art?
This year's programme is still largely urban with live mural painting around the Truman Brewery, street art tours from Alternative London and affordable Moniker/Jealous prints from the likes of The London Police and Amanda Marie but this will be crossed over with editions from more painterly artists such as the amazing biro talents of Mark Powell for example. Many of the artists at Moniker walk the line between contemporary and urban art. Jo Peel is a fine example, her work being heavily influenced by the heave and life of the city and has been embraced by the urban market, yet her talented paintings, animations and printmaking pushes into the realm of contemporary art.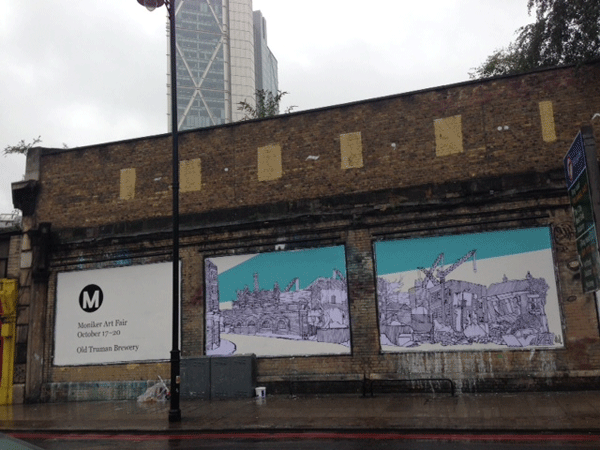 Jo Peel for Moniker Art Fair 2013. Image via Frankie Shea
Cedar Lewisohn, our resident host, will be chairing talks, discussing such topics as the street art market and the art on the streets of Greece during the economic change and engaging with a panel from the more established contemporary art sector. Boundaries between contemporary and urban art have and continue to be broken and the art on display at Moniker is increasingly recognised by the traditional art establishment. Our artists and programme, whilst still largely urban, aim to reflect on that.
What makes Moniker different than all the other fairs?
Moniker is a fair that has evolved from within the scene itself. It's a fair where the directors are passionate about the artists and galleries chosen specifically for what they represent, how their art makes people think and how it fits in with Moniker. This is what makes us unique. We're not just sticking pretty pictures up on walls for your average punter. We want our audience to engage, ask questions, get involved and generally enjoy the fair without fear of being judged. What I also find great about Moniker Art Fair is that the galleries feel motivated by us to present their artists in novel, creative and innovative ways. Since our first fair in 2010 we've been dedicated to keeping at least half of our space for installations and each stand brings its own unique character and style. Without a doubt, Moniker Art Fair has always and will continue to be a visual feast for visitors.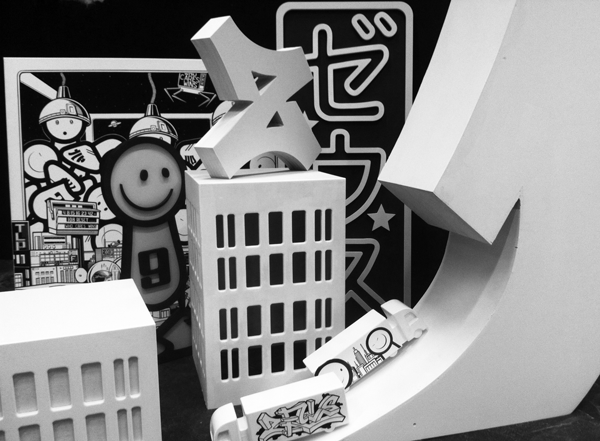 The London Police ans Zeus install for Moniker 2013. Image via Frankie Shea.
What was the most challenging about /when making Moniker Art Fair happens?
Starting something new, as any start-up or entrepreneur will know, is a challenge in itself. It's a risk, ultimately, that no one will see the merit in your ideas or believe in you. But as Moniker Art Fair comes into its fourth year, it's clear that this risk paid off: It has gained significant momentum on its own accord and is becoming more ambitious. The challenges that lie ahead now is to keep up with the growth, to invent and reinvent and ask ourselves how to improve each year.
Street art is so hot and relevant nowadays but how do you see Moniker Art Fair in a few years time?
Moniker is on an excellent upwards trajectory and I see it getting even bigger over the next few years.
I want Moniker to become a must-see event for London's most important art week, because our artists are not just having fun and enjoying the journey they're creating significant works with longevity.
Fri 18th -Sun 20th October!
Popular in the Community