Meet Lauren Baker, Joe Webb, Mark Powell and Magnus Gjoen: the four talented artists that Hang-Up Gallery will be taking to Moniker Art Fair 2013. The team travelled from Brixton to Hackney to catch a glimpse of their studios, chat about what exciting new pieces they have in store and how they feel about exhibiting with Hang-Up at Moniker for the first time.
Come and see the new works at the Hang-Up booth | Old Truman Brewery | E1 6QR | Fri 18 - Sun 20 October.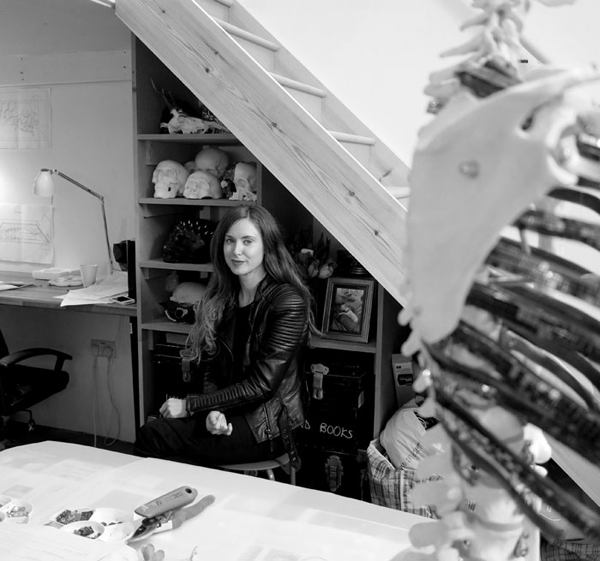 You are known for constantly pushing the boundaries with your media by using materials such as skulls and bones as your canvases. Was this choice a creative decision only (because of the unusual medium, etc) or did it reflect your own attitude to life, death, beauty and fragility?
Skulls are a major iconic symbol. The meaning of skulls differs greatly from being a sacred symbol of luck or protection, to representing life, death, resurrection, or danger, the devil and so on. No matter what meaning people attach, there is a universal appreciation that skulls represent something of greater significance. Creating art on an object which holds mystical and spiritual power gives the piece more depth. I chose to question death and explore it and that comes across in my work. I am just drawn to skulls.
I also like the idea of changing the perception of an object not obviously associated with art - for example last month I ran a workshop at Tate Britain and I encouraged 400 participants to enter a forest setting and embellish bones, twigs and stones. I get excited about 3D objects, textures and unusual shapes. 2D doesn't do that for me.
Tell us more about your new work. What's behind the Infinity coffins?
The Infinity Coffin explores life, death and afterlife. People who have had near-death experiences often report seeing or entering a profound white light, alongside a serene, peaceful feeling of fearlessness and contentment. The artwork explores the moment you pass on to the unknown. The coffin shape represents an ending and the never-ending white light symbolizes the unknown and the potential of afterlife.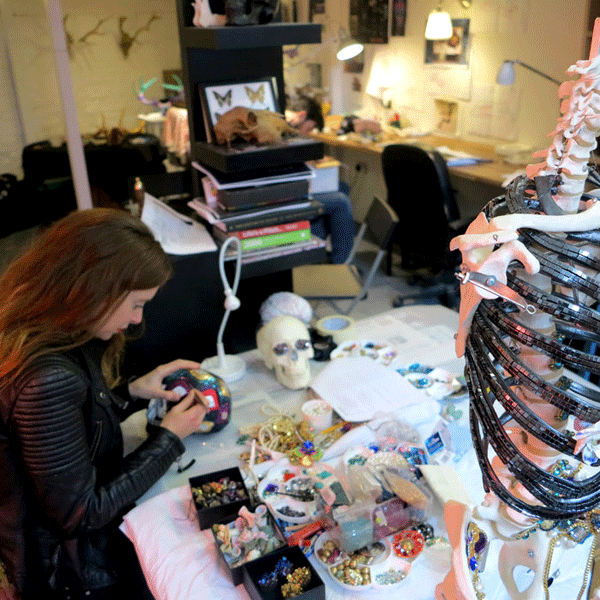 Moniker Art Fair will be the first time the public will view your new work. How do you feel about showcasing in a fair environment? Do you think the public would react differently?
I haven't really considered that before. As an artist you often reveal a lot about yourself through your creations - whether consciously or subconsciously - and I think it helps to have a f@*k it kind of attitude. It's good to be fearless in expressing yourself and to appreciate people's response but not get too overly attached to that.
What are you hoping to get from showing at Moniker with Hang-Up Gallery?
I'm really excited about working with HangUp gallery as I like the inclusive and relaxed vibe at the gallery and I was drawn to their selection of contemporary artworks. I am a massive fan of Moniker as an innovative and alternative art fair. So I am looking forward to working with both and to release my new work. I think art exhibitions are a celebration of creativity.
What material/medium would you like to experiment with in future?
I'm obsessed with neon and infinity mirrors at the moment. In the future I'd like to play with metal, expanding foam, glass and more. I'm constantly experimenting and evolving.
I'm booked up for the next 6 months. I'm exhibiting in California with Artcube gallery who represent me over there - the exhibition is called 'Enchanted Afterlife' it's on from 26 Oct - 1 Dec. I have some exciting collaborations on secret projects, which will soon be released, including the Christmas window for a major store. Plus I'm thrilled to be having my solo show with Hang-Up gallery at the end of the year.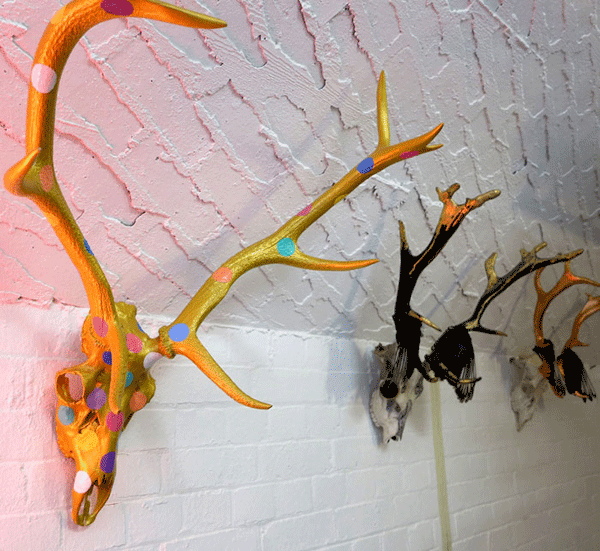 You have a fascinating sense of balancing juxtaposed images in your work. Tell us more what is behind the creative process of assembling a typical 'Joe Webb' collage? How do you keep the balance?
I work to a rule of using just two or three images for my hand made collages (no photo shopping allowed). I found by stripping back the materials the result becomes more dynamic and the message simpler to decipher. It's also a bit like sticking two fingers up at everything... there's loads of art that's highly complex and must take ages to make, portraits of Gandhi or someone inexplicably made out of 4 million hole punched paper pieces etc. All that's fine and it has it's place, but by doing something basic hopefully I stand out in a crowded market....with it I'm saying; check it out, I can get an idea across by sticking one picture on top of another - have that!
Your work constantly evolves. Strong political ones, retro, followed by surrealistic, so what is the direction of the new collection?
The newest pieces are a mix of everything in a way, some have gone back to the more retro, spaced out surreal ideas, old school in style...inspired by a recent trip to a Eduardo Paolozzi exhibition...then I have a few more political pieces, one about the Syria conflict.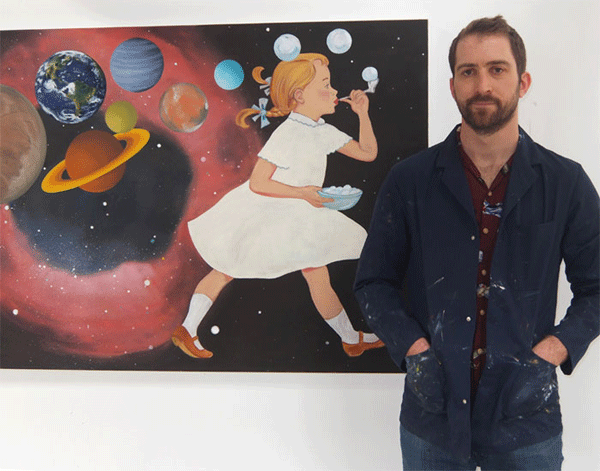 Which piece was the most challenging? Why?
I guess the 'Home Sweet Syria' piece, I wanted to empathise with with how it must feel to live inside a war zone when your just trying to get on with life. Rolling TV news has made us a bit desensitised to these horrific events, as if it's happening in a different world...I kind of wanted to bring the realities of it home and ask how we'd feel if it was happening right on our doorstep. If it sells all the proceeds will be donated to DEC Syria Crisis Appeal.
Moniker Art Fair will be the first time the public will view your new work. How do you feel about showcasing in a fair environment? Do you think the public would react differently?
Art Fairs are a great way of getting my work seen by a lot of people in a short space of time. Sometimes with huge art fairs it's hard to take it all in after a while. I feel bad for walking straight past someone's painting that they've been lovingly working on... but it's impossible to look at everything. Moniker seems a good fair to be part of as is a bit smaller and more specialised. I guess its more of a challenge as it feels like you have to win over the public who may not be aware of my work. I'm up for that though.
What are you hoping to get from showing at Moniker with Hang-Up Gallery?
To introduce the work to a new audience. I don't see myself as 'urban' art but can appreciate it overlaps with it somehow. There's a shared 'outsider art' mentality which is separate from other areas of the art establishment. I can't be urban anyway my studio is in a converted farm next to a field full of cows.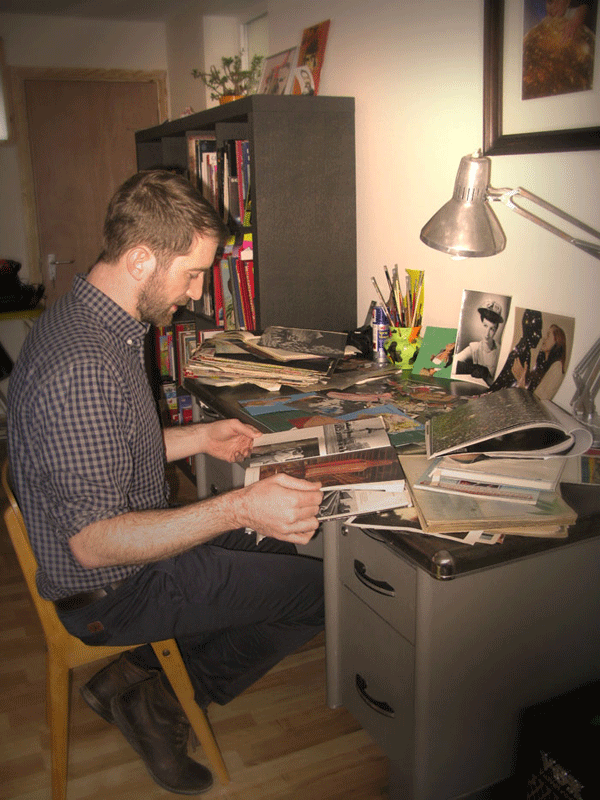 How do you think your work relates to the Hang-Up model?
I've got so much time for the Hang Up crew! They are really enthusiastic about my work and really understand where I'm coming from. They curated my first solo show which was a near sellout thanks to them understanding my audience. I was chuffed to sell a painting there which is new territory for me. They are a relatively new gallery who are already making big waves with some great solo shows, mine was proceeded by Sir Peter Blake then Stanley Donwood. They also have a great relationship with CCA Galleries, who publish all of my silkscreen prints.
Is there a material/medium that would you like to experiment with in future?
I'll be stubbornly continuing on with the collages and lots more oil paintings, no plans of such to experiment with conceptual kinetic projected sound/light installations or such things. I like pictures on walls...keep it simple!
What's next for Joe Webb?
Lots more cutting and pasting... building up a new body of work for another solo show at some point next year. The main plan is to make the work as strong as possible and enjoy the process of making it. If the works good the rest should take care of itself.
Fine imagery drawn on antique documents is quite an unusual combination. Tell us more about the concept of drawing not on a 'blank canvas'?
Choosing the canvas' that I choose adds an extra level to the drawings. The subjects I draw show a history in wrinkles and age and so do the documents that I draw on. The drawings wouldn't be as strong without them.
Which piece was the most challenging? Why?
The larger drawings are the most challenging. When drawing on maps it can be distracting with the extra information of roads and text.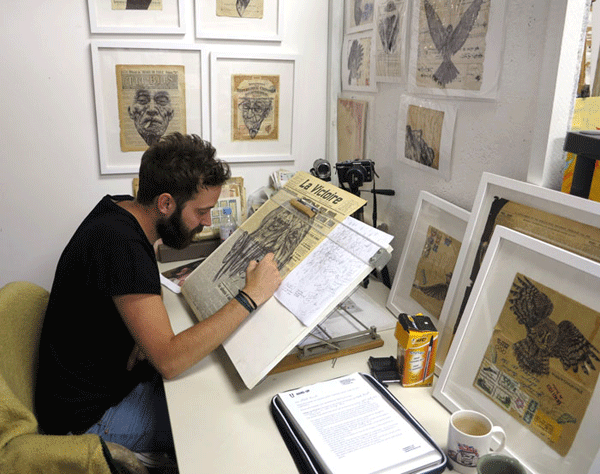 At Moniker Art Fair the public will view your new work. Tell us about the direction of your new collection?
I am hoping that I have produced better and more integrated work with the drawing and canvas. And I hope that the drawings show emotion.
How do you feel about showcasing in a fair environment? Do you think the public will react differently?
Exhibiting at a fair is always an interesting experience and different from the gallery environment. Often the viewer has never seen the work before and so will have new and fresh opinions to share.
What are you hoping to get from showing at Moniker with Hang-Up Gallery?
Showing at Moniker with Hang up gallery is going to be exciting and I am looking forward to showing my work to a new audience.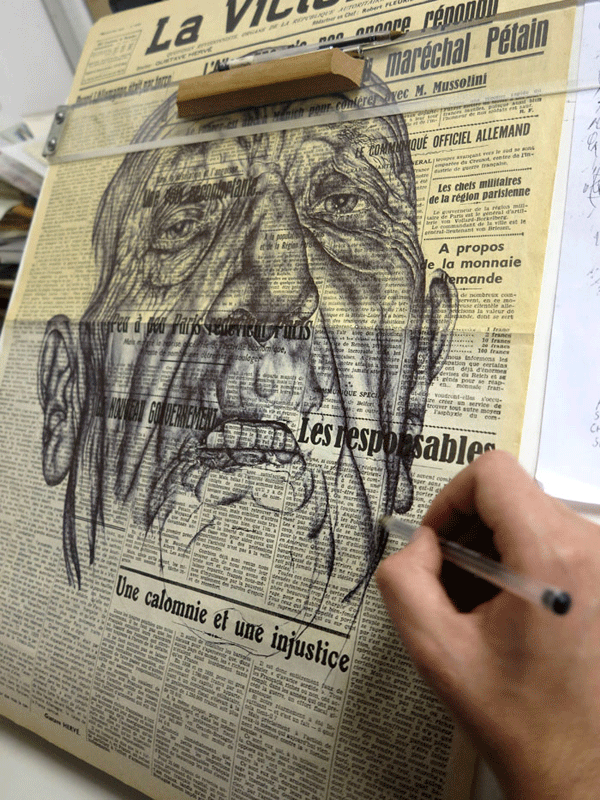 How do you think your work relates to the Hang-Up model?
Hang up have a large collection of great artists and have had a number a great shows. Having a mixture of urban and contemporary artists fits perfectly with me.
Is there a material/medium would you like to experiment with in future?
In the coming months i am hoping to get back to painting which will be a change from my current style but it will be fun.
What's next for Mark Powell?
You've really pushed the boat out with your new work in terms of media and material in your recent collection, such as 3D printing and gold leaf. Tell us a bit about the new work. How do you think your practice has progressed?
One of the best questions someone has ever asked me was an interior designer, who asked 'What are you going to do next?' If you keep asking yourself that you will progress. It's also interesting to see how people react to different media. A lot of people like original pieces. For example, 'Mind the Dogs Tail 1 & 2' were taken back to the Pop Art era inspired by Robert Indiana and Peter Blake with the shapes, the circles and magazine cuttings. I'm doing the same in my new work but also creating the image as well.
What piece was the most challenging? Why?
Probably the panels for 'Mind the Dogs Tail 1 & 2'. They've taken a lot of time as they are mix media. The graphics have also been drawn from scratch. Every single rivet and detail has been created by me.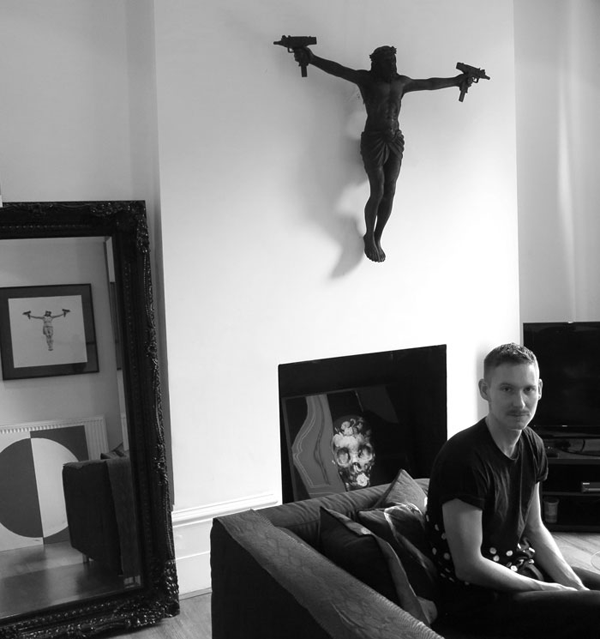 Your works are an interesting juxtaposition between controversial preconceptions and creative vision. Tell us how you keep the balance and are there times when one prevails over the other?
It's trusting your own judgment and your own taste. Its also about making people who wouldn't usually want these images on their walls see things in a different light. I'm trying to change their attitude - to modernize their thoughts on art, for example, the renaissance imagery. People don't have to have a masterpiece on their wall, they can have something that's a bit more modern and updated.
You new work includes a lot of dog imagery as opposed to your earlier use of skull, stag beetle and gun imagery. Why?
I made the dog in a 3d program 1 or 2 years ago, and its an image I've had to let lay for a while. Recently I had a few ideas that have made it work, and the wheels were set in motion. Its going back to the pre conceived notion of people - such as my new work 'The Need To See Things As A Whole'. It shows people that things can be beautiful even though it's not shown how its supposed to look.
How do you feel about displaying your work in a fair environment?
I think that fairs attract people who want to buy art and don't necessarily know what's out there. There's a good opportunity for passers by to buy things. Maybe they fall in love with something they didn't come to look at. I did the London Art Fair last year, and my work did very well. It's a good marketing model for people who haven't seen your work before.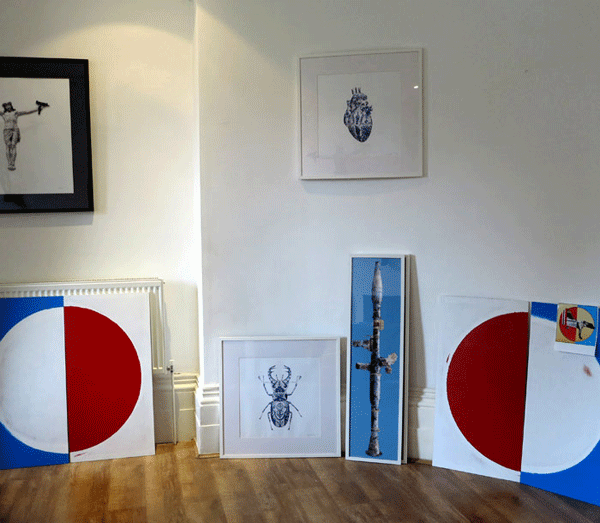 What are you hoping to get from showing at Moniker with Hang-Up Gallery?
I'm always looking to raise my profile and open my work to a wider audience.
How has Hang-Up helped you to develop your career as an artist?
You had my first solo exhibition, which was really nice. It was a great start and a good experience for me to have that.
What material/medium would you like to experiment with in future?
Porcelain. I would love to do more sculpture but its quite expensive and time consuming.
I have three shows coming up, starting with a show in Essex then Moniker then Art Basel in Miami. I've started oil painting a bit in Italy, but I need to find something that's relevant to my current practice - and it will be learning to do something properly again. But I really like print and I'll be doing more of that. There are a lot of people who don't like giclee' because its massed produced but there's a great deal of work behind it and I think the digital art world is really current.
Dont miss Hang-Up Gallery exhibiting the brand new collections by each artist at Moniker Art Fair 2013 Old Truman Brewery | 15 Hanbury Street | London E1 6QR Fri 18 Oct | 11am - 7pm Sat 19 Oct | 11am - 7pm Sun 20 Oct | 11am - 6pm