The Hang-Up team met with British creator, writer and Radiohead's in-house artist Stanley Donwood to chat about his upcoming exhibition and retrospective of rare works, his first impressions of Thom Yorke and being David Hockney's number one fan. Not an interview to miss!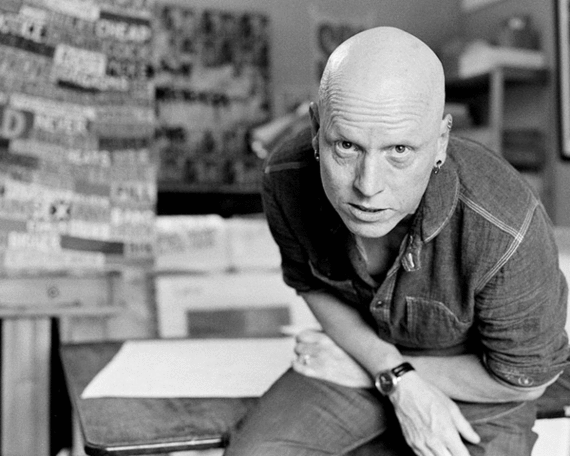 Apocalypse Boutique is a retrospective of very rare editions and one-off pieces that you've created over the past decade. Why have you chosen to showcase these rare pieces with Hang-Up Gallery?
As usual, I consulted a number of esoteric practitioners. Using a form of 'art-tarot' I was able to determine the correct selection of work that would compliment the frankly tangled ley-lines underneath Stoke Newington High Street. My experts said that, in terms of Earth Energies, Stoke Newington was 'gnarled'. Surely, I asked, they meant 'gnarly'? No, they said.
The show will display an extremely varied selection of works. Is there a particular series that you feel closest to?
Which series best reflects your current practice?
I'm afraid that my 'current practice' involves visiting the chemistry laboratories of universities and asking if I can perform dangerous and spectacular experiments in order to photograph the results, so that question isn't really relevant.
You have chosen to exhibit a few original pieces in the show. Tell us a bit more about the two original canvases and the inspirations behind them.
One is a large painting of a Ventolin inhaler. Ventolin is the trade name for a generic asthma-relieving drug called salbutamol, and many people, myself included, rely on this drug to avoid discomfort, hospitalisation, or possibly death. The painting is part of a series called 'I Love The Modern World'. it was partly an ironic title because there's loads of things I hate about the modern world, but equally, if it wasn't for the modern world I'd probably be dead. Also, I do actually like the modern world very much.
And then I've written 'Everybody's Happy Nowadays' across it, which is a Buzzcocks lyric. And we are, of course, all happy, nowadays.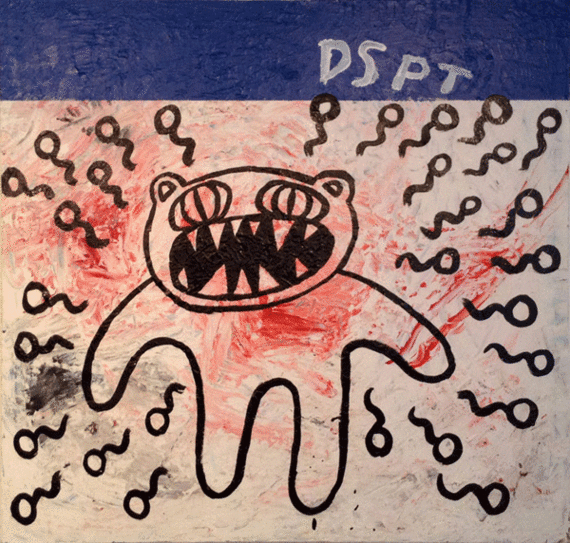 The show was called 'Apocalypse Boutique' because a great deal of the work displayed is apocalyptic. Would you agree? Have you always worked this way?
Is it? The title of the show is just an attention-grabber; the apocalypse means a revealing, or an un-covering, in Greek or Latin or Sanscrit or something. I think it means something like "when the truth is revealed". I can't retain Wikipedia information for long enough to be able to be more specific. And a boutique is a shop, right?
You do a lot of painting and printmaking such as woodcutting and lino printing. What is your preferred material to work with?
I don't have a preferred material. My preferred material is everything.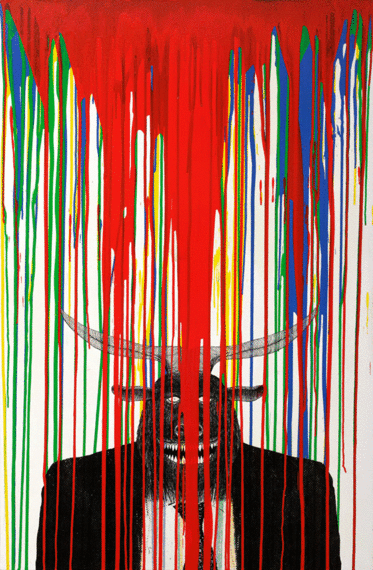 'Slowly Downward' is the name of your manufactory business that was created in 2004, with the idea to create limited editions of your work. You only started off as a very small business and now it's known internationally. How long was it until it took off (and you managed to install the flushing toilet?!)
It has been an aeon of toil. We have drunk an enormous amount of cider. I admit that the provision of conveniences has been a struggle. Heating, also.
You're both a writer and a visual artist - which do you prefer?
That is a fiendish question, worthy of the Inquisition. I will not answer, as I am safe in my room, drinking rum and smoking a 'festival cigarette'.
You and Thom Yorke first met at Exeter University which led to you becoming Radiohead's in-house artist. What was your first impression of Thom Yorke?
In those days I might have said mouthy. These days, I might say argumentative.
Do you see yourself working with Radiohead until they stop making music?
And after. I will haunt them, scribbling on ghostly paper, coming up with stupid ideas.
You've said recently that being in the studio with Radiohead inspired your latest body of work 'Far Away is Close at Hand in Images of Elsewhere'. Is this because your artwork and Radiohead's music are undeniably in tune with each other?
I never said that. It partly inspired it, that's true. Oh yes, Actually, I did say that. You're right. Undeniably? In Tune? I think many people would argue with that.
Do you get fed up with the constant interview questions concerning Radiohead?