Yeah of course, sorry should've sent this across on Tuesday: Southampton, it can be argued, boast the best young left-back in the Premier League in Luke Shaw. The teenager has emerged as one of the finest in his position following Saints' return to England's top tier, making the starting spot in the XI his own after the south coast side failed to secure the signature of Alexander Büttner last summer.
However, manager Mauricio Pochettino is also spoilt for choice at right-back, with the Argentine able to field either Nathaniel Clyne or Calum Chambers. The young English pairing have each started 13 of the 26 league games this season, with the latter benefitting from the former's hamstring injury in December to stake a claim for a regular place in the team.
Since Clyne's return to fitness, he's made just 1 league start with Chambers' displays seemingly convincing Pochettino that he is more deserving of a starting spot. The youth team graduate has performed admirably in the back four during his time on the pitch this term, echoed in his average WhoScored rating of 7.01, though in just starts that figure rises to 7.12.
In comparison, Clyne's rating sits at 6.95 (7.08 from starts), hinting that Chambers has been slightly more impressive. However, in the high pressing system that Pochettino prefers in his favoured 4-2-3-1, both are more than suitable to earn a regular starting berth.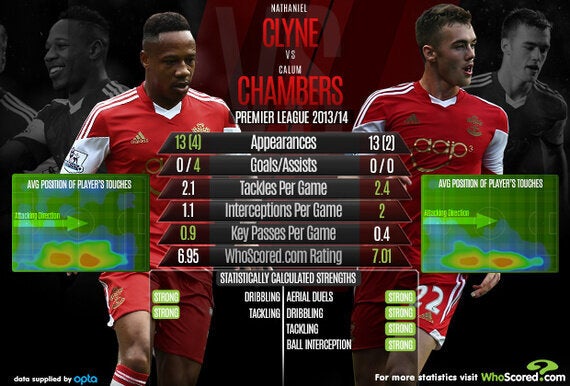 The formation requires full-backs to overlap and support the attack and the pairing have both exhibited their offensive qualities when needed, though it's perhaps Clyne that has been the better of the two in this respect. The 22-year-old has registered 4 assists in England's top tier this term, a notable return for a player that has executed 16 key passes in 17 appearances.
While it's the responsibility of Rickie Lambert, Jay Rodriguez and Adam Lallana to put away these chances, the former Crystal Palace ace has been creating the kind of goalscoring opportunities that will benefit the more attack-minded Saints stars. In contrast, Chambers is yet to provide an assist for his team, while the 19-year-old has played just the 6 key passes in 15 appearances, suggesting that his inventiveness isn't of the same standard.
This undoubtedly adds weight to the idea that Clyne should be a regular starter when fit. The modern day full-back is expected to provide an outlet for his team in the final third and the England hopeful does this to a higher level than Chambers, with Clyne's 4 assists bettered only by Lambert (7) and Lallana (5) in the Saints squad.
However, while it's imperative that full-backs provide an attacking option, they must also be defensively solid and Chambers seemingly performs this duty better than Clyne. The teenager, despite his lack of Premier League experience, is currently averaging an impressive 2 interceptions per game, seeing him develop a WhoScored strength of 'ball interception'. This reading of the game disrupts the opposition's flow and in turn allows for Saints to instigate attacks of their own, be it through Chambers or his teammates.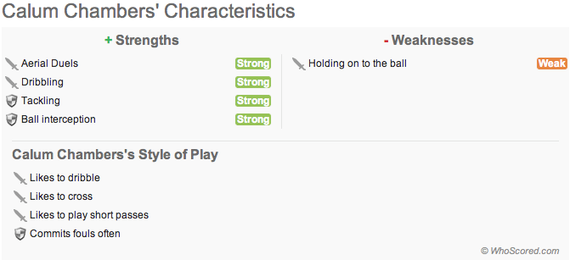 Comparatively, Clyne is averaging just 1.1 interceptions per league match, a return not to be scoffed at, but a figure considerably lower than that of Chambers. As the difference in tackles per game between the two is particularly negligible, 2.1 to 2.4 in favour of the latter, Chambers' ability to pre-emptively deny the opposition could see the Saints boss start the teenage defender over Clyne, for the time being at least.
Needless to say, Pochettino has two full-backs at his disposal that are more than capable of filling in on the right to a high standard. What may sway his decision as to who starts could be the opposition in question. Against teams that will set up to defend against Saints, Clyne may well be the stronger option, with his attacking input weighing in his favour.
However, when it's the south coast outfit that need to set up shop and limit the offensive options of the opposition, Chambers' reading of the game possibly puts him in higher stead. That isn't to say one right-back is better than the other, far from it in fact, but that each boast individual qualities that will play a more prominent role depending on the team Southampton are up against.
This is a similar selection conundrum that Manuel Pellegrini faces when it comes to starting either Gaël Clichy or Aleksandar Kolarov at left-back, with both offering different threats offensively and defensively. Nevertheless, Pochettino must be thrilled that he is able to call upon two high quality right-backs, especially as he is able to set his backline up in a way that will either increase the attacking strength of his XI or improve their chances of shutting out the opposition.
Either way, the duo will likely play key roles for Saints between now and the end of the season and the luxury of being able to select either Clyne or Chambers at right-back is one that Pochettino undoubtedly welcomes.