In 2006, Chelsea secured the signature of midfielder Michael Ballack on a free transfer from Bayern Munich. Fresh from World Cup duties, Chelsea supporters were understandably enthused at the acquisition of the then-Germany captain. The midfielder was regarded as one of the finest in his position, so his capture was a real statement of intent by the west Londoners.
His arrival also signalled a change in system at Stamford Bridge with José Mourinho adopting a 4-1-2-1-2 - or a 4-4-2 diamond - in order to play each of his four world class central midfielders. The Portuguese had a wealth of talent at his disposal in this position at the beginning of the 2006/07 campaign, with Ballack joining a midfield featuring Frank Lampard, Michael Essien and Claude Makélélé.
Mourinho was keen to start his four midfield men, so the decision to implement a formation that would see the quartet feature from the off was an easy one to make. The new system, however, did not have the desired effect as Chelsea finished the campaign second, six points behind winners Manchester United.
The Blues may have secured FA Cup glory that season, but their formation choice did not catch on. Premier League teams largely steered clear of the 4-4-2 diamond formation, until this season, that is. While not a carbon copy of Mourinho's 4-1-2-1-2, Manchester United, West Ham United, Queens Park Rangers and Liverpool have all, at one point or another deployed a diamond midfield in the 2014/15 campaign. The 4-3-1-2 allows teams to maintain numbers in the middle of the park, but means managers can field a creator in between the midfield and attack.
For United, that player has either been Wayne Rooney or Juan Mata. For West Ham, Stewart Downing and Mauro Zárate have filled the position, while Raheem Sterling has developed his game to play the number 10 role for Liverpool. It's a change in system for United and West Ham, who both favoured a 4-2-3-1 formation last season, while Liverpool, who used a 4-3-1-2 on seven occasions last term, have looked to implement this formation more regularly in order to maximise the creative side of Sterling's game.
United are perhaps the most interesting of the teams. Largely expected to use a 3-4-1-2 formation after arriving this summer, injuries have instead forced Van Gaal to revert to a four-man defence. The acquisition of Ángel Di María has made switching to a 4-3-1-2 formation that much easier. Previously thought of as a winger, Di María proved his credentials in a more central role for Real Madrid last season, operating as the driving force in their 'La Decima' winning campaign, before impressing for Argentina in their progression to the 2014 World Cup Final.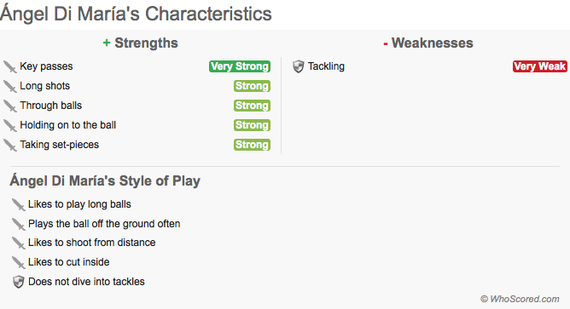 Di María has more assists than any other player in Europe's top five leagues in 2014 (17), 11 of which of have come when starting as a central midfielder. His three Premier League assists for United have been when featuring in the same position. United's new number seven has the dribbling ability and creative quality to drive at the opposition, bringing the ball upfield quickly, meaning he is ideal for a spot in the middle of the park. Ander Herrera and Daley Blind, who shoulder the defensive responsibility, have both aided a United side in desperate need of stability in this area, but Di María is the one who makes the three-man midfield tick.
However, while a player of Di María's ilk was expected to hit the ground running given the £59.7million transfer fee, expectations were lower on West Ham's Downing. The England hopeful underwhelmed last season, as his WhoScored rating (6.90) suggests. That figure, though, has shot up to 7.23 this term as Downing strives to replicate the form that made him such a potent attacking threat during the 2010/11 league season, which culminated in a big-money move to Liverpool in the summer of 2011.
Four of his seven league starts have come either in the number 10 role or in the centre of midfield, with each of his three assists coming when playing central. When on the right-wing, Downing became predictable as his advancing years meant the spark that made him such a threat for Middleborough and Villa deserted him. This meant opposition defenders were able to counter his threat with ease as he struggled to make the desired impact with the Hammers.
He has been rejuvenated in a more central role, however. With two striking outlets instead of one, West Ham are more threatening pushing forward than they were last season. The re-deployment of Downing in a deeper role also means he is harder to pick up. Starting in a narrower midfield means opposing players are unsure whether to track his runs or allow the defence to pick him up.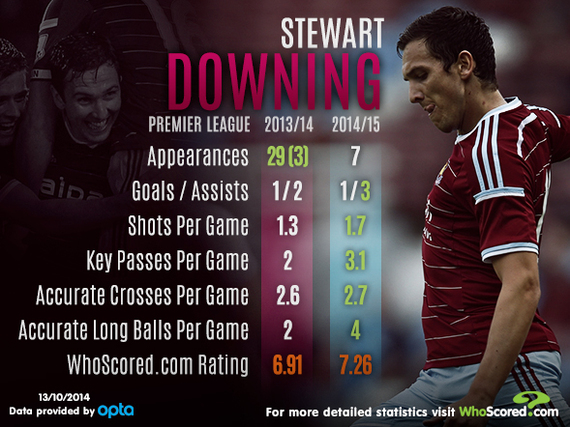 Downing now has more space to run into, which has centre-backs struggling to contain him once he has gained a head of steam. Downing operating more centrally means he is no longer expected to get to the byline and cross for the lone frontman as he was last season. Instead, he has become a more versatile offensive threat for the east London side. An average of 3.1 key passes per game this season highlights how big an influence he is in the attacking third for West Ham, with that figure a significant increase on last term (2.0 per game).
It is Sterling, though, who has given the best example of a winger benefitting from a central role in a 4-3-1-2. Liverpool's 3-0 victory at Tottenham this season was the first time Brendan Rodgers had used the formation this term, with Sterling operating in the number 10 role behind Daniel Sturridge and debutant Mario Balotelli. Whenever the Reds attacked, the strike pairing would split to the wings, dragging holding midfield duo Etienne Capoue and Nabil Bentaleb out of position.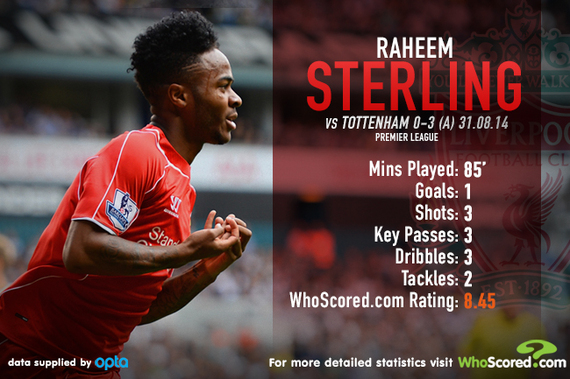 This gifted Sterling a free run at centre-backs Jan Vertonghen and Younes Kaboul, who were both on the back foot whenever the teenager would run at them. This worked perfectly for Sterling's opener in the win, where Jordan Henderson picked out Sturridge on the right, who crossed for Sterling to tuck away at the back post as his late run into the box was not tracked by Kaboul. His display in the victory in London saw him awarded a WhoScored rating of 8.45; only teammate and man of the match Henderson (8.52) earned a better rating in the fixture. The success of Sterling in a 4-3-1-2 has seen Roy Hodgson attempt similar for England, with Sterling effective in the number 10 role in the Three Lions' 2-0 victory over Switzerland last month.
The use of a winger in midfield is not necessarily unheard of - Ryan Giggs moved inside as he aged for Manchester United. If used correctly in a more central role, widemen can wreak havoc on underprepared defences as they are afforded more time on the ball. Wingers can often drift in and out of games when out wide, but their pace is an asset that can be harnessed if utilised correctly in a system that renders them the primary offensive threat.
Downing's much-improved performances are a testament to this, while Sterling and Di María have shown how effective they can be centrally in a 4-3-1-2. It's a slight adaptation on Mourinho's tactics used in 2006, who often paired Didier Drogba with Andrei Shevchenko up front, two strikers who operate better inside the 18-yard box where their goalscoring prowess could be maximised rather than out wide. The new 4-3-1-2 formation, however, requires attackers to pull to the wings, opening up space in the final third, which can be maximised by the number 10.
Louis van Gaal may have been forced into using a 4-3-1-2 formation, but Sam Allardyce and Brendan Rodgers have intentionally integrated this system. While not quite perfected, further utilisation could see United, West Ham and Liverpool reap the benefits of this formation, with Di María, Downing and Sterling playing key roles for their respective teams.