There was plenty of focus on Joe Hart when he was dropped as Manchester City number 1 following his mistake in the 2-1 defeat to Chelsea in October. The England international is prone to making the odd costly error and a spell on the sidelines has done him the world of good.
While Costel Pantilimon didn't necessarily underperform during his spell in between the sticks, it was little surprise to see Hart reinstated after the Romanian shipped three during City's win over Arsenal. Yet, with the focus on the goalkeeping situation at the Etihad, much of the shine was taken off who should be the starting left-back for the one-time Premier League champions.
Manager Manuel Pellegrini has Aleksandar Kolarov and Gaël Clichy available for selection in the position and has continuously rotated the pairing in the role in the backline, with the former making 11 starts at left-back and the latter 9. Pablo Zabaleta has the starting spot at right-back sown up, while Vincent Kompany is a guaranteed starter and Matija Nastasic, when fit, will often partner the Belgian in the heart of the back 4.
However, left-back is where Pellegrini is undecided as to who should be the regular in his City side. On their average WhoScored rating alone, Clichy gets the nod over his teammate. The Frenchman has scored a 7.39 to Kolarov's 7.23 this season, although it can be argued that the latter's rating over more appearances is slightly more impressive.
There is certainly an argument to say the Frenchman offers less of an offensive threat than Kolarov. The former Arsenal ace is currently averaging 0.8 key passes per game in the role, a notable step down on the Serbian's 1.4, that figure bettered only by Kyle Walker (1.42) of every defender with 5+ appearances in the Premier League this term.
This attacking threat is accentuated further in the average of 2 shots per game Kolarov is taking in England's top tier this term, that's more in each appearance than Clichy has has all season (1). Evidently, when City are pushing forward in the search of a goal, the former Lazio star is the stronger of the duo. Kolarov's cross accuracy (20.8%) is also better than Clichy's (18.8%).
With Kolarov offering a more consistent threat when pressing forward, he has registered 9 assists during his time at the club to Clichy's 6, while his 5 goals (to Clichy's 0) reinforces the notion that Kolarov is better suited to the attacking system Pellegrini is looking to integrate. Yet, when it comes to ball retention, Clichy is performing at a much improved level than Kolarov. The former is currently attempting more passes per game at left-back (58.3) with a much higher success (88.6%) compared to the latter (45.1 passes per encounter, 79% success).
With the Frenchman also completing more successful final third passes per game - 14 to Kolarov's 9.9 - this matches City's WhoScored style of play of 'possession football' and will benefit his more creative teammates, such as David Silva and Sergio Agüero. This points towards Clichy's patient approach to attack, while Kolarov in contrast is likely to be more direct, hinted in the aforementioned shots per game he's taking.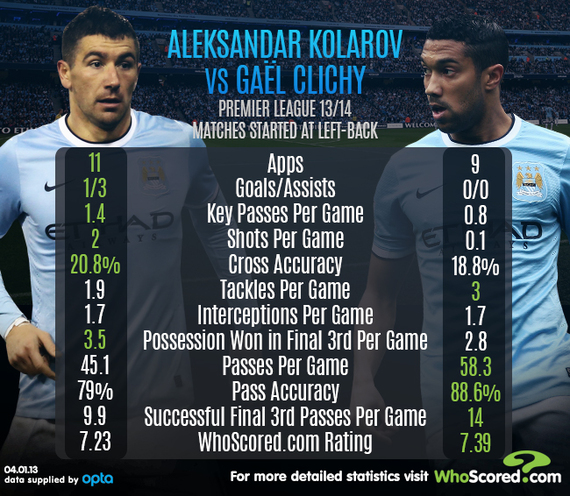 From a defensive perspective, it can be argued that Clichy is the stronger of the duo. The France international is averaging 3 tackles per game compared to Kolarov's 1.9. Renowned for his athleticism, Clichy's pace means he's able to recover more easily when caught out of position higher up the pitch and return to defence in time to deny his opponents the opportunity to attack.
Both have averaged 1.7 interceptions per encounter when operating at left-back, but when it comes to winning possession in their defensive third, it's Kolarov who is superior, with the Serb doing so 3.5 times per game. This is an improvement on Clichy's 2.8, although that could come as little surprise to City fans with Kolarov the more physically imposing of the defensive pairing, thus increasing his chances of winning the ball back for his team.
Pellegrini boasts the luxury of 2 high quality left-backs to choose from and it's a selection headache that any manager in the game would welcome. Kolarov and Clichy both offer different threats from defence, the former a bigger threat in front of goal and the latter's pace a facet that would trouble any defence, but both are consistent performers when called upon.
Selecting Kolarov or Clichy won't necessarily weaken City, instead the choice rather highlights the impressive strength in depth available to Pellegrini, a much-needed quality of any team harbouring title aspirations. Starting one or the other ultimately depends on the opponent in question, with it somewhat palpable that the former would be used against teams where the Citizens are looking to score and the latter when aiming to stifle the opposition, but it's evident that the City backline is a capable unit with either operating at left-back.
However, when looking at their WhoScored ratings when playing at left-back, Clichy can be considered the better of the 2 left-backs available to City. While there isn't anything wrong with Kolarov's approach to attacking, Clichy's patient style of play will benefit those around him and bring out the best in his attack-minded teammates.
For more detailed player stats and football statistics visit www.whoscored.com