When Paulinho secured a £17m illionswitch to Tottenham Hotspur from Corinthians last summer, comparisons were drawn between the midfielder and Chelsea legend Frank Lampard. "I intend to follow in his (Lampard's) footsteps as he is a very professional guy," the Brazil international said when told of the similarities between the two players, which understandably excited Spurs fans.
Lampard, without question, is one of the greatest midfielders to have graced the Premier League, so to have been compared to him was a huge compliment to Paulinho. However, he failed to have the desired impact in his debut campaign in England. The 25-year-old is currently Spurs' 3rd most expensive signing in the club's history, but his performances in north London indicate that they may have overspent to secure his signature.
Some Spurs supporters believed they were not seeing the best of Paulinho as he was saving himself for the 2014 World Cup. The midfielder started all 3 of Brazil's group games, with Luiz Felipe Scolari placing an undeniable level of trust in him, but his display in A Seleção's 4-1 win over Cameroon suggests his patience may be wearing thin. Fernandinho replaced his Premier League counterpart at the interval and it's fair say the introduction of the Manchester City ace vastly improved the hosts.
While only Marcelo (4) executed more key passes than Paulinho (2) of ever Brazil player in the first half, the midfielder was less a help and more a hindrance in the opening 45 minutes. He attempted only 12 passes and was accurate with just 10. While that may be down to him being more daring when looking to pick out a teammate, it's still a poor return from a player in his position.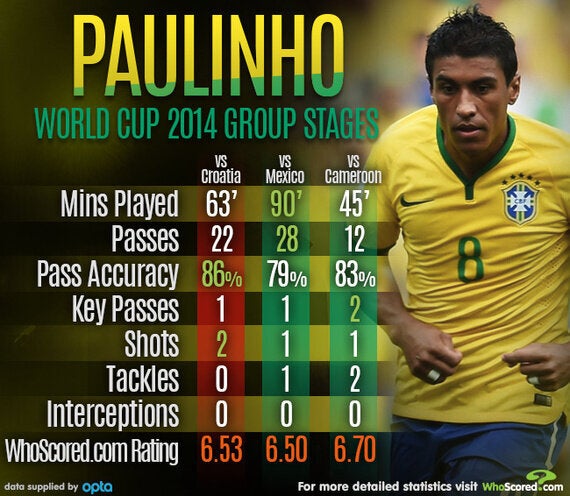 This contributed to his lowly WhoScored rating in the victory over Cameroon (6.70) - only Hulk (6.39) got a lower rating of every starting outfielder in the win against the African side. Incidentally, this is the same as his average rating (6.58) at the World Cup, a figure that is better than only Ramires (6.38) and Hulk (6.3) of every starting outfielder for Brazil this summer.
Operating alongside Luiz Gustavo in the 'double pivot' in front of the defence, Paulinho is granted a license to support the attack. Using his strength and power, the Spurs man should be able to win the ball high up the pitch and drive forward to create goalscoring chances. Cameroon though pressed higher than many expected and took Brazil, and in particular Paulinho, by surprise.
Rather than grab the game by the scruff of the neck, he was overawed by the presence of Landry N'Guémo and Eyong Enoh. Gustavo, on the other hand, rose to the occasion and it was the Wolfsburg regular who won the ball in the attacking third on the left before excellently picking out Neymar to put Brazil into a 1-0 lead. Gustavo was effectively doing Paulinho's job for him.
Gustavo has been lavished with praise at the World Cup such have been the quality of his performances. Only Oscar (8.4) and Neymar (8.39) have a better WhoScored rating (7.82) of every Brazil player so far and suggestions that he has been dragging Paulinho through games are somewhat apt.

It was no coincidence that Brazil were a more fluid unit in the second half with Fernandinho alongside Gustavo. The Manchester City ace attempted over double the number of passes (26) in 45 minutes than Paulinho and had a pass success of 96.2%, a significant improvement on his compatriot (83.3%). Rather than keep the ball moving, Paulinho's hesitation in possession saw Brazil nullified quickly and allowed for Cameroon to bring men back, stifling their attack. Fortunately for them though, Neymar was on hand to produce a moment of magic when needed.
There is the case to say that Cameroon tiring as the game wore on saw the space open up for Fernandinho to display his quality, but against Croatia and Mexico, Paulinho looked laboured even against fatigued opposition. He was replaced after the hour mark for Hernanes in the opening day win over Croatia, appeasing the Brazil supporters after a lumbering performance.
Once the Inter star came on, the guile that had been lacking with Paulinho on the pitch returned and they looked a far more cohesive unit. This was similar to when Fernandinho was in alongside Gustavo on Monday and many feel either him or Hernanes should be in the starting XI in place of the Tottenham man.
Like Fred, some believe Paulinho to be an 'un-Brazilian' Brazilian, with the team a much more imposing threat when he is not on the pitch. It's a far cry from 12 months ago where he was awarded the 'Bronze Ball' after being voted the third best player at the Confederations Cup and herein is where the problem may lie. Paulinho has not had a full summer's rest since 2011 and his performances, both for Spurs last season and with Brazil at the World Cup, reflect this.
Regardless, Paulinho isn't putting in displays that resemble a player that transferred for £17m last summer. With Brazil now at the last-16 stage, and up against a Chile side hell bent on pressing teams into submission, Scolari would be wise to drop the Spurs midfielder to the bench and, judging from his cameo against Cameroon, start Fernandinho alongside Gustavo in midfield.
Do you think Paulinho should be dropped from the Brazil starting XI? Let us know your thoughts in the comments below?
All statistics courtesy of WhoScored.com where you can find yet more stats and player ratings.