Did you know that amongst all the various theatre groups in London, there's only one dedicated to producing LGBT plays? It seems funny that it's taken so long for one to emerge. Fast becoming London's leading gay theatre group, Above the Stag offer up a mixture of comic relief and thought provoking plays for theatre goers.
Their annual adult pantomimes, which will be kicking off next month, are a riotously rib-tickling amalgamation of double-entendres, drag acts and finely chiselled leading men. In the short space of three years, their shows have become the stuff of legend.
Fusing together unconventional love stories with right-on-the-mark plots, coupled of course with brightly hued sets, the boys at Above the Stag have given their own unique takes on many traditional Christmas shows, from Get Aladdin to Sleeping Beauty: One Little Prick, which has gotten them noticed by the press, with whatsonstage.com calling them "unstoppably good" and Gay Times calling them "hugely enjoyable".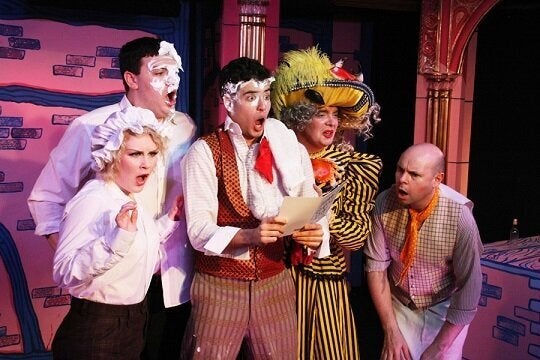 It's not just that every play brims with camp humour and over the top costumes that keep the punters coming in their droves (no pun intended) it's the superb writing of John Bradfield and Martin Hooper, which is brilliantly sharp, satirical and cleverly includes a wealth of cultural references into the mix. Without that their productions would not have the appeal they do.
Above the Stag's first outing - Dick Wittington: Another Dick in City Hall - marked the start of their journey. Speaking with their Artistic Director Peter Bull, he says the inception of Above the Stag was a pretty unglamorous affair, consisting of a 60 seat theatre at Victoria Station.
Just before the group could really get going, the theatre closed as part of Victoria's redevelopment, and Above the Stag was left homeless. After many months spent wondering the streets, frantically trying to secure one venue after another, they finally found a home, in the buzzing surroundings of Vauxhall.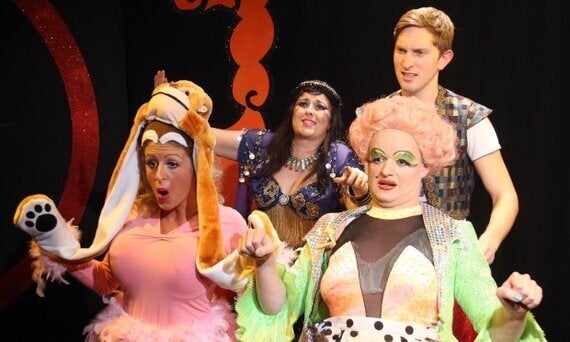 Now that they have finally secured a permanent home, Above the Stag have begun setting out an itinerary, beginning with their riotous Christmas shows and carrying on through January and February with The Gay Naked Play and Hard Rain, when as Peter says, people need a bit of relief from the dreary post-Christmas weather.
Above the Stag are not all about camp frivolity though, as Peter was quick to point out. Although their raison-d'être is entertainment, and entertainment that gets people smiling, they have plans to include some hard hitting plays, that deal with the subject of homophobia.
The future certainly looks bright for Above the Stag. Their winning formula of unadulterated fun, unabashed campiness and dazzling colour are what make them stand out from the crowd, and get theatre goers in a frenzy. Let's hope Above the Stag's story will continue to be as fun filled as their plays.
Tickets for Above the Stags new season of plays can be found on their website - www.abovethestag.com
Popular in the Community