As is so often the case with female leaders, former Prime Minister Baroness Margaret Thatcher, who passed away earlier this week aged 87, was a woman you either loved or hated. She was one of only a handful of women to break through the male dominated ranks of politics and make it to the highest echelon of global power, and subsequently stick in the world's collective memory; with the others being India's Indira Gandhi, Israel's Golda Meir and, most recently, Pakistan's Benazir Bhutto. But none of them has made quite such an impact on popular culture as Thatcher.
When Margaret Thatcher arrived at Downing Street on May 4th 1979, after winning a landslide victory in the general election, it wasn't just Britain that paid attention, but the entire world. Here was a woman who had long been classed as a rank outsider in the political sphere, but somehow had made it to the top. As soon as Thatcher became Prime Minister, political satirists went into frenzy, never before had they encountered a female Prime Minister, let alone one who possessed such a fiery personality and was so outspoken.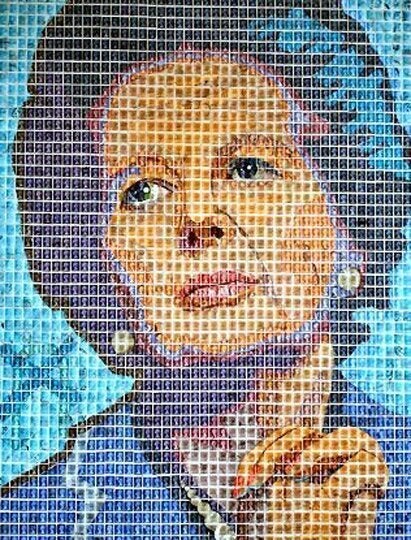 Pete Mason, Margaret Thatcher (4,000 stamps)
Whether it is film, music, comedy, art, literature or theatre, Thatcher has been a constant source of fascination for creative individuals from all corners. Some of the best satirical comedy about Thatcher to come from the 1980's was by Spitting Image, the puppet sketch show, devised by Martin Lambie-Narin, Peter Fluck and Roger Law. The show regularly portrayed Thatcher as a cigar chomping, suit wearing alpha-female, who looked upon her ministers with distain; who could possibly forget the hilarious "What about the vegetables?" sketch, which saw Thatcher and her cabinet seated in a restaurant, and when the waitress takes her order and asks "what about the vegetables?" Thatcher looks up and says "Oh, they'll have the same as me."
Without knowing it, Spitting Image enhanced Thatcher's image as a powerful figure, who did not suffer fools gladly. As her time as Prime Minister went on, and with the enacting of certain policies, which some sections of society deemed deplorable, artists and musicians etc became ever more forthright in their disdain for her; such as Ska band the Beat, who released the song Stand down Margaret to the unashamedly hostile Margaret on the Guillotine by former Smiths front man Morrissey.
Meryl Streep as Margaret Thatcher in The Iron Lady
With music seeing the most antagonistic reactions to Thatcher's premiership, the world of film and TV has seen far more diverse interpretations. In 2002 the BBC aired The Falklands Play, which centred on the critical moments of the Argentine invasion of the British Falkland Islands. Starring Patricia Hodge as Thatcher, her portrayal was of a head strong woman who was determined to fight the invaders by any means possible. In 2008, the BBC again aired a play focusing on Thatcher's early years in politics during the 1950's; starring Andrea Riseborough The Long Walk to Finchley was a tongue-in-cheek effort to understand how Thatcher became the woman we all know. Following on from this, several other TV plays which seek to re-evaluate the Thatcher years have aired, including Margaret (2009) starring Lindsay Duncan, which specifically focussed on Thatcher's fall from grace in 1990.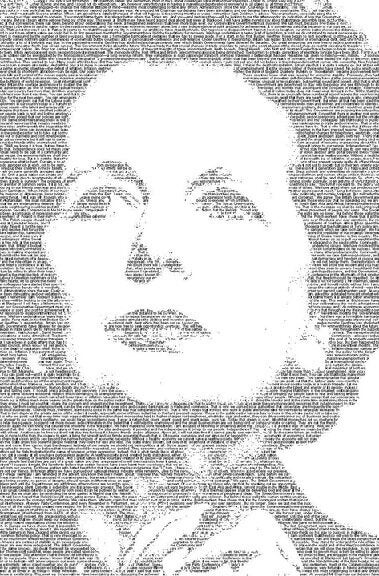 Textportraits, Margaret Thatcher
The most sympathetic portrayal of Thatcher came in 2011, with the big screen release of The Iron Lady, written by Abi Morgan and directed by Phyllida Lloyd. The film was a sensitive imagining of Thatcher's battle with dementia and bereavement over her husband Dennis, interspersed with flashbacks of her life, from a young girl to her time as Prime Minister and after. With Meryl Streep as Thatcher, The Iron Lady proved the most successful film to focus on her, all be it with mixed reviews from the critics.
In art too, Margaret Thatcher has been portrayed in many different ways. Artists such as Richard Stone and Pete Mason have created portraits which mix regal femininity with warrior like overtones; where as others such as Lola Dupré and Matt McLaren have portrayed her as some demon like harridan. Like society at large, the world of culture has some diverse opinions on the Iron Lady, but whatever they are, Margaret Thatcher's impact on popular culture has been undeniably immense, and like it or not, she is one of the most memorable leaders the world has ever known.
Related