Hailing from Coventry, the British public's first glimpse of singer and musician Navin Kundra was when he represented the UK on Zee TV's Sa Re Ga Ma Pa, and greater exposure came in 2005, when he won the BBC Asian Network's Unsung competition. Since then he has catapulted into the public sphere, with a string of successful albums and high profile performances. Navin's success may appear to be a speedy one, but he has only achieved this through many years of hard work, perfecting his craft and honing his talent.
"I've always been passionate about the expressive arts" says Navin "and singing, creating music etc, is something that manifested when I was a boy. I remember standing in front of the TV trying to imitate Michael Jackson. I never had any real formal training."
"The truth is" he says "I really don't know why I've always been drawn to music. I don't come from a particularly musical family, although we've always appreciated good music." His love for the arts took many forms growing up "I began my career as a dancer in West End shows, securing some lead roles, so music was always a part of whatever I did."
Navin's musical style is something which has blossomed over the years, like any other artist, the fire of creativity and desire to explore the musical hinterland is what keeps Navin going. In essence, his music tips the boundaries of artistic expression, melding together Western and Eastern musical elements. Navin is not your average singer/songwriter, as his style is impossible to place in any specific genre, yet it possesses a quintessential universal quality, and with lyrics that take us on a journey, exploring the age old themes of love and loss to personal tales, Navin's oeuvre is impressive to say the least.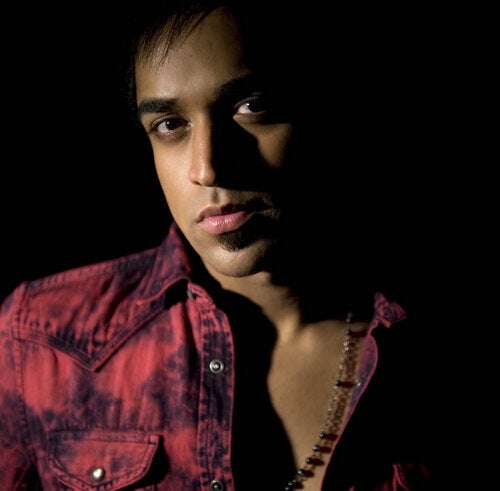 "The mixing of Western and Eastern styles of music is something which happened organically" he explains "It wasn't a conscious decision, it came from being exposed to a healthy mixture of different styles and genres, from Western pop to classical Hindi, Bollywood music etc. It's not easy to mix those styles; you have to have knowledge and understanding to get it right."
With the public falling in love with Navin and his music in their millions, the industry is also recognising his talents. Just this year he received the Entertainer of the Year Award at the Asian Voice Public Life & Political Awards and most recently, at the 13th Annual Asian Achievers Awards, Navin was nominated for the Achievement in Arts, Media and Culture Award. "I was ecstatic when I heard about the nomination" says Navin "I've always had great respect for the Asian Achievers Awards, specifically because it's very independent and has a lot of integrity, where as other awards seem too contrived and disingenuous. Also, I've performed at the ceremony for three of the last five years, so to be nominated was such an amazing moment for me."
With growing success at home and abroad, Navin remains appreciative of it, with his passion never waning or becoming clouded by indifference. "I think it's because I've worked so hard, and continue to that makes me so grateful for everything. I never had a leg up in the industry, which I feel is much healthier."
On so many occasions the appeal of X Factor and similar shows, with their offerings of immediate fame and recognition, can entice singers and musicians. However, as Navin says "it's the classic example of having a leg up, and you lose something precious when you have immediate fame and success. The best thing is to build something slowly and steadily, so you can grow along with it."
Creating something good and worthwhile has always appealed to Navin "one of the foundation reasons I continue making music is to create a body of work which people will enjoy and appreciate long after I'm gone, one of substance and clarity."
Looking to the future, Navin has a few plans, including setting up his own record label and searching out collaborations with other artists. Whatever he does, his overwhelming love his craft will never disappear.